While shopping for a new stove, refrigerator or mattress isn't something people do every day, choosing the right one is a decision bound to impact a shopper's daily life for years to come. And whether the purchase is a high-priced range poised to be a statement piece for an entire kitchen, or a compact pizza oven to fire up in the backyard, the shopping experience and selection process is key for ensuring the right product ends up at home. Enter Johnson Brothers Appliances, an independent Central Oregon appliance dealer that's quietly commanded a chunk of the appliance market in the region for more than seven decades. The company has a rich family history that's stood the test of time, economic downturns and shifting trends, and today is growing and thriving along with the region's booming building industry.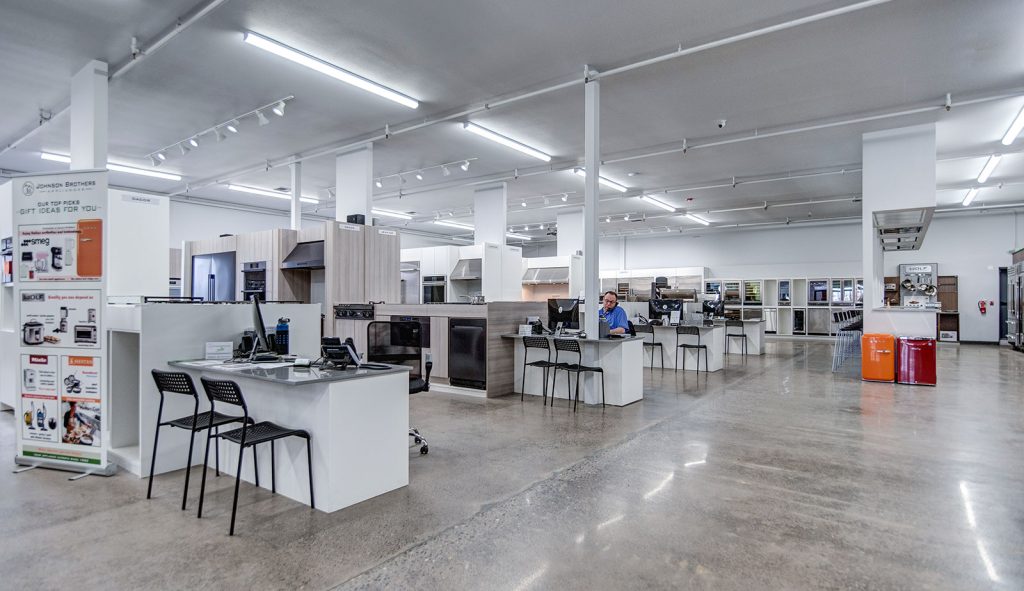 History in the Making
The Johnson Brothers Appliances story dates back to 1950, when Vernon and Charcelene Johnson first founded a home products store as an extension of Vernon's general contracting business. At the time, Vernon was a home builder, eventually constructing dozens of homes in the Bend area, including many on the hilly portion of west Bend that includes NW Portland Avenue and NW Vicksburg Avenue. In the early days, the new home products store was called The Home Center, and carried things like carpeting and paint in addition to appliances, according to Vernon's grandson, Dave Johnson. "He started the business as a supplier for things he needed to build houses," Dave said. The business eventually came to specialize in home appliances and televisions, serving the tri-county area of Deschutes, Crook and Jefferson counties.
The company has always been a family affair, with Vernon's son, Bob Johnson serving as a longtime employee and eventual general manager, Vernon's daughter Charcie Madsen managing accounting and Bob's wife, Marsha Johnson, managing advertising and administrative functions. As children, Bob's sons Dave and Brian were often found at the business, then located at Northeast First Street and Franklin Avenue. "As a little guy, grandpa would pay me to break down boxes, and in high school as soon as I got my driver's license I started doing deliveries and service calls." Dave said. In 1980, Vernon changed the store's name to Johnson Brothers as an homage to his two young grandsons. Bob took over the store in 2000, and after his untimely death in a car accident in 2015, his sons stepped in to take over ownership and operations. "Having something like this to step into has been an incredible opportunity, and I love building on the hard work that dad and grandpa did over the years" said Dave, who retired from a twenty-year career in the Air Force to return to Bend and become general manager of the business. "I really enjoy the challenges of small business. It's a different mission than we had in the Air Force, but it comes with daily challenges, risk and reward." Dave's brother Brian stepped down from his career as a pastor to provide leadership in logistics, finance and personnel for the business.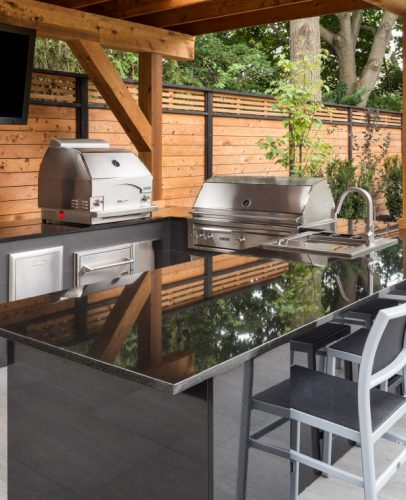 Into the Showroom
The Johnson family's hard work building the family appliance business is best seen at its showroom on Azure Drive, near U.S. Highway 20 and just east of Pilot Butte, a location the company has called home since the 1990s. Inside, customers will find one of the largest inventories of appliances and home essentials in Central Oregon. Inventory includes large cooking, laundry and refrigeration appliances, vacuums, smaller tabletop appliances, mattresses and appliances for outdoor kitchens and grilling. The 30,000-square-foot showroom offers a chance for customers to browse through aisles of appliances and products while learning more from a small sales team with a combined 200 years of experience in the appliance industry. 
While in the past, a larger percentage of the company's sales were tied to builders, the business model has shifted to cater to a more equal mix of contractors and individual buyers who are building, remodeling or reinvesting in their homes, Dave said. During the pandemic, people's discretionary spending shifted from travel and experiences to investing within their homes, something that brought many new customers into the showroom. "We've definitely seen more of that retail traffic," Dave said. "At one time appliances used to be more of a luxury, but today they're more of a necessity. Being able to fill that need is rewarding." 
Tracking Trends
The sales team at Johnson Brothers is uniquely positioned to keep up with the latest in appliance and home design trends, gathering input from customers and appliance manufacturers as styles change. One newer trend is more high-tech appliances offering "smart" features, such as refrigerators with cameras inside that can be viewed remotely—convenient when a person is at the grocery store racking their brain to remember what they're running low on. New refrigerator technology today can also help with food waste in the United States, by using humidity, temperature and airtight compartments to keep food fresh longer. "Manufacturers have really refined the refrigeration process to do it as efficiently as they can," Dave said. "Storing food at home, if you apply a scientific approach to it, can optimize the preservation of food."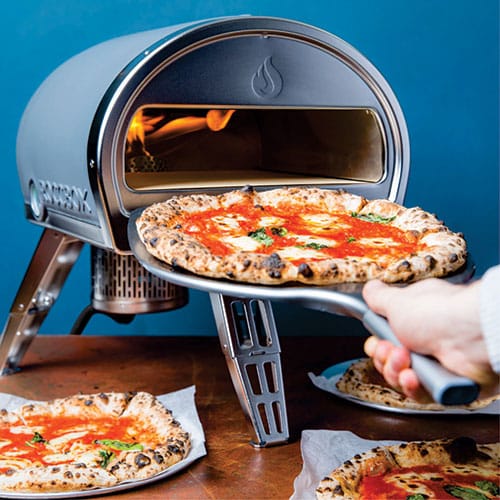 Elsewhere in the kitchen, new trends in ovens and ranges have included luxury statement range pieces, sometimes in bold colors, that can become the focal point of a kitchen. High-performance, six-burner ranges with all the bells and whistles or vintage-inspired dual cooktops with ovens and warming doors below can fetch top dollar prices in the name of both function and design aesthetic. 
Another trend in the appliance world is the addition of more small appliances and accessories based around function and fun. At Johnson Brothers, shoppers can find wine dispensers that scan a wine bottle label to optimize the temperature at which to store the wine, preserving it for 120 days after opening. A connected app allows oenophiles to see what their wine-loving friends currently have pouring. Another product on hand at the showroom is a compact and portable outdoor pizza oven, a great addition to a Central Oregon backyard kitchen, or for transporting to the mountain for the ultimate tailgating setup. "It's a very well made product, but it's not crazy expensive like some outdoor kitchen components are," Dave said. 
Experience and Expertise
Over the decades, the company has earned the trust of many shoppers in Central Oregon, including homeowners, local builders and design professionals. "An advantage of a small business is you can build relationships over time," Dave said. 
One customer Johnson Brothers has gained business from is Bend designer Kerri Rossi, who exclusively sources appliances for her clients from the company. "People have appliances for several decades. If you're going to be spending money on something, and you're going to be using it daily, you want to trust who you're purchasing through," said Rossi, principal for KRM Interior Design and co-owner of Element Design Collective. Rossi said she works with a salesperson who has been with the company for more than thirty years. "It feels like she's family," said Rossi, who appreciates the product education she gets from Johnson Brothers and ongoing support even after a purchase is complete. "Things can go wrong with appliances. Other appliance companies will tell you to call a one-eight-hundred number and figure it out. [Johnson Brothers] will walk you through the process, explain warranties and help you if you're having questions or concerns."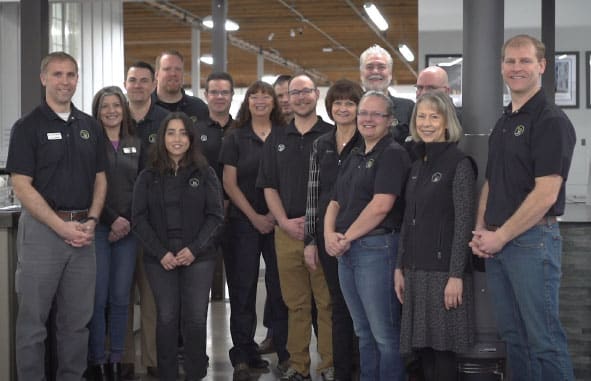 Whether a homeowner picks out their appliances on their own or works with a designer like Rossi, Johnson Brothers coordinates ordering the product or locating it in the showroom or warehouse, delivery and installation. In many cases, they also manage servicing of their appliances, or coordinating service through a manufacturer. A team of about thirty employees at Johnson Brothers are split between sales, delivery, service and administration, each playing a role in the success of every transaction. To see what the team is up to today and browse the company's impressive selection of appliances and home products, stop by the showroom, open Mondays through Saturdays each week.   
---