You remember them. The ponies that would wait anchored at the door of the grocery store to delight children. A spare quarter brought a land of imagination, a few moments locked in an unwinnable race with the neighboring child and pony. These halcyon throwbacks of childhood have all but disappeared, but long forgotten moments have a way of bubbling back to the surface in the most unexpected ways.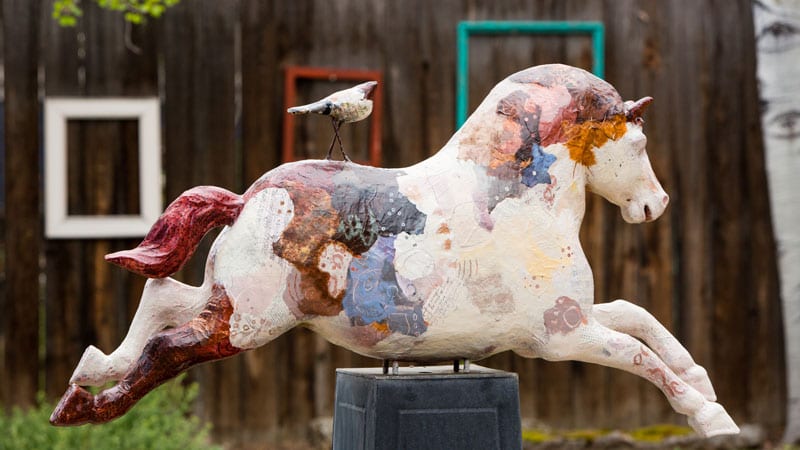 Last fall, local artist Shelli Walters was asked to use her beautiful collage talents to re-imagine one of those mechanical ponies, pulled from storage and unused for decades. Walters is the only artist from Central Oregon chosen to join a team from across the country to participate in the Pony Up Quarter Horse Project. When complete, a collection of thirty "quarter horses" will travel throughout the United States before they are auctioned as pieces of art. Proceeds from the project will support a nonprofit called Wade's House, which provides a peaceful sanctuary on the Oregon Coast for free to grieving families who have lost children.
Walters had an instant connection to the project. Aside from a lifelong love of horses and nature, her family knows the loss of children. Two of her older sisters tragically passed away young. For Walters, there was no question about getting involved.
When her pony arrived, it was completely white, a blank slate waiting for a new story. The Grateful Dead song "Cassidy" came to Walters' mind right away. Her older sister Rhonda was a huge fan, so the song's musings about the cycle of life seemed to fit. The notion of how when something ends, something else begins, resonated. Walters noticed the copyright date on the bottom of the horse was the same year her sister was born, and on a whim, she added up the individual digits of the patent number to find that sum equaled the age Rhonda was when she had died.
"It felt like an invitation from the universe to play. I would layer thoughts, memories, experiences and part of myself in this piece to create something new while honoring my sisters," Walters said.
Initially challenged by Cassidy's plastic saddle, an unwanted tether to a former life, Walters decided to build up the pony's body with paper mache. "I wondered how I could free her from this encumbrance," Walters said. "I thought about how we must move on from the trappings of our past in order to find our true paths. How could Cassidy start fresh? The smooth new lines created by the paper mache set her out on her new life with a robust body to hold a big heart and an even bigger spirit."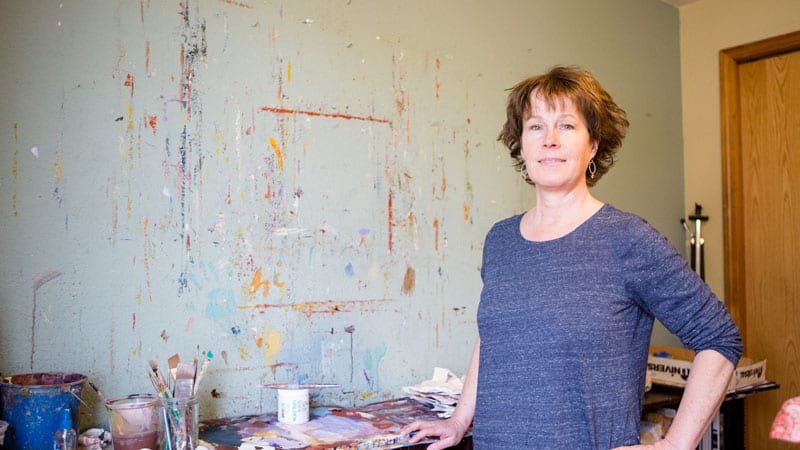 From that point on, Walters said, "working with Cassidy was like butter. The project flowed that easily." Walters thought about all the children who had climbed on Cassidy's back. All the adventures the pony had through those young and free imaginations. The new coat of Cassidy would be a storybook of these adventures—wild places to explore in the mind through mountains, rivers and untamed landscapes.
ìThe smooth new lines created by the paper mache set her out on her new life with a robust body to hold a big heart and an even bigger spirit.î
Walters describes her artistic process as getting into a flow state where she is no longer thinking, she is just doing. As she layers paint, torn pieces of sheet music, painted paper, handwriting and scraps of topographical map, organic shapes begin to form. After a while, Walters could clearly see the shape of a bird in flight amongst the layers of collage. This fit. The theme of being wild and free kept coming up, inspiring the addition of a whimsical bird perched on Cassidy's back. Both animals are rooted in earthy browns and rusts, creamy whites and natural grays and blues. The color palette feels like an abstract nod to the patchy look of a painted pony.
Walters is exuberant about the final product. "I feel honored to have been given the delightful opportunity to create a new life for Cassidy," she said. "I wanted to set her free, back into nature with a big heart and a joyful spirit. I love how the paper mache gave her a bold new shape and the arrival of her feathered friend means that she will never be alone."
Cassidy, along with Walters' other works of art, give the viewer an opportunity to look deeply into the image of a landscape or animal. Each person sees something a little different, drawing from their own memories and experiences. As her website describes, Walters' pieces come from moments when she has been "awake with nature and tapped into its incredible spiritual energy and infinite beauty."
To enjoy more of Walters' art, stop by Tumalo Art Company and visit her online at
shelliwaltersstudio.com
.
To learn more about Wade's House, see silverherongallery.com/programs.wadeshouse.cfm