Destination Rehab is a Bend-based nonprofit that helps individuals with neurological conditions get back outside and into their communities. Eugene native Dr. Carol-Ann Nelson received her doctoral degree of physical therapy from Duke University before working at a large rehab facility for adults with neurological conditions in Florida. There, she noticed a gap in patient care–the rehab patients were receiving didn't translate to real life scenarios, like going on a hike or strolling a museum.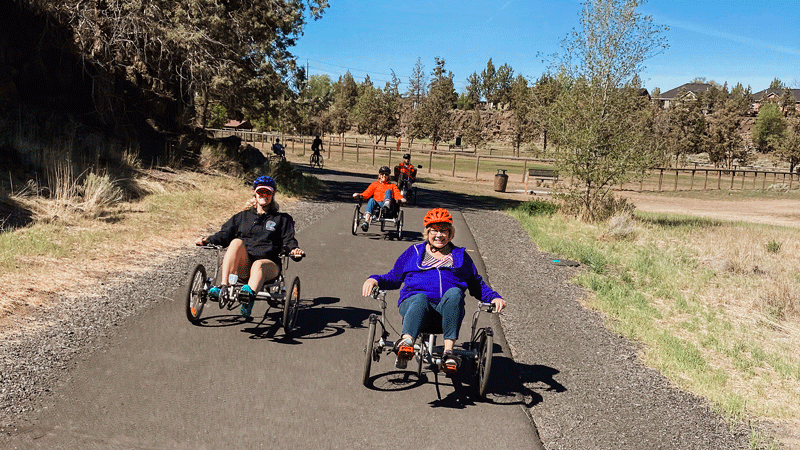 After moving back to Oregon and settling in Bend in 2015, Nelson reflected on her experience and felt compelled to do something. She founded Destination Rehab in 2016 and now works with a dedicated team of physical therapists and volunteers who help bridge the gap between rehabilitation and actually getting back into the world. 
Stephanie Odell, the donor journey coordinator (the person who turns potential supporters of the nonprofit into volunteers, advocates and partners through outreach, media relations and grant writing), explained how the nonprofit runs without a physical office or clinic. "Without a brick-and-mortar establishment, we do everything outside at local parks and trails. For the winter, we partnered with Embark Fitness and used their space twice a week when it was extra cold outside." 
Destination Rehab makes sure that the patient's goals come first. "Neurological conditions present themselves differently in every patient," Odell said. "Whether a patient comes to us wanting to get back on their bike or be able to go kayaking, or even if they just want to be able to go grocery shopping with confidence, we cater our treatment to make that possible for them."
To meet these goals, Destination Rehab keeps up with the latest adaptive technology, offering their patients everything from recumbent bikes to an exoskeleton that can help patients walk again. "We have some patients that come to us after not having touched grass in years," Odell said. "We build confidence and independence in our patients, as a part of the rehab. We have some of the best technology available to us, and we're always on the lookout for new innovations that can help our patients."
Treatment at Destination Rehab can be done in many different ways. The main form of treatment is their outdoor physical therapy program, which offers one-on-one rehabilitation with a physical therapist who specializes in neurological conditions, catered to the goals of the patient. The Adventure Group is a program that runs for six months during the warmer months. Sometimes patients gather for an activity that is physical, like hiking, and sometimes it's something more along the lines of going to the High Desert Museum. 
PEAK Fitness is another one of their programs. Similar in format to the Adventure Group, PEAK Fitness focuses only on physical activity and exercise, with monthly check-ins to evaluate progress and to keep the patients on the right track. A more unique program is the adventure retreat, which is a two-to-six week program where a patient from out of state comes to Bend for a rehabilitation-based vacation. The goal here is to provide exercises and a new sense of confidence that the patient can take with them when they head back home. 
The team has just purchased a van that can haul around all of their required equipment, and they are hoping to travel to neighboring communities to offer treatment as well as encourage physical therapists in those communities to offer outdoor rehabilitation as part of their own services. Acquiring a brick-and-mortar location is on the horizon, but for now, the vast outdoor space in and around Bend does a great job. 
"What we want to show people is that life doesn't end when you are diagnosed with a neurological condition, or if you are the caretaker of someone with a diagnosis," Odell said. "I'm so thankful that we've been able to give patients a second chance at life and inspire hope in the future." 
For more information on services offered and volunteer opportunities, please visit destinationrehab.org.