A Fusion of Culinary Expertise and Personal Service
In the world of event curation, Sanda Costello and Gene Soto's Bowtie Catering Company brings a "mom and pop" energy to the Central Oregon catering scene. Theirs is a tried and true partnership grounded in a shared passion for the food service industry. Costello and Soto have custom designed beautiful spreads at high desert events for eight years, earning community recognition and receiving awards for quality and service. From intimate private chef dinners in a client's home to 800-guest galas, Bowtie Catering delivers culinary inspiration and elevated service to any style of event. 

Culinary Business Inspired by Heritage and Community 
The unlikely story of Bowtie's inception stems from the co-owners' diverse origins and talents. One half of the story can be traced back to Romania, co-owner and business manager Costello's country of origin. Raised in Eastern Europe where farm to fork was the way of life, Costello describes, "Every single item from produce to meat was worked by us, so farm to fork is something that is very much close to my heart." Arriving in Bend as a 21-year-old exchange student of environmental engineering, Costello worked as a server in a restaurant and soon became the manager. The restaurant and food service industry had her hooked. Driven by an unyielding work ethic and a vibrant enthusiastic spirit, Costello brings a strength and perspective rooted in her Romanian heritage to Bowtie. "People are my passion," Costello said, adding how working with clients and engaging with her staff fuels her business sensibility.
Co-owner and head chef Gene Soto knew what he wanted to do for a career from the moment he graduated from high school. In a twist of fate, the former executive chef of New York City's famed Waldorf Astoria hotel moved to Soto's hometown of Sunnyside, Washington at that time and gave him the encouragement to pursue a culinary path. Soto recalled, "He told me, 'You should really take this further, get into an accredited school and get serious about this profession.'" Soto listened. After graduating from Le Cordon Bleu College of Culinary Arts in Portland, Oregon, he landed a job with the Gray Company–parent organization of Skamania Lodge, Salishan Lodge, Sunriver Resort, the Salish Lodge and The Governor Hotel. Soto worked as a chef for the company for ten years before accepting a job as head chef of Deschutes Brewery, the job that brought him to Bend.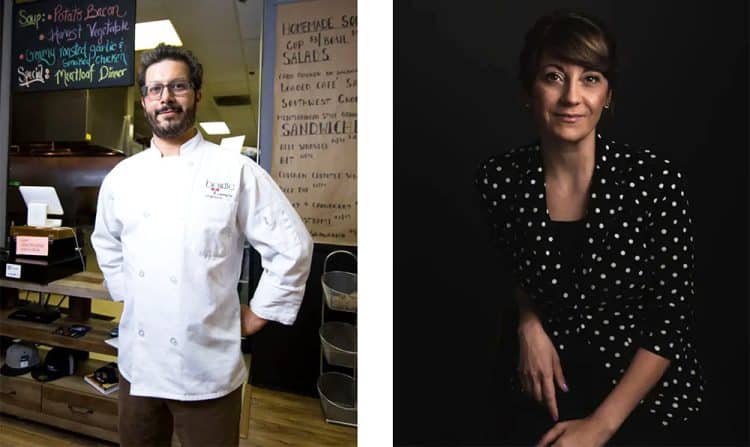 Costello and Soto met while working at Brother Jon's Alehouse, where they acted as the front-of-house and back-of-house managers, respectively. At the request of a friend, they fused their business and culinary expertise to create an event, and a wave of calls followed. By popular demand, Bowtie Catering Company was formed.
Boutique Caterer Rooted in Personal Service 
Proud of the fact that Bowtie started small, with nothing but their own personal investment, Costello and Soto reflect on how much it has grown, driven by recommendations and trust from their clients. "We are always growing and learning," Costello said. "We are also very rooted in the food service community of Central Oregon. We refer people and receive referrals from others–it's a very connected community." Bowtie books hundreds of events in Central Oregon each year and they are content with its current size, wanting to ensure they continue to be as involved, and remain present and flexible for their clients and staff. "We are both very hands-on," Soto explained, "One or both of us is present at every event." 
Bowtie Offers full-service, fully-staffed catering. "We like to say we are big but small," Costello said. "We are a boutique caterer that can do large events of any size. Our core group of 5 people makes the magic happen, then we have a roster of loyal and highly qualified employees that are called in for the events. We wouldn't be able to do it without our staff–we are really blessed by the number of good people we are able to pull every year," she said. Occasionally, Costello and Soto's respective families jump in to serve as well.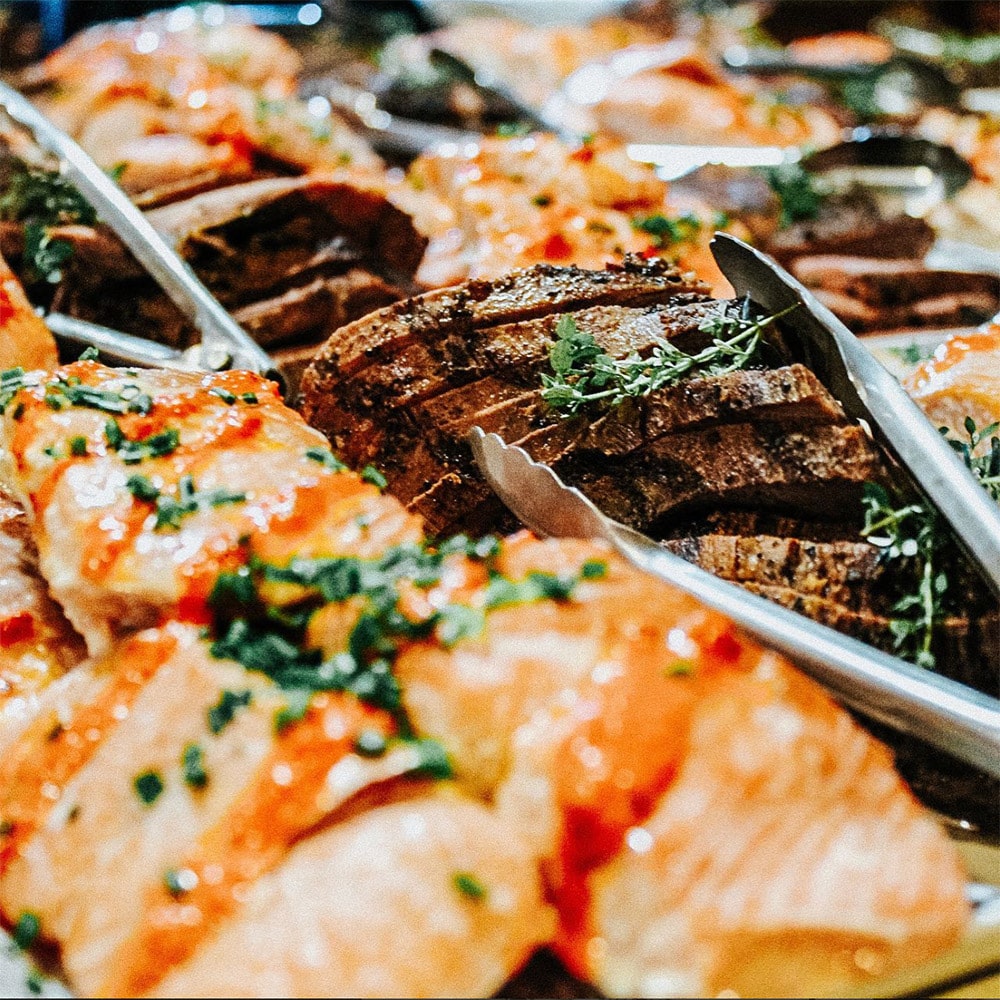 Pacific Northwest Fusion Cuisine
Bowtie specializes in elevated Pacific Northwest cuisine, drawing on Soto's extensive training in the region. Fresh salmon, tri-tip and local mushrooms fill their menus, but they define their cuisine as "fusion" since Soto's breadth of knowledge allows him to be able to craft food for any theme. If a taco or pasta bar is desired, no problem. He perfected the art of Ethiopian cuisine by request for a Doctors Without Borders event, "A Night for Ethiopia," honoring the organization's service in Eastern Africa. "A guest at the event came up and asked us where in Bend our Ethiopian restaurant was located so she could come enjoy the cuisine more," Costello shared, giving a nod to her business partner's expertise. Sourcing their food locally when available and when the event's budget allows, Bowtie has worked with Pioneer Ranch, Vaquero Valley Ranch, Boundless Farms, Rainshadow Organics and others in the region. They love to do farm-to-fork dinners and have used clients' personally caught fish and meats to create intimate and connected dining experiences. Well-versed in curating menus conscious of modern dietary restrictions, from gluten and dairy-free to paleo and keto, Costello explained how they guide their clients to select all-inclusive menus that allow all guests to indulge, regardless of dietary needs.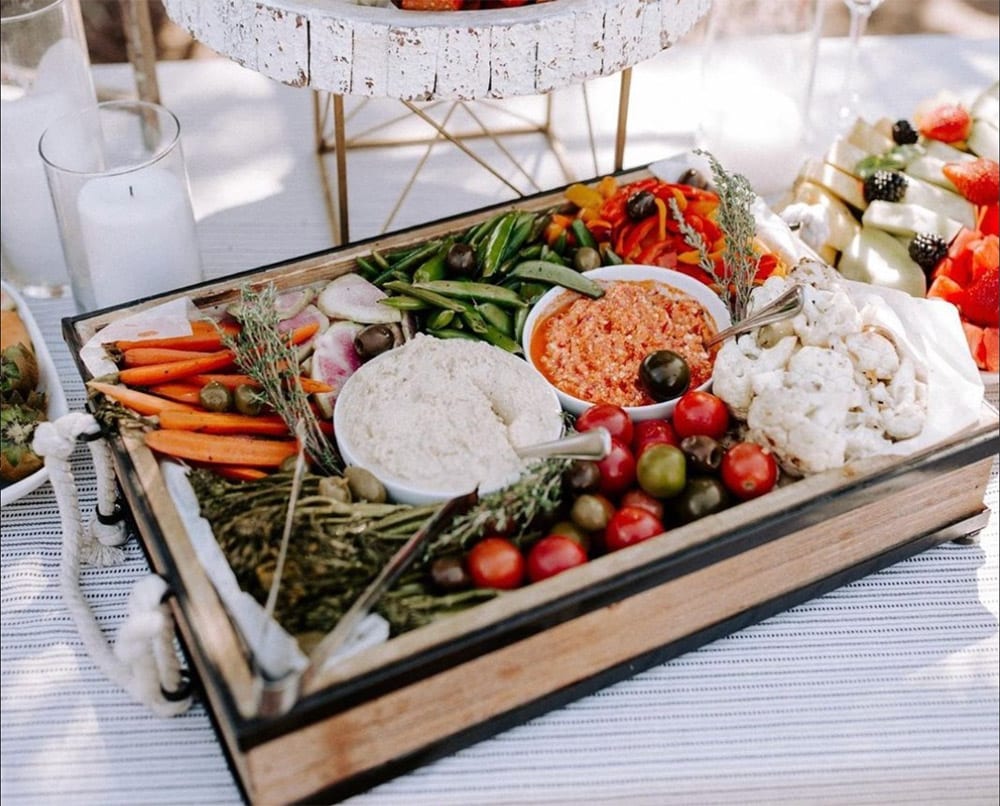 Dishes Prepared with Attention to Detail
A primary goal for Bowtie Catering is to create and present food that is special–elevated, beautiful cuisine that would not be easily made in the home. Costello said, "I feel like food is just as good as you see it. We always add special touches, charred lemons, microgreens or fresh herbs, such as rosemary sprigs and fresh basil, and special sauces like handmade chimichurri. We play around with what's in season, involving ourselves in the environment as we curate the menus." Costello and Soto are experts at knowing what food will stay fresh in high desert settings. "We adjust for the conditions," Costello shared, "and sometimes change menus, even the morning of an event– we're always thinking– we pride ourselves on being flexible, which is necessary for the diverse conditions of Central Oregon."
With artistic and European presentation, dishes made by Bowtie Catering align with the spirit of each event to make an impact. For larger parties, Costello and Soto encourage their clients to choose family style platters over the more traditional buffet, which allows guests to eat at the same time and have space to interact and connect while enjoying the meal together. Costello has a strong sense for the rhythm of events, especially the complexity of weddings, and how the role of the food service plays into the overall flow and structure. Presentation and service are paramount to the owners of Bowtie Catering. For almost a decade, they have created beautiful dishes, presenting and serving them with care to enrich celebrations across Central Oregon.