Sponsored Content
When Bayard Fox went looking for a sleek concrete firepit for his Bend home in 2007, what he instead found was a segment of the home design industry in need of transformation. As Fox was exploring concrete products, such as kitchen countertops, he learned it was common for them to crack and stain over time. Not to mention the material was heavy, and it's a little intimidating to have cement poured right inside your home. As someone already familiar with the construction industry, Fox decided to pursue a new venture. He purchased a cement design startup company in Bend, taking over the name and hiring the two existing employees.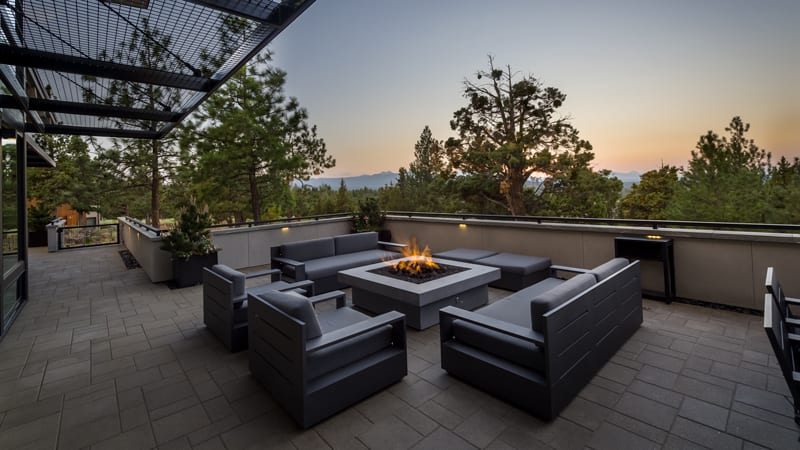 Thirteen years later, Cement Elegance continues to call Bend home, but has grown to a company with fourteen employees (including those first two) and over 40 retailers, working out of a custom designed and built 16,000-square-foot manufacturing facility and design space in northeast Bend. What has allowed the company to thrive is its focus on producing a type of concrete that doesn't crack, doesn't stain and takes into account weight and price. "What we've done is focus on the latest in technology so that we can put out the best product possible with this medium," Fox said.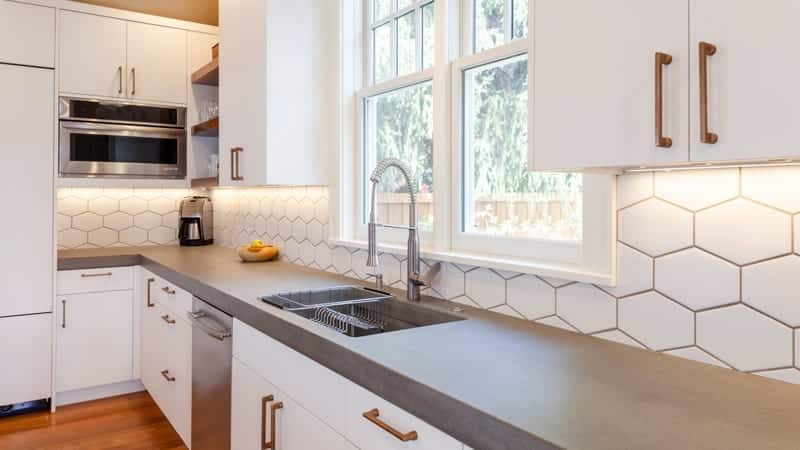 The products at Cement Elegance are just that—elegant, as well as sturdy and aesthetically pleasing. In addition to perfecting concrete countertops to be crack-free and stain-free, the company also offers sinks, firepits, fireplace features, shower surrounds and many custom designed one-off products. Oxide pigments that are mixed in integrally are used to achieve a variety of colors, and with finishing, sealing and sanding options, the products take on multiple different styles. "There's an aesthetic you can't get with other products," Fox said. "It's less busy, there's more natural character and there's a certain handmade quality."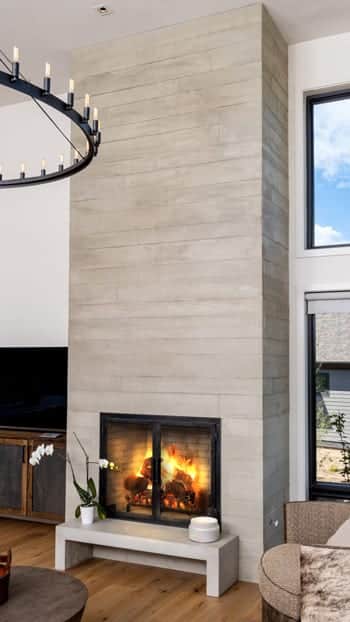 Fox said that while architects and home designers have liked the look of concrete features for some time, in the past they would be hesitant to recommend them because they didn't feel confident in a dependable and reliable source. Years ago, the concrete that would be put in place for a kitchen counter wasn't much different from what was used on a sidewalk. Today, Cement Elegance's products are more lightweight—using a proprietary core material that makes the product lighter, and less likely to crack. A square foot slab of the company's concrete weighs about twelve pounds, compared to granite which is about nineteen pounds.
The revamped concrete products have helped propel the use of concrete forward. Architects are more likely to recommend concrete features, and the company's commercial client base is growing, too. Cement Elegance has manufactured bathroom vanities for offices at companies like Microsoft, Google and Expedia, and locally at many restaurants including 10 Barrel, 900 Wall, and Crux to name a few. Drive down Galveston Avenue and you'll notice the firepit of the Boss Rambler Beer Club, another Cement Elegance creation.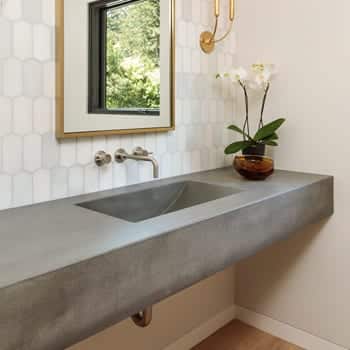 All of the products are pre-cast, manufactured at their Bend facility and then shipped or installed directly into their permanent homes. This process is quicker and more efficient than pouring concrete on site. The Bend headquarters is also a showroom, open for drop-in visitors or by appointment. Outside the area, they work with businesses and dealers to display and sell their products, which are primarily made on-demand. In any given week, the production team is hard at work preparing as many as ten to fifteen new pieces, including classy, durable firepits like the one Fox dreamed of for his Bend home more than a decade ago. It took three years after starting the business before Fox and the team designed their first high-quality firepit feature, and it remains in his backyard today.
Cement Elegance | cementelegance.com | (541) 383-2598