The staff at Contract Furnihsings Mart in Bend.
Sponsored Content 
Since 1981, Contract Furnishings Mart has been serving the Pacific Northwest in all needs related to flooring, cabinets and countertops. The company is dedicated to trade professionals who deal in wholesale. As a proud, third generation, family-operated business, it specializes in providing a personal touch to all of their business dealings.
With the largest showroom and warehouse of its kind in Central Oregon, the team at Contract Furnishings Mart is ready and excited to serve the entire region. This sentiment is echoed by Director of Marketing Garrett Anderson. "We're eager to partner with professionals to help grow their businesses," Anderson said about the builders, designers, remodelers and other customers who buy products wholesale from Contract Furnishings Mart. "At CFM, we provide an atmosphere and experience you won't find anywhere else while still offering great value every day."
The Central Oregon showroom and warehouse is run by Manager Doug Starr, who moved to Bend with his family nearly twenty-seven years ago. After witnessing Bend grow and evolve into the bustling little city it is now, Starr has an adept understanding of his industry, as well as the needs of the Central Oregon community. "I've had several offers to move out and leave this community, but I chose to stay every time because I knew this was the right place to raise my family," Starr said. "The opportunity to join the CFM family and do simple business the right way is something I couldn't pass up," he added.
His team averages 17 years of industry experience, and all of the salespeople are commission free; their only goal is to assist the customer.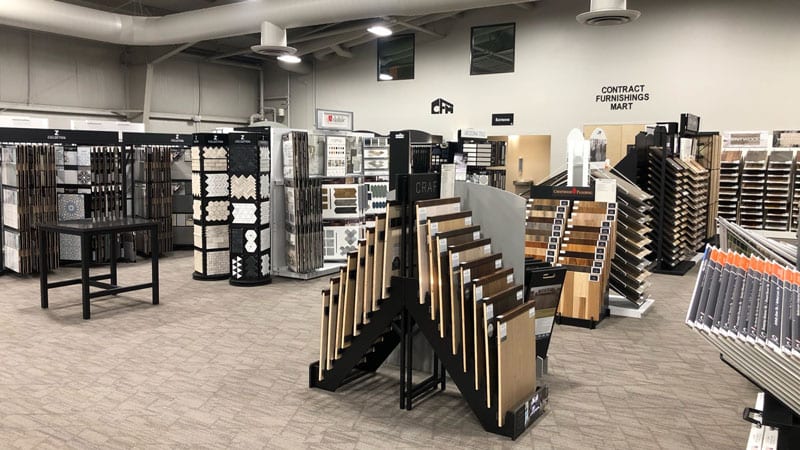 With this experience, the team at Contract Furnishings Mart is expertly equipped to ask the right questions to ensure the material a customer chooses is truly the perfect fit for their project. Customers have taken notice of this quality sales experience, and have decided to work with the business time and time again. "After years in the industry, CFM in Bend is my new go-to industry material supplier," said Heidi Byrnes, owner and operator of Society West Design, a Bend-based interior design company. "I have worked with many suppliers over the years and the beautiful showroom, material selection, pricing and reliability which CFM provides is unmatched in Central Oregon."
To ensure Contract Furnishings Mart has just what customers need, the staff goes to great lengths to keep their showroom up to date with the latest flooring styles. With our ever-changing industry, CFM is constantly bringing in new, fashion-forward products to meet the design needs of Central Oregon. From new and exciting trends to the tried and true classics in all types of material, expect to find the carpet, hardwood, stone, luxury vinyl, laminate and ceramic tile surfaces you need and more all under one roof.
"Everything we do as a company is designed to take care of the customer," says Anderson. "To say we're excited to bring this experience to Bend is an understatement."
Contract Furnishings Mart | 350 NE Addison Ave., Bend | cfmfloors.com | 541-508-4620