Thanks to our skiing ancestors in the European Alps for coining the phrase "après ski" and instituting one of the best parts of winter recreation: the after party. A warm plate of comfort food and a tall pint are the ultimate reward after a day of adventure, but the après ski scene is as much about the atmosphere as appetizers. In Central Oregon, with the mountains just a short drive away from town, you're never too far from a warm fire to thaw your frozen toes after a day in the snow. For your next post-powder gathering, shortlist some of these pubs and patios around the region to relax and refuel for the next day's adventures.
River Pig Saloon
Where: 529 NW 13th Ave., Bend
Open: Monday-Friday 3 p.m.-2 a.m., Saturday-Sunday 10 a.m.-2 a.m.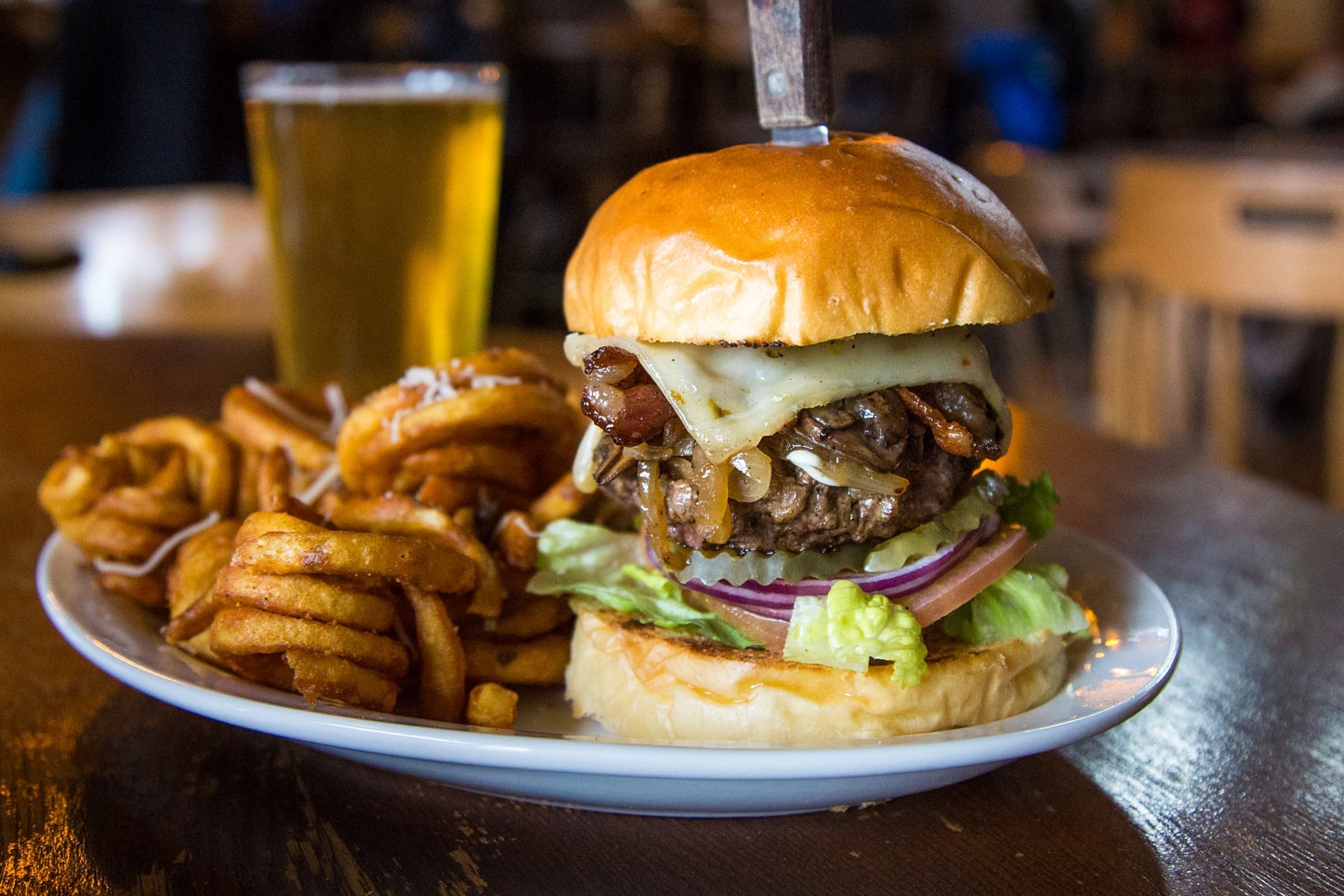 When you're looking for a spot to knock the snow off your boots after a long day of mountain play, don't overlook one of the newcomers to the scene, River Pig Saloon. This upstart watering hole with a Portland pedigree feels right at home in Bend where owner Ramzy Hattar has settled into the Box Factory in style. A throwback Western-themed bar wraps around the center of the room affording visitors a view of the multiple televisions where you're likely to find a Ducks, Blazers or Timbers game playing. Behind the bar a life-sized stuffed Bison watches over the proceedings. Upstairs a loft allows for a semi-private gathering space and serves as an elevated stage for live music.
The piece de resistance though isn't inside the thoughtfully designed saloon, it's outside where Hattar commissioned Orion Forge's Hunter Dahlberg to build one-of-a-kind galvanized steel hearth complete with wrought iron doors and a smoke alleviating chimney. It's a perfect venue for gathering on a winter afternoon around the handful of tables on the sidewalk facing Arizona Ave.
Once you get yourself comfortable, order a round of the friend pickle chips, sliced dill pickles, rolled in cornmeal batter and deep fried to delightful perfection. If you're appetite is as big as a buffalo, order the bison burger, a lean cut of ground American bison on a duck fat infused bun from Jackson's corner. Wash it all down with River Pig Pilsner from Backwoods Brewery and pass the pickle chips. — Eric Flowers
Twisted River Tavern
Where: 17600 Center Dr., Sunriver
Open: Monday-Friday 4-10 p.m., Saturday-Sunday 11:30 a.m.-10 p.m.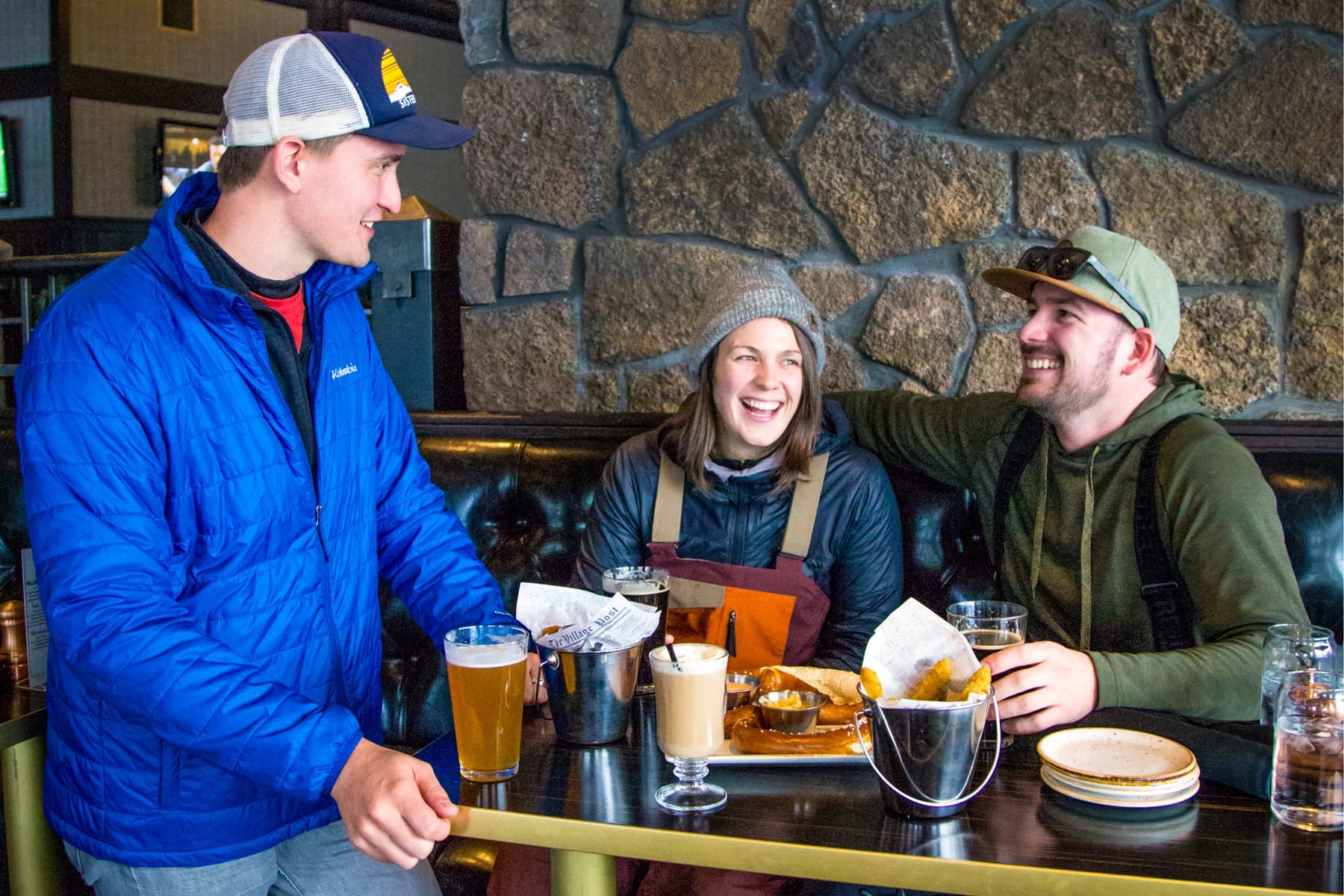 Some of us old timers might be tempted to call it the Owl's Nest, but by whatever moniker, Twisted River Tavern in the Sunriver Lodge is a classic destination to gather with friends at the end of a winter's day. A remodel a few years back updated the interior to a modern sheen, as well as justified a name change, but the moody ambiance and chance to tuck up next to the fireplace with your friends and a bevvy remain intact.
Order a Millionaire's Coffee or a Chocolate Martini alongside some duck nuggets or fried pickles and kick back to watch the sun slip behind South Sister. A terrific happy hour is offered seven days a week, covering extended hours on Saturday and Sunday, beginning at 11:30 a.m. A full menu draws on some of the flavors of the finer-dining next door at Carson's American Kitchen. Your children and underage friends are welcome here, too. Make a night of it—Twisted River is open late. — Kim Cooper Findling
10 Barrel Brewing
Where: 1135 NW Galveston Ave., Bend
Open: Sunday-Thursday 11 a.m.-11 p.m., Friday-Saturday 11 a.m.-12 a.m.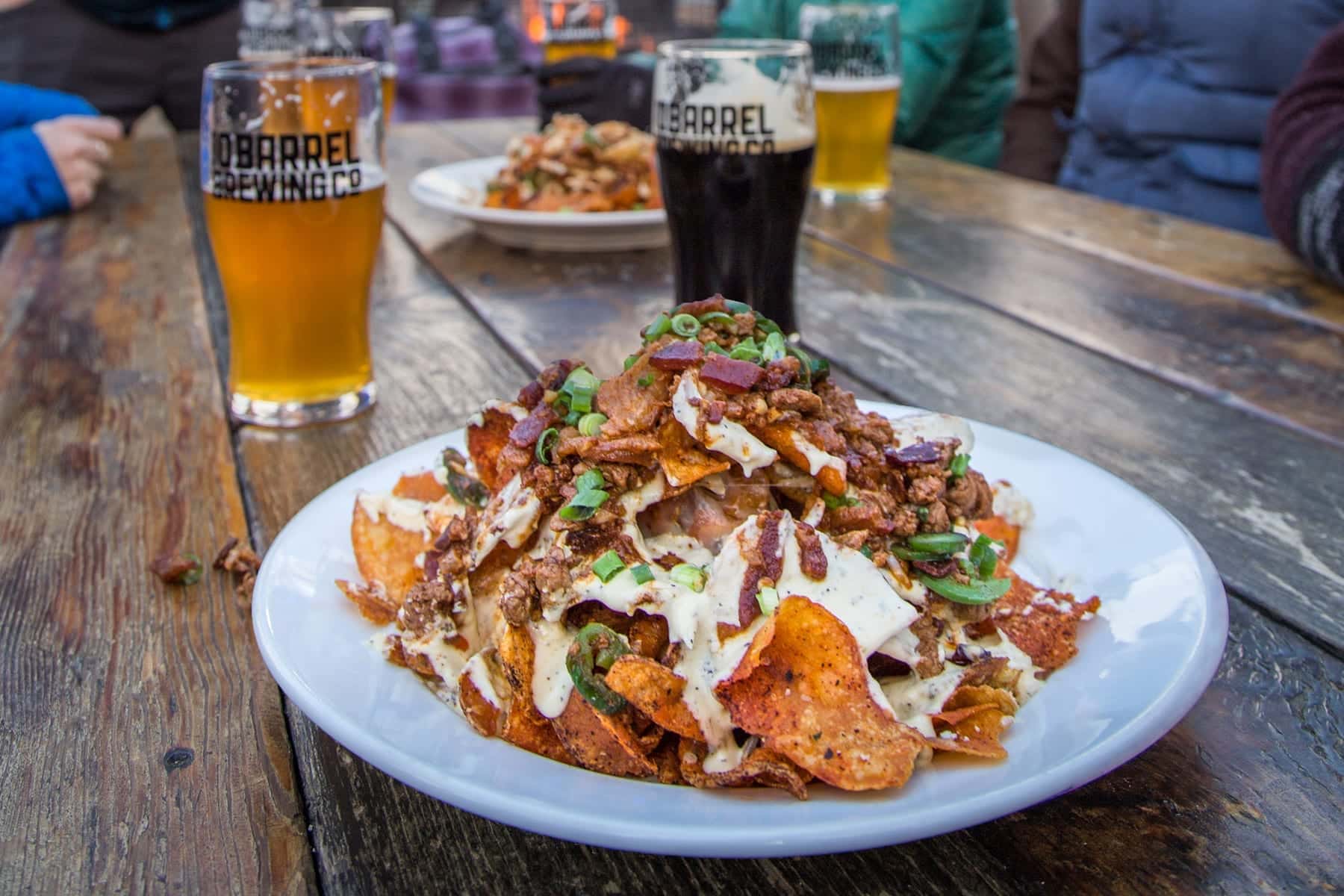 When the then-upstart 10 Barrel Brewing opened its flagship pub in 2010 nobody could have predicted the company's meteoric rise, opening pubs in Boise and Portland and its ultimate sale to the international brewing mega corporation, InBev. While there have been many changes, including the opening of a second larger pub on Bend's east side at 10 Barrel's corporate headquarters, a few things have remained constants.
One of them is the neighborhood vibe that presides over the flagship pub on Galveston, where locals and visitors alike gather year-round on the open-air patio, huddling around a crackling wood fire that is stoked with regularity. It's one of the best places in town to strike up a conversation with a stranger or kick back with old friends.
The prime location makes 10 Barrel a coveted location for an après ski layover. Assuming that you can find parking on the bustling Galveston corridor, you'll be rewarded with a huge selection of taps, including small-batch and pub-only beers. Pair those with some of 10 Barrel's pub grub and you've got the makings of a great post mountain pit stop. 10 Barrel's pizza and burgers are the staple of this menu, but a great après ski dish is one that can be shared. For that, you can't go wrong with the guilt-inducing flavorfest that is the steak and gorgonzola nachos. A staple of the menu over the past eight years, the dish is an inspired variation on traditional nachos, offering guests the option of either house-made Cajun chips or fries as the foundation. From there add a liberal dose of gorgonzola, ground steak and chopped applewood bacon, topped with four cheese sauce. If you're looking to make up some lost calories on the mountain, look no further. — Eric Flowers
Brother Jon's Public House
Where: 1227 NW Galveston Ave., Bend
Open: Tuesday-Saturday 11 a.m.-11 p.m., Sunday 9 a.m.-10 p.m., Monday 11 a.m.-10 p.m.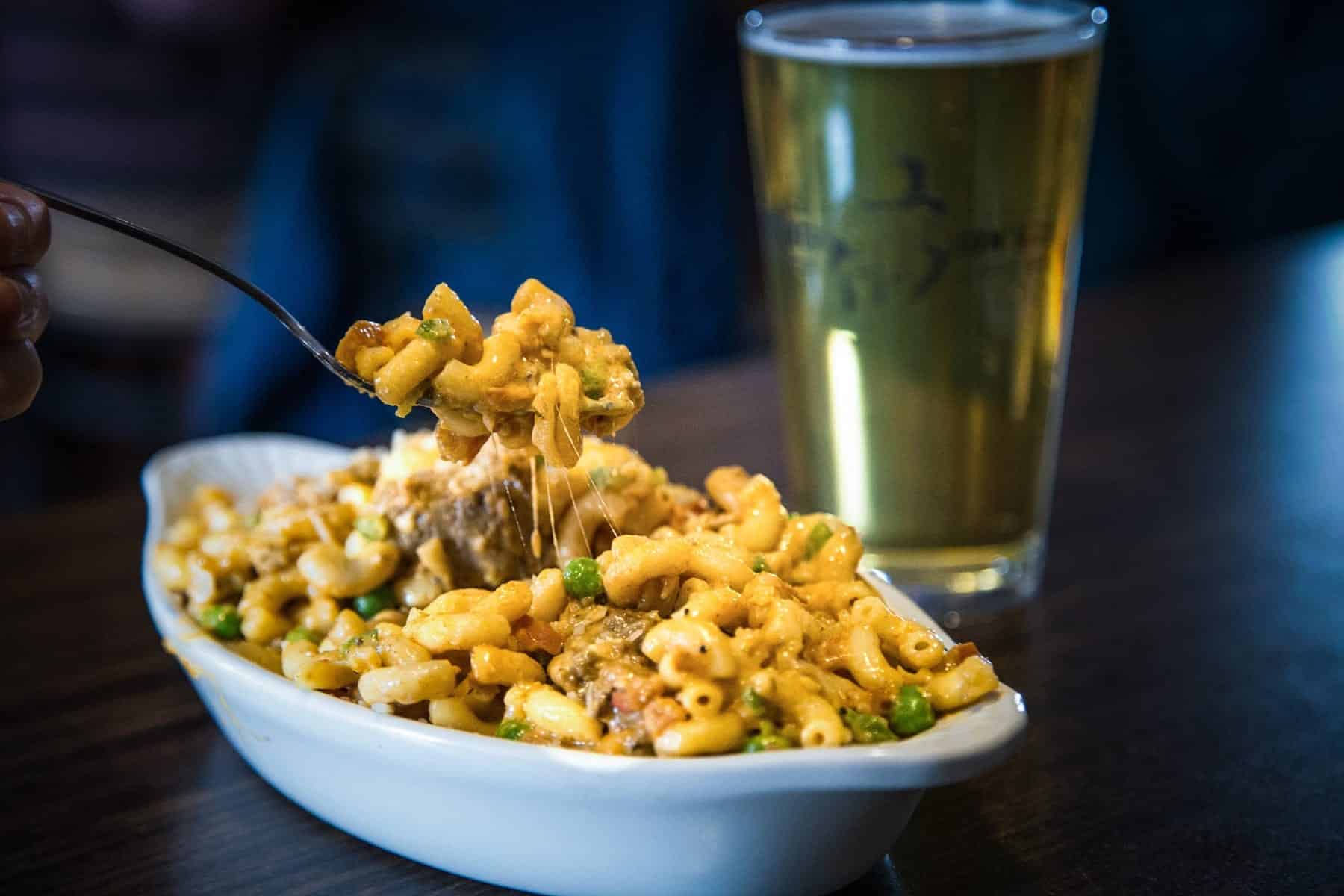 Comfort food, revolving taps and family-friendly atmosphere. Fresh off Cascade Lakes Highway, it's hard to beat Brother Jon's Public House for an après ski gathering that everyone in the group will enjoy. Grab a corner table, order a pint from the ever-changing menu of brews and dig into the comfort food. The spicy buffalo mac and cheese includes jalapenos, peas and buffalo meat in a spicy Sriracha cheese that will warm you from the inside out. It's best paired with an easy, light beer that can wash down the heat. The dish could easily feed two, or at least would make a stellar leftover lunch. But if you're ravenous after a day on the slopes, it's definitely going to be enough to fill you up. — Bronte Dod
Sisters Saloon & Ranch Grill
Where: 190 E Cascade Ave., Sisters
Open: Monday-Saturday 11 a.m.-12 a.m., Sunday 9 a.m.-12 a.m.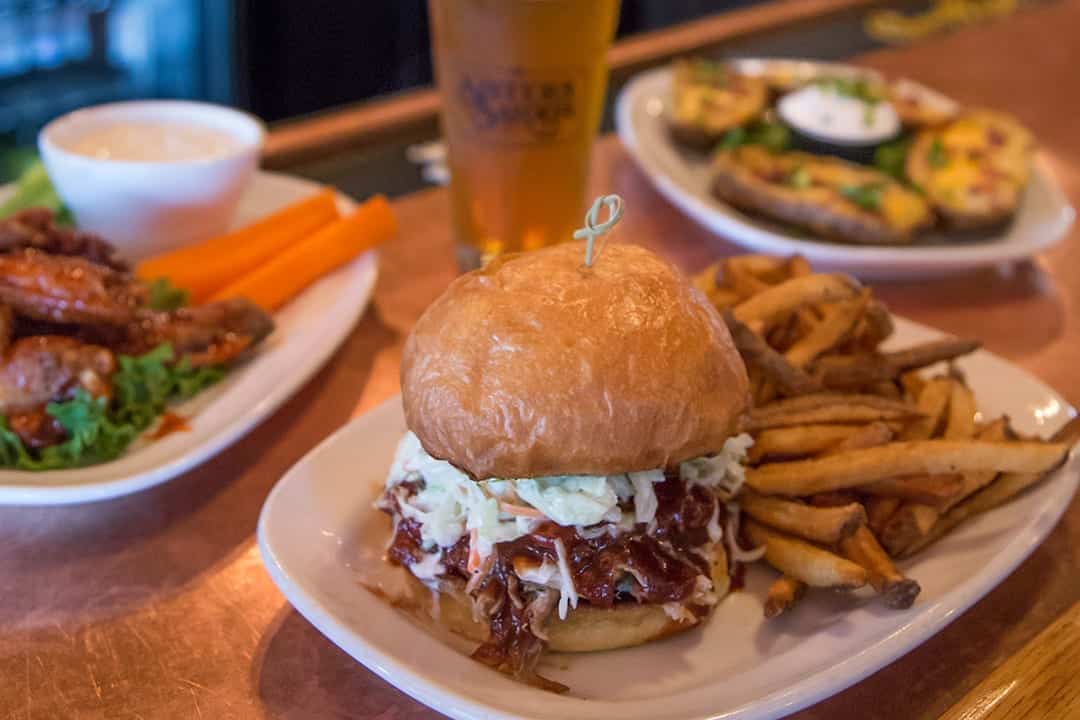 In Sisters, the place to après ski is the Sisters Saloon & Ranch Grill. Housed in the refurbished Hotel Sisters that was originally built in 1912, the restaurant opened in 2016 with decor that is on theme in true Sisters fashion and a menu that is a modern take on Western fare. Get started with the loaded potato skins and chicken wings. But make sure to save room for the coup de gras, a pulled pork sando served Memphis style with house-made slaw under a freshly baked brioche bun. Still got an appetite? The Saloon Cracklin's are a local favorite: flash-fried pork rinds in a chili lime seasoning. Order it all to share, a cocktail from the full bar or a beer on tap and kick up your feet in the family-friendly atmosphere that channels just enough Billy the Kid attitude to keep things interesting. — Bronte Dod