Four sushi-inspired dishes offer very different interpretations of the Japanese classic.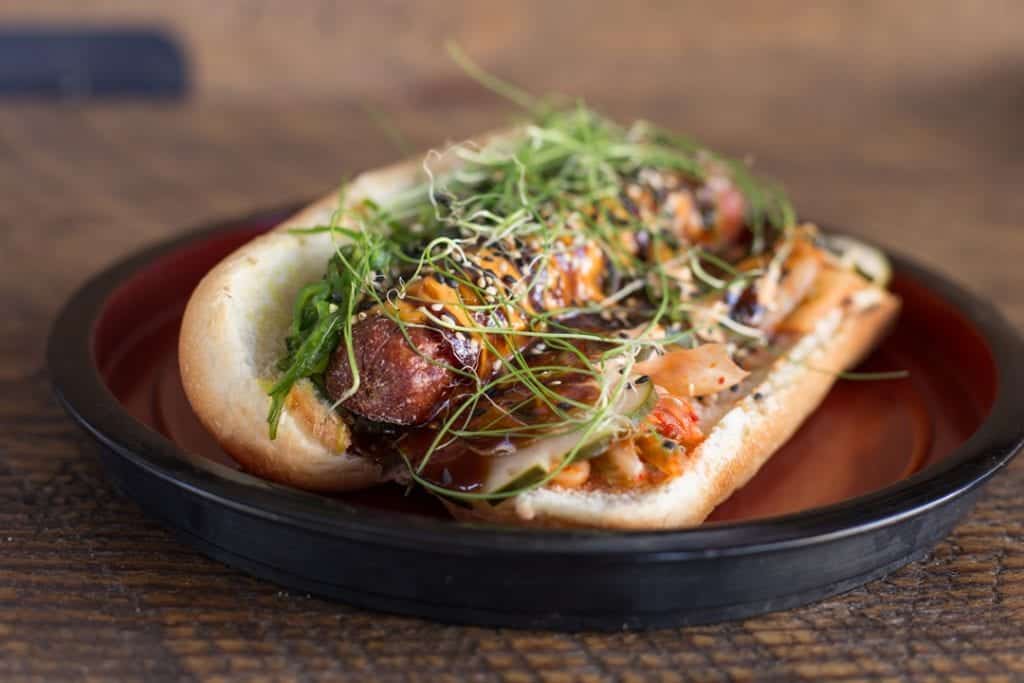 The high desert may not seem like the best place to go searching for sushi rolls and Asian seafood dishes. But there is a surprisingly robust range of fresh seafood offered around the area, particularly in Bend, where local chefs have embraced the artform and given it their own twist. From fine dining to food carts, restaurants take advantage of the area's relative proximity to the Pacific and the easy access to fresh seafood. Add in a public willing and ready to indulge in bold and experimental dishes and you have perfect stage for raw innovation.
Bibimbap | 5 Fusion Sushi & Bar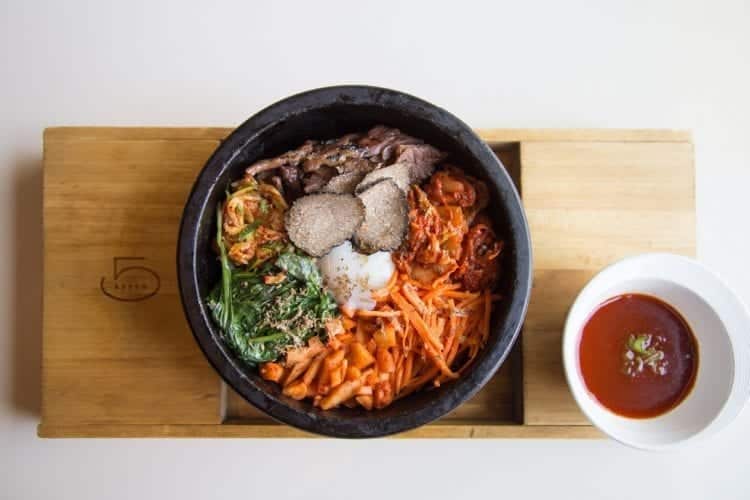 The super-heated black stone pot is set before you at 5 Fusion Sushi & Bar, cradling sizzling rice, spicy, crunchy kimchi, dark, rich, pork short-rib and a quivering, perfectly cooked 62-degree egg. Taste with your eyes first, admiring the pleasing arrangement of elements in the rustic crater. Then plunge your chopsticks into the center and stir, unleashing the velvety, buttery yolk, letting it run over its fragile, gelatinous white, bathing the tart, fermented napa cabbage and Korean radishes enveloped in chili, scallions, garlic and ginger. This is bibimbap. It may sound like jazz (BEE-bim-bap), but the flavors are symphonic. This South Korean specialty has been hailed by gastronomes as one of the world's most delicious foods.
Broiled Tomato | Kanpai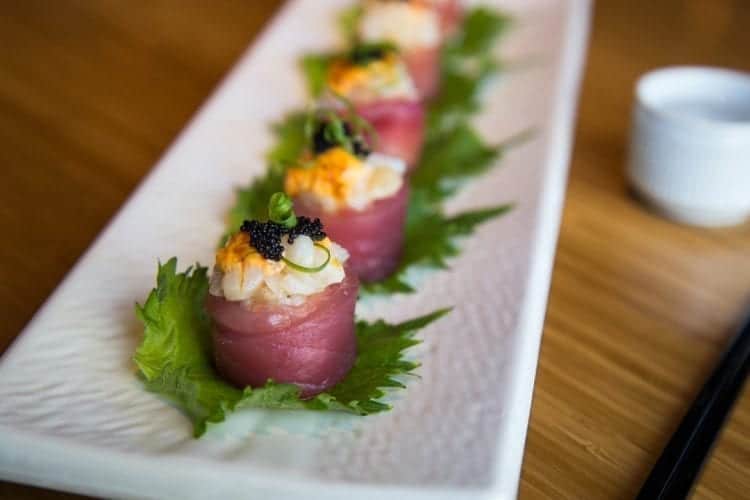 When is a tomato not a tomato? When it's the broiled tomato created by Justin Cook, owner of Kanpai. It's one of his riffs on nigiri, which is typically a pinky-finger long slice of raw fish atop a hand-formed pillow of sticky rice. In his iteration, delicate, translucent pink slices of tuna hug a miniature globe of rice crowned with chopped, broiled scallop, minced scallions and anointed with ponzu, the tart, citrusy, mahogany sauce and a Japanese cuisine mainstay. This irreverence is in good company with more than a dozen other ingenious creations, from the Steak N Eggs, with seared filet mignon around rice, topped with a quail egg yolk, wasabi pepper aioli and pickled red onions, to the Godzilla Roll, with tempura zucchini, cucumber and shiitake mushrooms beneath avocado and shoestring potatoes.
U of O Roll | CHI Chinese & Sushi Bar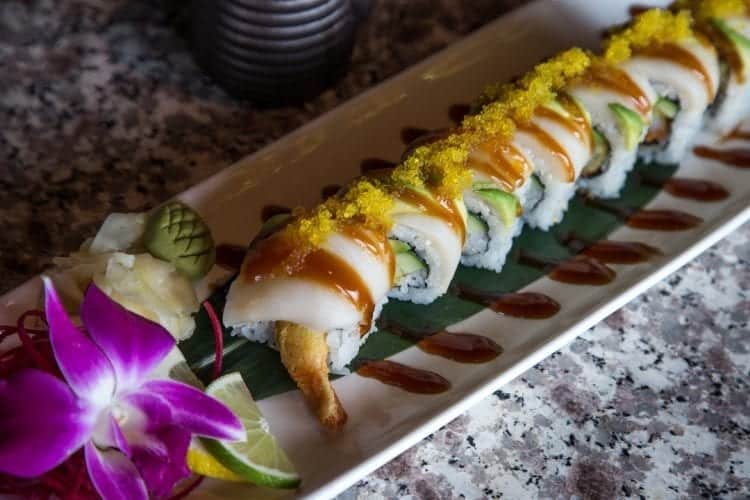 When the U of O roll arrives at CHI, the golden yuzu tobiko (tiny flying fish roe) atop the creation presented on a bright, deep green banana leaf certainly evokes team spirit. Fortunately, there's much more to this than just a rah-rah gimmick. The tempura shrimp, cucumber, avocado, spicy poke tuna, razor-thin avocado slices, hamachi (Japanese amberjack or yellowtail), thick, sweet unagi sauce and sesame seeds harmonize to create lovely umami savoriness. The tempura offers a flaky crunch as the tobiko lends a mild briny finish. To be politic, the hyper-local restaurant, which has named many of its dishes after local businesses, also offers the OSU roll of spicy poke, avocado, cucumber, unagi, salmon and sesame seeds. Order them both and host your gastro civil war.
Kobayashi Dog | Ronin Sushi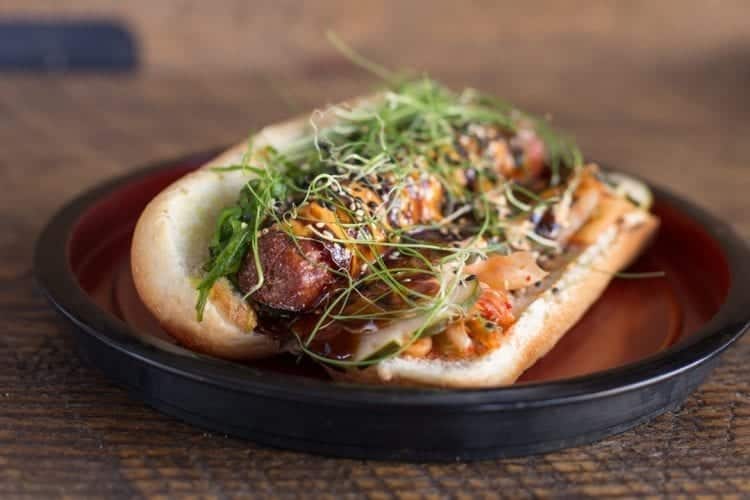 JapAm or AmeriZen? However you choose to think about it, Ronin food truck's take on the Kobayashi Dog is the best East-West cultural mashup since Uma Thurman picked up a Samurai sword and zipped into yellow jumpsuit in "Kill Bill." The bacon wrapped all-beef hot dog is cloaked with crunchy, tangy kimchi (a fermented spicy cabbage, and in this case, a kind of Japanese stand-in for sauerkraut). The subtly sweet flavors of wakame seaweed mingle with the tart-sweet pickles as if doing a Kabuki dance. Tonkatsu dragon mayo leverages Sriracha for a smoky, tangy Judo-kick with heat not found in a typical American barbecue sauce. With fresh mixed greens on a toasted pub bun this dish wins on multiple levels—complex and inventive enough to please the sushi aficionado, and a gateway to a raw-fish-flavored cuisine for those who wouldn't dream of eating raw fish. At a price of $6, you don't have to be an emperor to partake.