---
Central Oregon is often described as being one of the best areas in the country for mountain bikers to explore. Bend, alone, has an estimated 300 miles of mountain biking trails, and another 700 miles of trails in the surrounding areas.
---
The trails are well-kept by local organizations such as the Central Oregon Trail Alliance, dedicated to preserving the integrity of these recreational areas. In addition to sheer abundance, Central Oregon trails are friendly and come with rewarding views of rivers and the Cascade Range.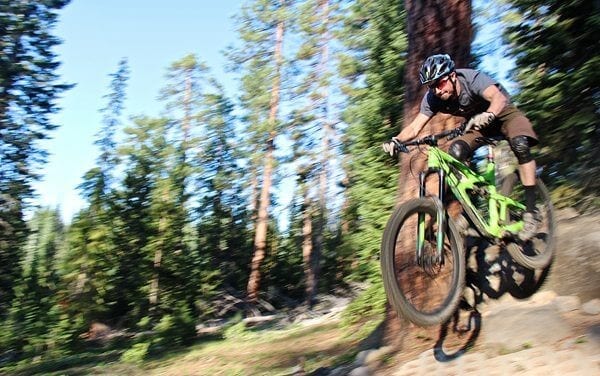 Ochoco Mountains
This rough-and-tumble trail system in Prineville has an untamed wilderness feel. Isolated from urban life, you'll encounter sheets of wild flowers (when in season) and, with luck, wild horses that inhabit the forest. The two cardinal trails are Round Mountain and Lookout Mountain, which can be ridden together for a full day of thirty-five miles. If you're looking for a shorter time commitment, Lookout Mountain will be the shorter of the two routes. Whichever trail you choose, you'll be rewarded with some hard-earned views.
Newberry Crater Rim Trail
La Pine's seventeen-mile Newberry Crater Rim Trail has photo-ops galore and challenging hills of rugged terrain. A loop trail, it begins at the Paulina Lake Campground with three miles of gravel road riding. The trek will lead you to views of the crater and East Lake. Relax after your ride by soaking in Paulina or East Lake Hot Springs—a regenerative treat for aching muscles. Take the lakeside trail on the right side of the Paulina day-use parking lot to access the hot spots (on the east side of the lake). While you're in the area, take a drive up to Paulina Peak for a breathtaking look at the Newberry Caldera and Volcano, as well as the Cascades and Fort Rock Basin.
Wanoga Trail Complex
The vast network of trails at Wanoga Snow Park, along the Cascade Lakes Highway, is easily accessed from Bend and has substantial options for beginners and experienced bikers. Many of the trails here are relatively new and continuously being improved. Or favorites include Funner and Tiddly Winks. For even more adventure, take the connecting trail up to Kiwa Butte or hop on the Storm King Trail. The trails are maintained to ride nearly year-round. For competitive riders, be sure to check with the Deschutes National Forest for races within this network.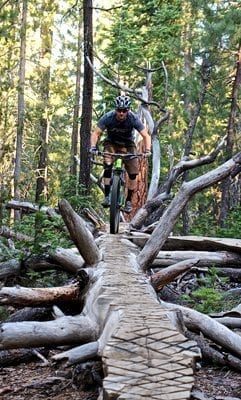 Peterson Ridge/Sisters Mountain Bike Trail
The terrain throughout this network is perfect for beginning mountain bikers—fairly smooth and easy with minimal climbs. A popular mountain biking destination, it can also be a great place to bring dogs as there aren't many hikers on these trails. Further perks include views of the Cascades and free parking. We recommend GPS or a map at this site because the trails aren't always clearly marked.
Gray Butte and Smith Rock State Park Trails
For a grueling but gorgeous expedition, try your hand at the Gray Butte Trail near Smith Rock State Park. There are many routes in this scenic destination. For a real kick-in-the-pants, attempt the intensely steep Burma Road on the west side of Gray Butte (and prepare to sweat). Fall and spring are the recommended seasons to ride in this arid, desert-like area. High temperatures during summer can make the ride very difficult. A haven for rock climbers and hikers, Smith Rock can get crowded, so shoot for a weekday.