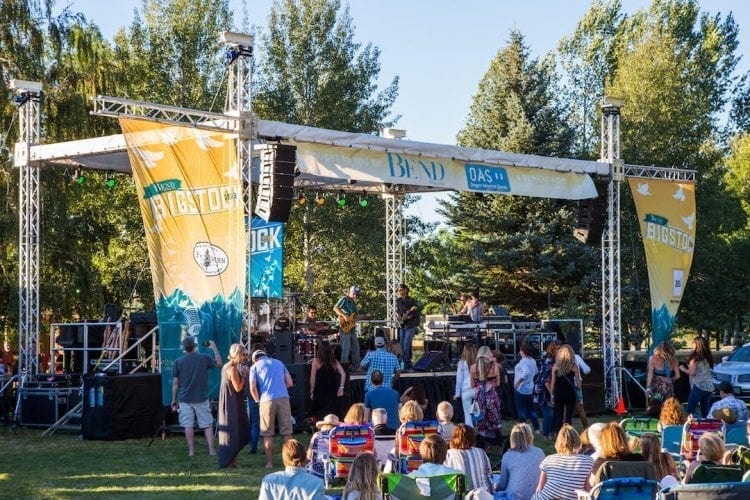 What started as a small backyard concert and modest fundraiser for Oregon Adaptive Sports has grown into the region's premier private concert event. A one-day, all-inclusive concert and charity auction that celebrates Central Oregon's commitment to a level playing field athletes of all abilities, Bigstock Bend is the primary fundraising event for Oregon Adaptive Sports.
This year the event returns to Coyote Ridge Ranch in Tumalo on August 10, 2019 when Big Head Todd and the Monsters and special guest Freddy Jones Band will take the stage for an unforgettable evening of music under the stars.
Presented by Bend Magazine, Bigstock Bend welcomes headliner Big Head Todd and the Monsters for its only Central Oregon appearance this year. The Boulder, Colorado-based band is known for its powerful live performances that cover a twenty-plus-year career. With hits like "Broken Hearted Savior" and "Bittersweet" from the band's platinum-selling breakout album, Sister Sweetly, Big Head Todd's career has spanned the arc of modern radio music. The band's most recent album New World Arisin' was released in 2017 and continues the group's commitment to hook-driven rock and heartfelt lyricism.
Supporting act Freddy Jones Band ensures the day will not be short on funky groves and extended jams. The Chicago-based band cut its teeth during the mid-90s and has been touring hard ever since while scoring hits like, "One World" and "In a Daydream."
Bigstock Bend is a celebration of music, friendship and philanthropy that makes a positive impact on the lives of differently abled athletes by ensuring the outdoors is open to all.
In addition to live music, Bigstock attendees can participate in a silent auction with proceeds going directly to Oregon Adaptive Sports, an organization committed to providing equal access and opportunities for athletes of all ages and abilities.
A hosted bar includes local beer, wine and craft spirits with each ticket, as well as a cocktail mug. A diverse sampling of the region's culinary offerings will also be featured in a pop-up food court featuring some of the area's most popular food trucks.
Early release tickets are available now here.
Like and follow our Facebook page at facebook.com/BendBigstock for the latest updates as well as special ticket offers and promotions.