Artist and Central Oregon Community College instructor Bill Cravis has new dual installations at the COCC campus that subvert the status quo.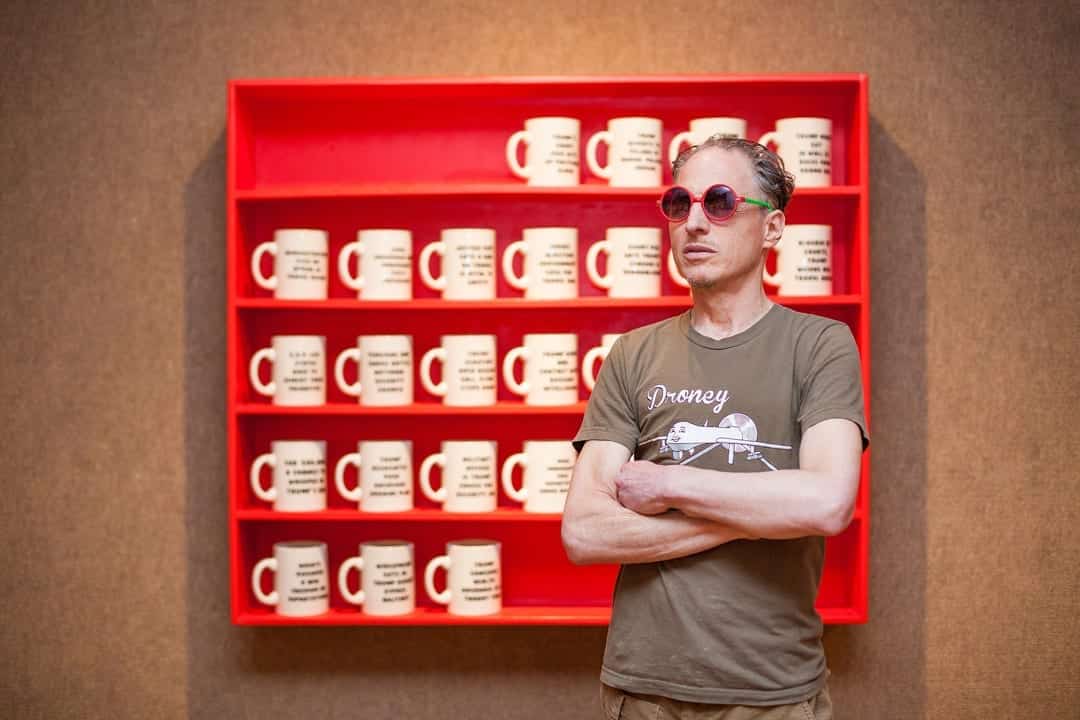 In a small gallery hidden away in the maze of the Central Oregon Community College campus is an exhibit with a big impact. Artist and instructor Bill Cravis created two separate installations in the Pence Gallery designed to be experienced.
The front half of the exhibit, Reality! Season One, evokes Andy Warhol's 1962 Campbell's soup can paintings. The work is stark, repetitive, minimalist and controversial like Warhol's pop art was when he challenged traditions of fine art in the '60s.
"This is art that is immersive," explained Cravis. "This is art that you walk into and interact with. It's not passive."
Cravis made thirteen firetruck red boxes to display white ceramic coffee mugs. The boxes and mugs start huge—the mugs are large enough to hold a carafe of coffee—then diminish as the viewer moves around the room, eventually becoming dollhouse-sized. Each white mug is emblazoned in black with a single banner headline from The New York Times, starting with January 20, 2017, the day of Donald Trump's inauguration. A significant number of headlines are about the Trump presidency. The last tiny mug is dated January 19, 2018. Visitors tempted to pick up a mug may do so carefully.
"A lot of my work is satirical, like a jab," he said. "But this is more objective. The primary metaphor is of something big and disturbing that begins shrinking until it becomes trivial. For me it's very personal."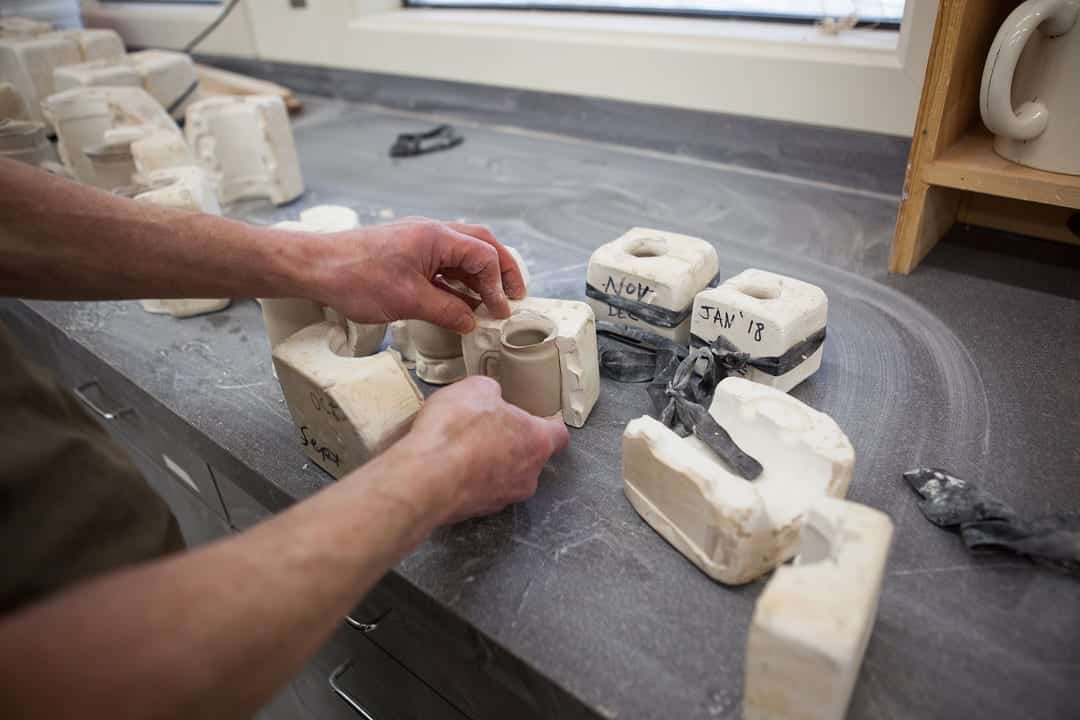 Reality! Season One started with Cravis's self-reflection of drinking coffee each day while reading or listening to news reports of suicide bombings, school shootings, environmental catastrophes and global tragedies. The overlap of "something so pleasurable with something so disturbing in the news" led to the installation, he said.
After her second visit to the show, COCC theater student Aislin Goldrick said, "It's funny but kind of sad and depressing. These are all things that Trump said. The mugs with texts are simplistic and powerful, and the sheer quantity of them fills the room."
In the back half of the gallery, Cravis finds his satirical voice in Happy Campers, which consists of four video monitors that loop sequences of people singing "Row, Row, Row Your Boat" in their cars. Cravis started the project while living in Minnesota before coming to COCC to launch 3D Design and Sculpture programs in 2012. He finished the installation this year during an artist residency at Caldera in Sisters.
In Minnesota, he recruited about 120 individuals to sit in their cars and sing while he videotaped them. Because the participants were isolated without the benefit of hearing each other's voices, the result is an uncomfortable dissonance. The image of traffic jams and solitary drivers "trapped in their hulking automobiles, bumper to bumper adrift in a sea of other solitary drivers, is a grand display of frustrated individuals getting nowhere," he wrote of the exhibit. Outside the car windows is an eerie red, fiery glow that contrasts with the voices singing "life is but a dream."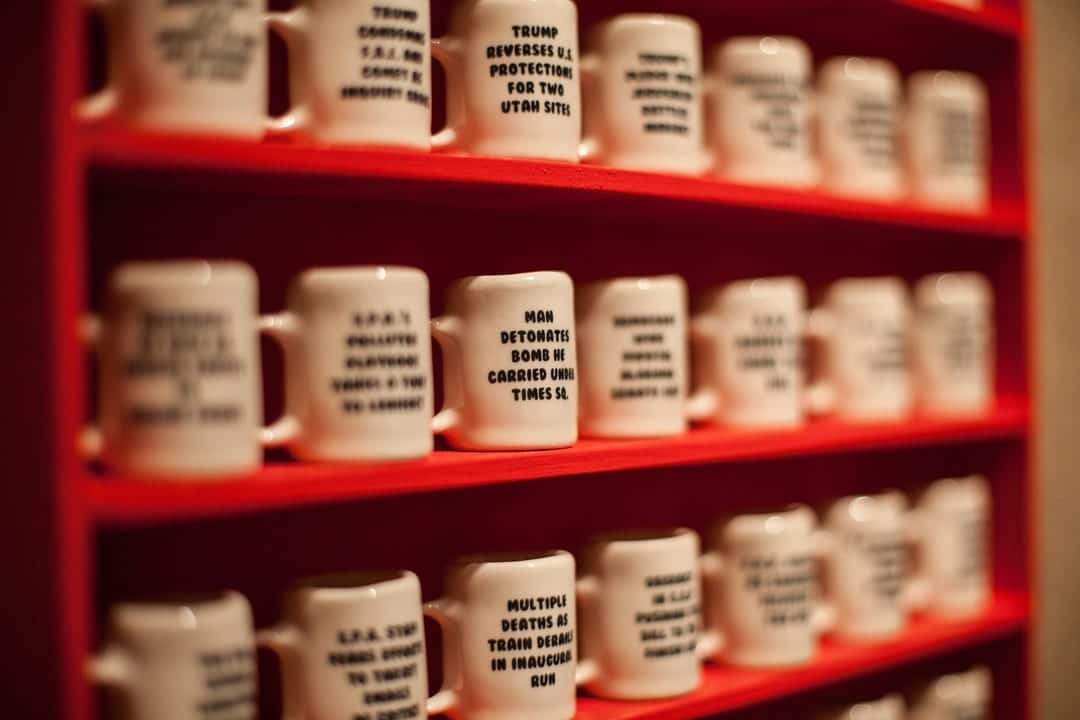 In a way, Cravis has created an installation that challenges the Central Oregon art community, which he feels is missing a contemporary beat. "It's a place that hasn't yet embraced 21st century art forms," he said. "Sometimes I feel like I don't belong here. I'm not making art objects as commodities to be passively consumed. I want my art to disrupt the status quo."
The installation opened in May and runs through July 31. Hours are 11 a.m. to 5 p.m., Wednesday, Thursday and Friday and by appointment.