By practicing "regenerative" ranching, Blue Mountain Ranch is improving the land that its cattle grazes on.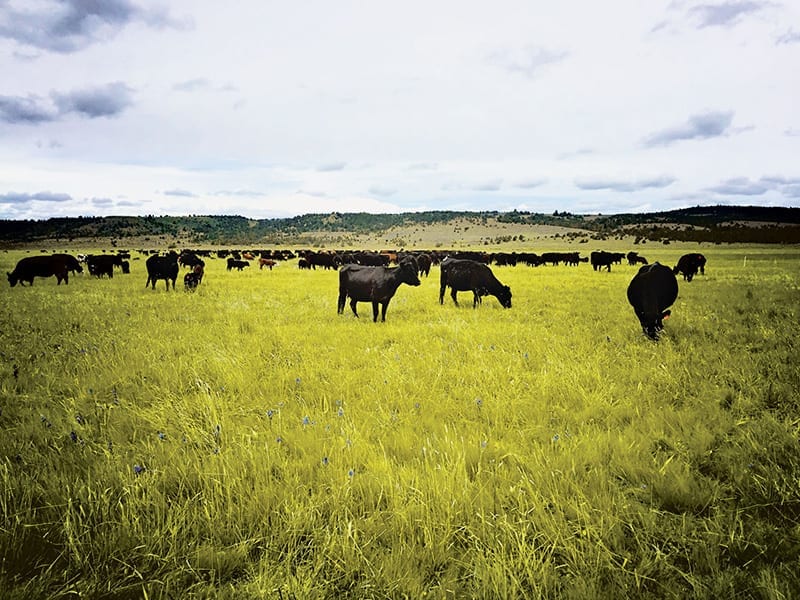 "My grandfather owned a dairy for sixty years in Arizona and the whole time he dreamed of becoming a cattle rancher," said Sarah Teskey, who bought Blue Mountain Ranch in Paulina with four generations of her family in 2006. "These 23,000 acres had a running water source, contiguous land next to BLM with forest permits and enough property for cattle to support several families. My grandfather lived his last years with everything he had hoped and dreamed for in a ranch."
Everyone in the family had farm or ranch experience prior to the move from Arizona to Oregon but not on this scale of raising cattle and managing grass. The relatives threw themselves into learning both on the rangeland and on the pages of the latest ranching literature. When they began to learn about holistic management, things clicked.
"'Regenerative qualities.' It's a buzz word in ranching now," said Teskey. "It's past sustainable. We don't just want to maintain land with holistic practices, we want to improve it."
Blue Mountain operates on the principle that grass-fed and grass-finished beef provides the best benefit to the consumer because there are no additives or feed other than local forage. Beyond the consumer, the overall health of their 1,000 head of cattle and the land they graze are equally important priorities for the ranch.
"We believe that a holistic outlook will eventually become what's best for the pocketbook over the long arc," said Teskey who, along with her husband, is raising two boys on the ranch.
Their grazing practices maximize growth of nutrient-dense forage, which in turn promotes the soil's microbial functions and regenerative processes. Blue Mountain times the start of their calving season later in the spring than many ranches do, in order to "reduce the loss that can happen with winter calving and maximize high-energy protein intake by grazing cattle on grass instead of hay when they are about to give birth," said Teskey.
"The key is to evaluate what you're doing," she said. "Is it because it's the way it's always been done or because the neighbors do it or because it's what's best for our operation, our land, our specific location? It's a paradigm shift."
Blue Mountain's beef is available for purchase by quarter, half or whole animal.