In the heart of Powell Butte, an organic farm is a model of efficiency. Every element of the farm is utilized, including the minutes in the day.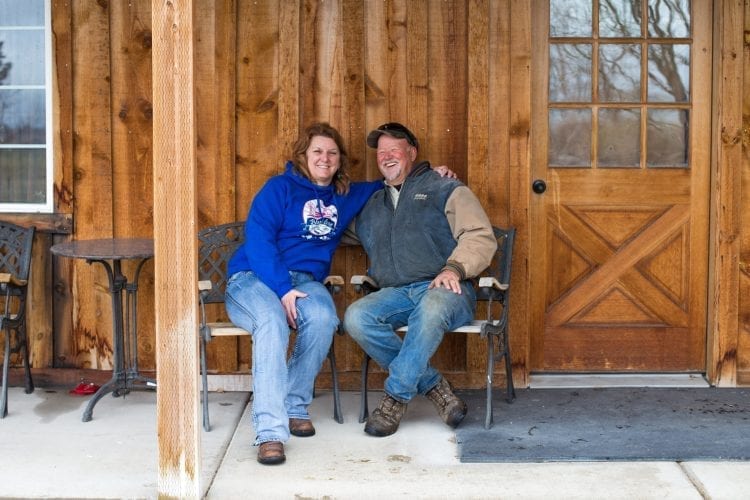 Michael and Onda Hueners must have more hours in the day than the average person. The Hueners run Bluestone Natural Farms, a thirty-five-acre organic farm in the heart of Powell Butte, producing beef, pork, eggs, vegetables, goat milk products, textiles and more for their farm stand as well as local farmers markets. They host educational farm tours on their property and are leaders of a handful of local agriculture organizations. And they do it all while holding full-time jobs—Michael owns Bluestone Gardens and Landscapes and Onda is an RN at St. Charles in Bend.
"It started out as a hobby, with the idea that we would work it into our retirement," said Onda. "We started with a couple cows, and it's just gone crazy from there." Today they have about twenty head of cattle, fortyish pigs, about the same number of goats and another couple dozen chickens. A greenhouse and garden beds around the property produce a variety of vegetables.
Michael and Onda bought the property in 2004. Onda grew up in Wallowa County on a small farm and Michael grew up in Minnesota and moved to California, where they met in 1999. They have seven children between them from previous marriages and eighteen grandchildren who occasionally lend a hand, but most of the time it's just the two of them.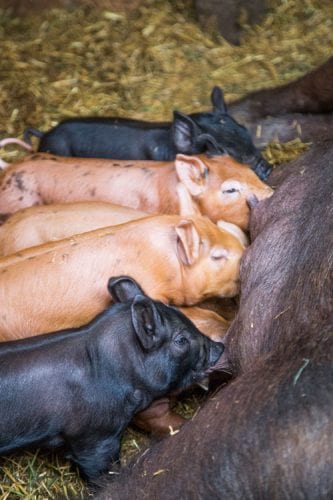 Their main goal is to have the farm be as self-sufficient as possible, and they work with local businesses to collect food waste to feed the animals or create their compost. They collect spent grains from Kobold Brewing in Redmond to feed the cows and pigs and pre-consumer food waste from Worthy Brewing and Dairy Queen. (One look at the bucket of melted soft-serve next to the pig pen will put you off Blizzards forever. "The pigs just go crazy for it," said Onda.) Facebook, and soon Apple, give them their pre-consumer food waste as well, which is part of a new initiative for the companies.
Unlike the narrow vertical approach of Big Ag, every component in the Bluestone operation has a dual purpose. Waste from the animals, along with hay grown on the farm and their own food waste, makes the compost that nurtures the vegetables.
While it may lack the economies of scale that are the hallmark of modern farming, there is an elegant efficiency here unrivaled in commodity driven farming. "Why have the farm that raises pigs, if you don't have this, that and the other," said Michael, referring to all the other components of the farm that aid in the process of raising pigs, like hay from the fields and whey from making goat's milk. Otherwise, "It's not a complete circle," he said.
Education is another priority for the Hueners. They work with local schools to bring kids out to the farm to learn where food comes from. The adults are just as intrigued as the kids, they said. "It's important to us because people have lost track of where their food comes from, or the work that it takes to produce that food," said Onda.
A less diversified farm might be more profitable for them, but that isn't the point. They do it all to be stewards of the environment, an example for a new generation of small farms and to be able to say that an average meal for them was produced entirely on their thirty-five acres.
"We haven't made our own lasagna noodles yet, but everything else, even the tomato sauce, is from here," said Michael.