The fresh prepared food service Boxwood Kitchen opened a brick-and-mortar in Bend's Old Mill District.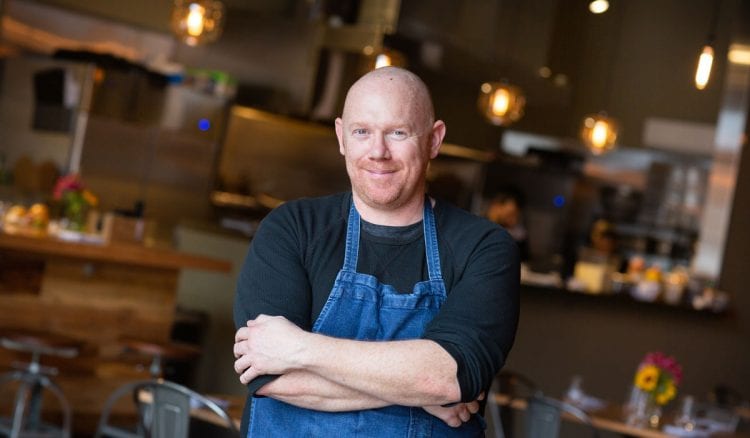 When Chef Eric Rud describes Boxwood Kitchen, which he opened in the Old Mill District at the start of the year, it's devoid of trendy terms.
"My vision is comfort food and all the little details, the efforts behind the scenes that no one would know about," he said. "I want a plate to be recognizable and delicious, beautiful without being pretentious, and I want to give value."
That's just part of the story, though. The phrase "efforts behind the scenes" is essential. For starters, Rud and his staff of ten make all the pasta, from pappardelle and gnocchi to spaetzle. House-made dinner rolls emerge warm from the oven nightly, served with lava salt and herb butter.
A savory dimension to the vegetarian gnocchi comes from umami powder, which the kitchen makes by dehydrating mushrooms, a process that requires two days and valuable kitchen space. Smoked shallots further boost the dish. All meats, including a hanger steak, are cooked sous vide, vacuum sealed in a pouch immersed in precisely heated water to achieve optimum flavor and texture. The pork chop is brined and marinated first.
"In our dry storage, in winter we have canned tomatoes, oil, vinegar and salt—no other cans," said Rud. "We make all of our red curry, sauces and vinaigrettes from scratch. Personally, for me, there's no other way to do it. It's tricky, it causes a little stress, but we all take pride in it."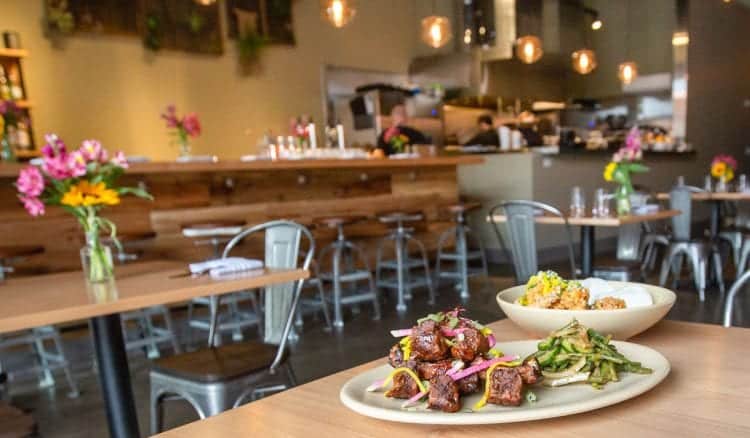 Boxwood stands on the shoulders of the personal and career experiences of Rud, 42. He was born in San Francisco, but doesn't have many formative food memories before age 6, when his family moved to Germany on a military assignment.
"While we lived on a military base, my parents insisted we would get out every weekend," said Rud. He and his sister discovered the food cultures throughout Germany and in Italy and France. Being a picky eater wasn't an option. "It pushed me in the right direction," he said.
He started working in restaurants in Germany when he was 18, and about five years later, returned to the United States to attend Le Cordon Bleu College of Culinary Arts in Minneapolis. He returned to San Francisco and co-owned Aliment, an inventive, American eatery. Eventually, he and his girlfriend, Riane Welch, wanted to move on from the area, with its high cost of living. They saved for a year, and he sold his share in the restaurant.
They moved to Welch's parents' vacation home in Sunriver and launched Boxwood Kitchen, offering thoughtfully prepared salads, sandwiches and noodle bowl dishes, for online order, delivery and in local boutique grocers. The concept wasn't taking off, but one of their delivery customers, the Old Mill District management office, approached them about opening in the fifty-two-seat space, behind Jimmy Johns.
While Boxwood still sells vegetarian and vegan salads at Market of Choice and Newport Market, the focus is on their popular eatery. This summer, they plan to add planters (of Oregon boxwood, an evergreen shrub) outside to create a patio.
Welch works full-time in marketing for Les Schwab Tire Centers, and as a restaurant partner, lends those talents to Boxwood, too. "I am, and will always be Eric's biggest fan," she said. "He takes so much care in crafting dishes and combining flavors and elements. He is always pushing himself to find that one thing that will really take our menu items over the top."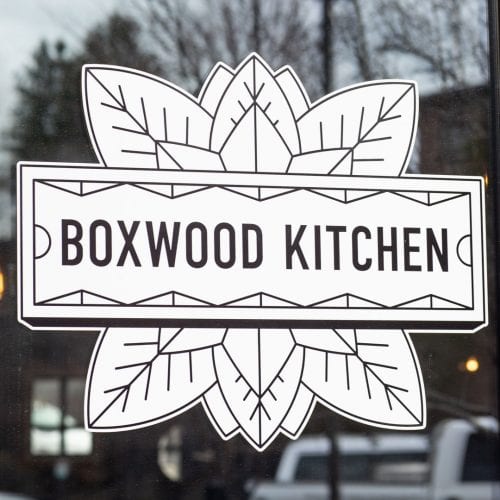 This article was originally written in May 2019. Read our 2023 restaurant review of Boxwood Kitchen here, or continue on to more about our local food and restaurant scene.