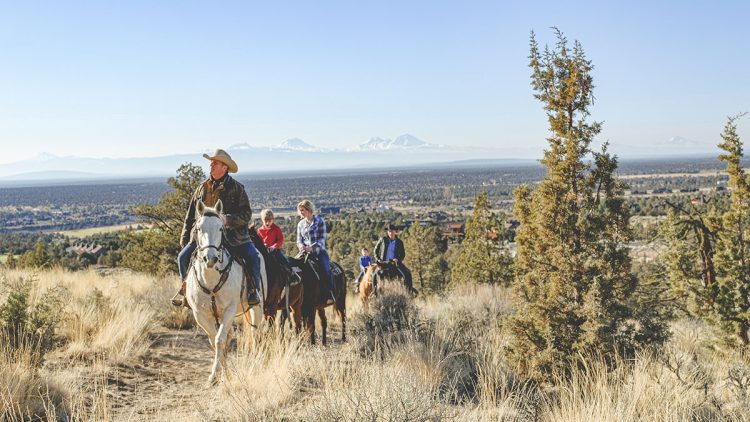 High density housing—no way. Modern homes of purely glass and steel—nuh uh. Traffic tie ups, congestion at popular restaurants and parks—forget it. This is Brasada Ranch, where cattle and sheep once roamed and density is measured in junipers, sage and the star-capped night.
Located on 1,800 acres on the flank of Powell Butte in Crook County, the developers had something else in mind when they created Brasada Ranch back in 2005. The window and door company Jeld-Wen envisioned Brasada as a luxury residential resort built around environmental sustainability standards. In 2010, the company sold the resort to Northview Hotel Group, which repositioned it as a destination sanctuary in the desert to complement the residential community.
Then and now, Brasada Ranch pays homage to its Western roots, natural landscape and dizzying views of the Cascade Mountains. From the Ranch House Restaurant to the Equestrian Club and welcoming archway, every structure incorporates those features. The established Design Review Guidelines ensure that the architecture of each home forms part of the cohesive whole.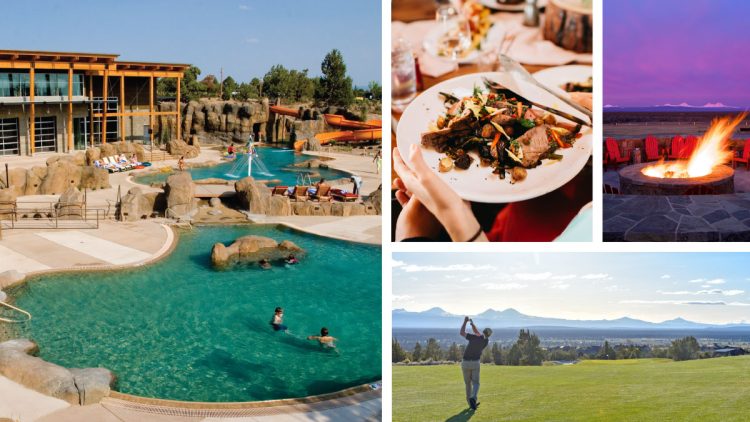 Like the rest of Central Oregon, the community has experienced an active housing market, catalyzed by the pandemic, according to D. Alan Cornelius, director of real estate at Brasada Ranch. "In March 2020, I was thinking of battening down the hatches, believing the pandemic would cease real estate activity," he said. "Instead, the opposite happened, and real estate exploded." As evidence, he cites sales last year of $61 million in residential lots and homes at Brasada Ranch. He said the average turnaround for homes and homesites is less than thirty days if priced relative to the market. Lots swing from $200,000 to $600,000, and homes typically sell in the $1.5 to $3.5 million range. 
The master plan permits a maximum of 750 home sites. Currently, the ranch has 273 finished homes with fifty-four under construction and another twenty-four in design review. Roughly 450 people live on the ranch while another 150 own a second home there. "Most people when they come to Central Oregon are looking for the expansiveness this area naturally provides," Cornelius said. "Brasada wanted to capitalize on that and give people room to breathe." Lot sizes range from a half-acre to two acres, with roomy setbacks and no so-called zero-lot lines common in high density housing in other parts of Central Oregon. "We're never going to have homes next to one another," he said. 
Feeder markets for home sales have consistently been Portland, Seattle and the Bay Area. "The pandemic had people realizing they need to slow down and enjoy more time with the kids in this wilderness expanse that is Central Oregon," Cornelius said. "Brasada is a basecamp with a sixty-mile radius of all types of outdoor experiences."
Trading hustle and bustle for life among the junipers
Not all residents come from outside the area. Jerry Jackson, who was born and raised in Bend, and his wife Kim, were ready to sell their home on Awbrey Butte. They planned to downsize and build or remodel a home that could accommodate an adult son with muscular dystrophy.
"We couldn't find a lot in Bend, and existing houses were so close together," Jerry said. They connected with a friend who was building a home in Brasada. "We looked at the plans and got excited," he recalled. "It was perfect for us—no steps, and it had accessible hallways and an accessible bedroom."
The family moved into the home in July 2018. "After forty years in Bend, I was over the hustle and bustle of Bend and tons of traffic on the west side," Kim said. "People asked why we'd want to live among the junipers, but we've found they have a special beauty, and the desert is home to bobcats, coyotes, deer, rabbits, hawks and other wildlife." The Jackson's home, like all others at the ranch, has a commanding view of the Cascades, and is consistent with the native color palette and Western Ranch architectural theme. The property is LEED gold and Earth Advantage certified for energy efficiencies and environmental sustainability.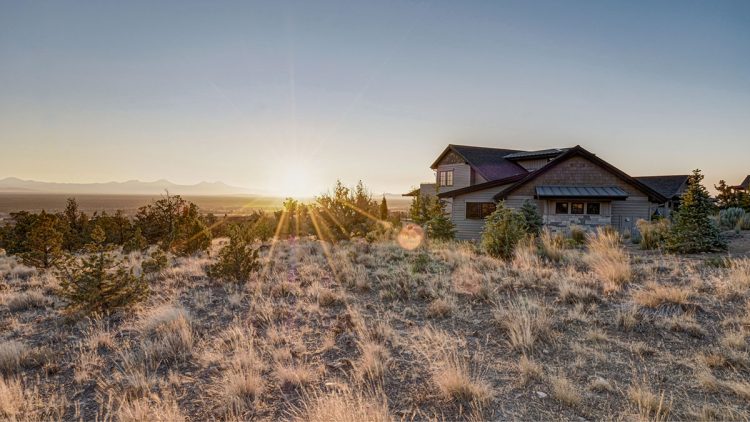 Instead of feeling isolated, the couple discovered a strong sense of community where residents often meet at the pool or for bike rides and hikes, book groups and nights around a firepit listening to live music at one of the restaurants. 
The resort part of Brasada features sixty-five cabins and eight suites for nightly rental, indoor-outdoor pools, a spa, a golf course, horseback riding, fishing ponds, a dog park and an athletic center. In other words, it's a perfect playground for grandkids, friends and family to visit. Plus, residents have access to members-only parts of the resort. "We had no expectations when we moved out here," Jerry said. "Every day is like being on vacation. It's an incredible place to live."