What happens when a book club writes a story of its own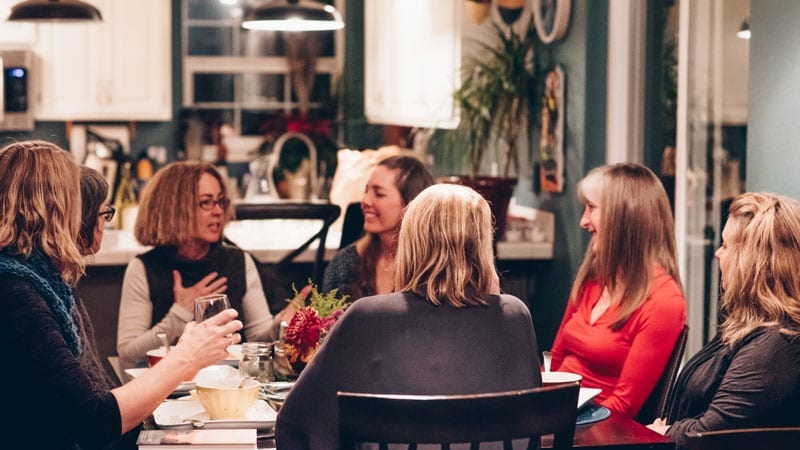 "You're going to want to sit down for this," the subject line of the email read. Kathleen, my dear friend from book club, had just been diagnosed with stage 3B lung cancer. Numbly, I sat down, trying to make sense of this. Kathleen, who is so healthy, never smoked, regular exerciser, mother of two young boys.
We didn't start our book club as a support group or as a social safety net, but when Kathleen came to us with her diagnosis, there was no question that's what it would be.
It's been thirteen years since Erin and I started our book club. Over the years, the group has become more than a reading circle. Our book club has witnessed the most significant moments in our adult lives. Cancer didn't kill our book club. Nor have marriages, divorces, children and careers. Our book club is alive and well, just like Kathleen, who is surviving her cancer scare, teaching us all a lesson in strength and courage along the way.
We're not alone. By some estimates, five million Americans take part in a book club. There are dozens of book clubs in Bend and many more options to participate online. Deschutes County Public Library even offers a book club start-up kit.
Our book club started like most others. My friend Erin and I each invited a few people. We decided to read Elizabeth Gilbert's Eat Pray Love and see what happened.
That evening, we lived and traveled through Liz Gilbert's story. We learned about the Dolce Vita in Italy, struggled with Gilbert during her ten days of silence in an Indian ashram, and followed her journey to become a whole person with Ketut in Bali. The sense of discovery of one's self seemed to fit with a group of women getting to know ourselves and each other.
There are seven of us who gather now. Some of the original book clubbers have drifted off, and others joined in their place. This group of seven—we're not going anywhere.

Amy is an artist. I am always blown away by her creativity and sense of adventure. Erin is an estate planning attorney with a wild, free spirit and steadying wisdom. Markay is a paralegal and explorer. Newly remarried, she and her husband are trying their hand at being Airbnb hosts. Andrea is just magic and cannot be defined by her job. She works in marketing, has a wicked sense of humor and a thoroughly contagious laugh. Donna is an acupuncturist and Chinese doctor by trade, as well as a gardener, and a multi-year Burning Man reveler. Kathleen is a physical therapist with a permanent twinkle in her big brown eyes and the heart of a lion. And then there's me, Marisa, a photographer and communications director and now, I guess, a writer. Some of us are mothers, and some are not.
Our book club meets every six weeks or so—a decision we made early on to allow professional women with busy lives to have time to finish the book.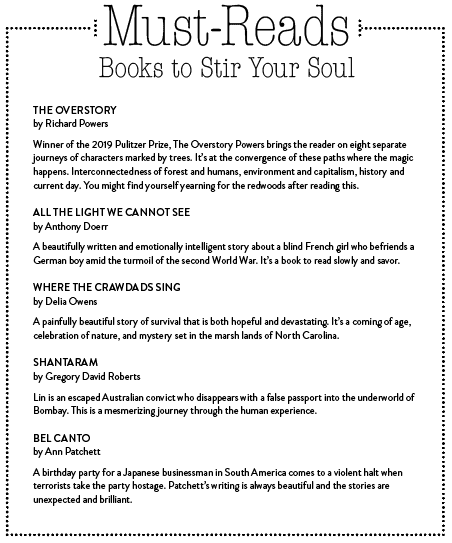 We don't all make it to the end of every book, but most of us do. We choose our books spontaneously and in no particular order. Some of us love the feel of a printed book in our hands. Others cruise through the audio versions while folding innumerable loads of laundry. E-readers, library books, and dog-eared borrowed copies all make up our reading sources. No matter what the format, we all get pulled in by the beckoning world of the storyteller.
In a time when loneliness and isolation seem to be on the rise despite so many online "connections," meeting in person with our book club provides a real community that has fostered lasting friendships and created a story of our own.
I remember sitting on Erin's bed with her just days after her daughter Quinn was born, marveling at impossibly tiny fingers and toes. We listened with compassion as Markay voiced her disappointment in love and we all wished desperately for her to meet someone who deserved her. We were spellbound when Amy shared the discovery of a baby sister in a graveyard about whom no one ever spoke. We kept Andrea company after a fall left her with a severe concussion and housebound for a month. We all shrieked with surprise when Donna came back married from a trip to Cuba. And when I dodged hosting book club year after year because of my crippling anxiety, no one objected.
Thirteen years ago, eight strangers started a book club because it sounded like fun. Before we knew it, we had evolved into lifelong friends. Together we've been through births and deaths, traumatic injuries and life-threatening illnesses, divorces and remarriages. Today we are sisters, joined at the heart and soul, and bound together through the pages of our own story.