Cairn will deliver the best new outdoor products to your door once a month so that you can always be ready for your next adventure.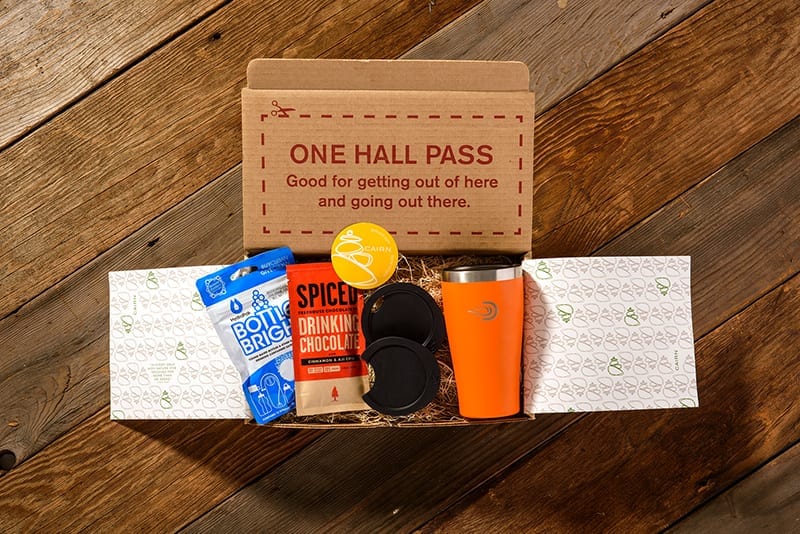 Cairn is a monthly subscription box service of products aimed at inspiring and equipping people for outdoor adventure and discovery. As such, it offers consumers an introduction to brands and their products, and brands gain exposure and data from the market.
Last year, the Bend-based company raised $2 million in funding to expand its offerings, team and community. Since then, it has brought on an outdoor-products veteran to guide its curated selections of gear, and digital specialists to analyze how best to attract and serve customers online. The company now has a team of seventeen and has shipped more than 1.5 million products in its four-year history.
Rob Little and Jared Peterson co-founded the company, having met while pursuing MBAs at the Wharton Executive Education Program at the University of Pennsylvania. They discovered they shared a passion for the outdoors as well as startups. Peterson's background was in operations and tech. He was a part of the team that launched the Apple watch, while Little, an aerospace engineer, worked on deep-space vehicles and stealth fighter jets.
They said they like how flexible and nimble a startup can be, with the ability to be able to react and engage the brand without having to sit back to gain approvals from higher-ups. For example, Cairn, which began as a monthly subscription service ($29.95 per month), introduced Obsidian, a premium outdoor subscription box, in December 2015. Obsidian is a quarterly subscription box service priced at $199 per quarter (including domestic shipping), filled with gear valued at more than $300, and including anything from packs and cooking supplies to outdoor electronics.
"The decision to launch was quick," said Peterson. "It was clear it was in the market's interest, with the brands of the core product at a higher price point than the monthly service. It took a few months to execute it."
Little offered the following advice to anyone aspiring to startup-dom or struggling with it: "Surround yourself with incredible people who motivate and inspire you to help your business, from your partner or co-founder to investors and advisors. It's not something you do alone."