The arrival of autumn may mean it's too late to jump onto a paddle board and too early to hit the slopes, but these Central Oregon hikes for fall will get you outside. Summer crowds have all but disappeared, leading to sparsely populated parks, trails and natural experiences for locals and autumn visitors. From the wide-open sagebrush steppe of the Badlands to the alpine slopes of the Santiam and beyond, here are three hikes that we recommend you hit this season.
Santiam Solitude
Cone Peak Trailhead to Iron Mountain Summit Via Tombstone Pass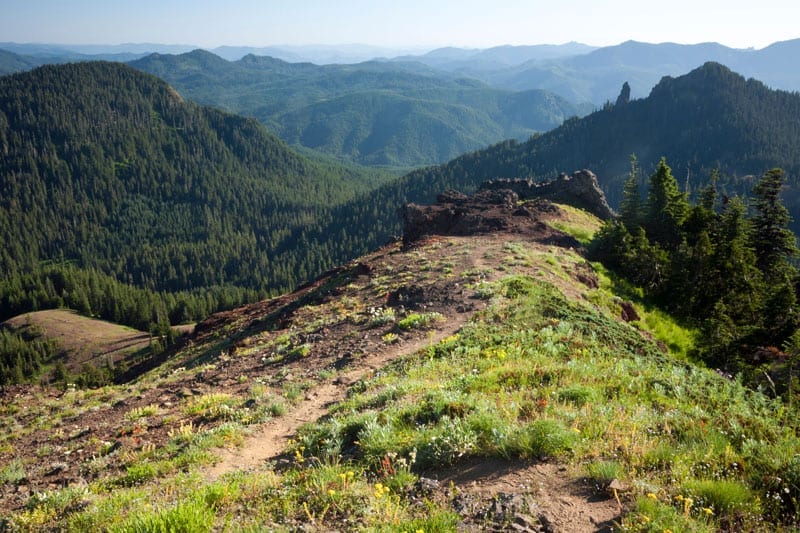 Located on the southern edge of the Middle Santiam Wilderness, the botanically expansive Iron Mountain via Cone Peak hike offers some of the best opportunities to explore Oregon's diverse flora in the high Cascades.
The Iron Mountain area is home to more than 300 plant species. It also offers hikers the chance to witness the seasonal flora change during early fall excursions. Find your way through expansive meadows, dry rock beds, and ecologically diverse alpine forests where at least seventeen species of trees can be found.
Traveling along the Cone Peak trail, hikers will meander in and out of these varying landscapes. From meadows to alpine forests, and back out into meadows again; you feel as though you are passing into different worlds. Every moment feels refreshing and variable. Just about a third of the way through the journey, the hike opens into an expansive view, lying at the foot of Cone Peak, Echo Mountain, and Iron Mountain. You might think you've hit the best views, but climb farther and you'll find more impressive vistas. Winding up through the meadows and open steppes, you will eventually find yourself back into the alpine forests, where ancient trees in a breadth of species tower above.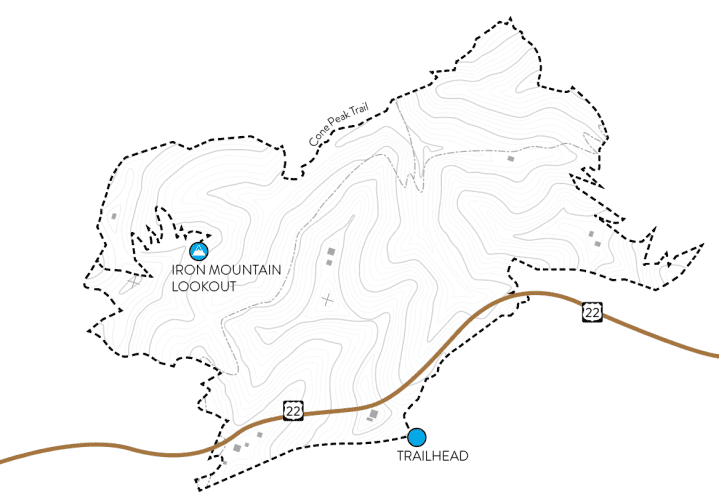 WHAT TO KNOW
The Cone Peak hike is rated as a moderately difficult, five-mile loop around Iron Mountain. Start at the Tombstone Pass parking area; walk east along Highway 20 for a quarter mile or so to reach the start of the trail. For those who crave a little more strenuous activity, just a little less than two extra miles and a total of under 1,000 feet in total elevation gain will take you to the top of Iron Mountain via the Iron Mountain Summit Trail. This additional segment is rated as "hard", but will reward you with some of the best views the Willamette National Forest offers.
Upon reaching the Iron Mountain summit, at just over 5,000 feet, hikers can find a vantage point with clear views of Mount Jefferson, Three Fingered Jack, Mount Washington, Diamond Peak, all Three Sisters, and many other peaks. On a clear day, you can even see Washington and catch a glimpse of Mount Saint Helens and Mount Rainier.
Find this hike by traveling west on Highway 20 from Sisters, along the Santiam Pass, towards Sweet Home.
Twilight Travels
Ancient Juniper Loop via Flatiron Rock Trailhead, Oregon Badlands Wilderness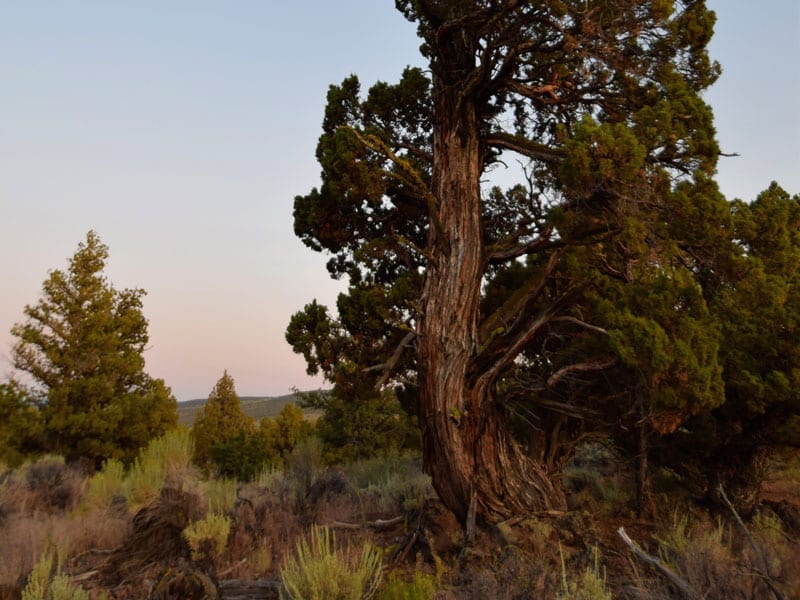 The Oregon Badlands is a stark contrast to the alpine wilderness to the west. With its seeming lack of visible wildlife, it can at first seem destitute. That's not to say that animals aren't out there, they are just perfectly adapted to stay hidden. But visit during the twilight hours, around sunset and sunrise, and you may find your new favorite landscape and a world of wildlife that is just beginning to stir.
As the name suggests, junipers, many of which are hundreds of years old, pepper the landscape. Aromatic high desert fauna like rabbitbrush, bitterbrush, and varying sagebrush abound among the sculpted lava rock. The smell of this area is truly mesmerizing. Matched with the sound of hunting songbirds and cricket serenades, this hike is truly about the sensory experience.
Other elements of the Badlands are less obvious, like the geology. The area sits at the intersection of two volcanoes and is home to silt and ash deposits and obsidian flows from ancient volcanic eruptions.
The hardy juniper tree thrives in some of nature's most inhospitable environs and is often found growing directly out of basalt outcroppings. Be ready for a dusty and rocky trip, and if you are hiking in the twilight, navigate these conditions carefully.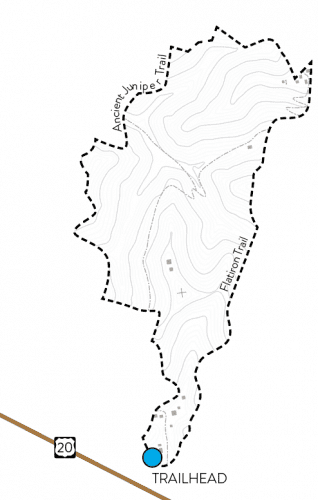 WHAT TO KNOW
This hike is a quick and easy three miles, which can take you as little as an hour or as many as three if you take in the scenery.  At a mere fifteen miles east of Bend on Highway 20, the  Ancient Juniper Loop is easy to get to and is rated as easy. Just start at the Flatiron Rock Trailhead. Come prepared with headlamps, and you can extend your trip into night hours to catch some of the darkest skies and best celestial views the high desert has to offer. Crisp fall skies often host a lack of atmospheric disruptions—free from the smoke and haze of the summer season.
At Earth's Edge
Paulina Peak Trail, Newberry National Volcanic Monument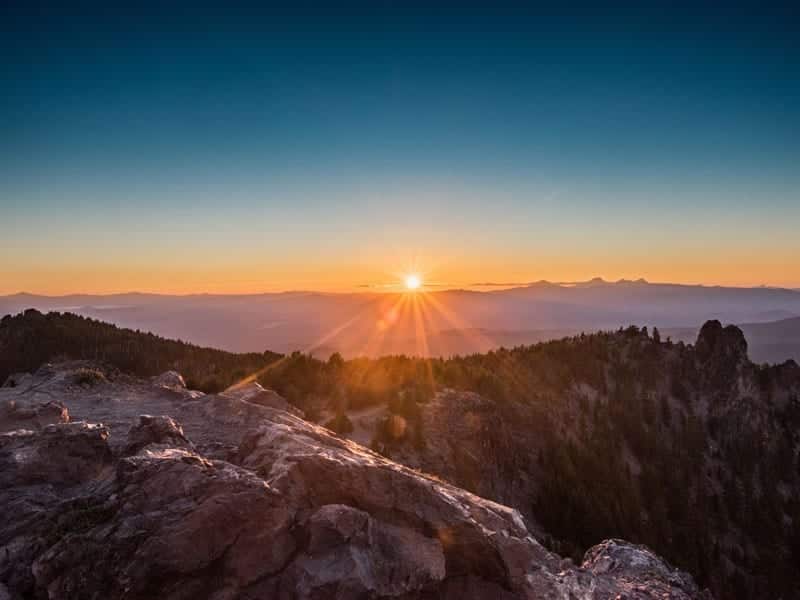 Paulina Peak is a physically challenging but highly scenic hike that is well worth the work. It's part of a wider system of gorgeous trails and camping sites that run throughout the beautiful Newberry National Volcanic Monument. From short half-mile hikes to twenty-mile lake loops, there are plenty of amazing adventures from which to choose.
Paulina Peak Trail begins at the caldera of Newberry Volcano, home to Paulina Lake. At a maximum depth of 250 feet, Paulina Lake sits in the belly of the ancient volcano. The largest volcano in the Cascade Shield, Newberry, has a footprint roughly the size of Rhode Island and last erupted about 7,700 years ago.  Although the volcano remains mostly quiet, it is closely monitored by the United States Geological Survey, and thermal vents and hot springs run the northern shoreline of Paulina Lake to create diverse life and booming ecosystems.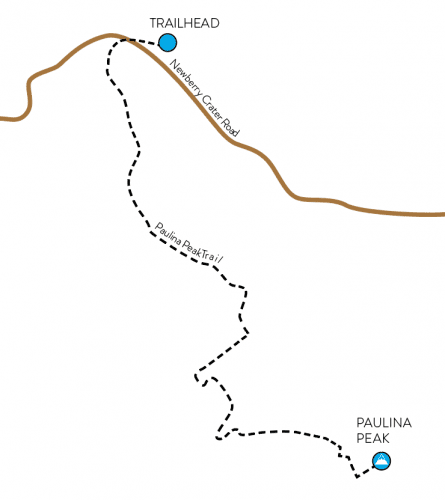 WHAT TO KNOW
Work your way up the caldera, towards the rim of Newberry volcano, for this six-mile, there-and-back hike. The reward is a vast view of some of the 1,200 miles of Newberry's lakes, foothills and buttes, diverse forests, and miles and miles of obsidian-lava flows.
Toward the apex of this hike, you walk through the starkly beautiful but eerie forest remains of the few surviving whitebark pine trees, some of which are more than 1,000 years old. The Forest Service has installed some helpful interpretive panels where hikers can learn all about these incredible trees and their symbiotic relationship with wildlife such as Clark's nutcracker, as well as their unfortunate decline in the face of imported disease and infestation.
The top of Paulina Peak Trail will bring you to the summit of Newberry Volcano at 7,984 feet. Here you will find the most encompassing of views, and incredible variations of lava rock, some artistically formed with stripes of rhyolite and obsidian. 
If you are looking for a shorter adventure that can be fit into a mid-week, pre-work or post-work hike but still delivers a physical challenge, skip the first mile of the trail, and start your hike at the Crater Rim trailhead. This will knock your hike down to four miles round trip, and still give you several trail sections that span from thirty to fifty percent grade.
Enjoy these beautiful Central Oregon hikes for fall, we'll see you on the trails.