Throw, Hike, Repeat
Just about every 1970s American household had at least one Frisbee sitting on a garage shelf, buried in a toy bin, or resting in the backyard where it was last thrown. Learning to toss it was a right of passage and a ticket to hours of fun with longtime neighborhood friends. Watching the Frisbee fly parallel to the lawn and into an awaiting hand was matched only by competitions focused on the challenge of trying to hit stationary targets.
"Steady" Ed Headrick, widely considered the Father of Disc Golf, first invented the Frisbee in 1966 and then transformed the game into a sport by patenting what was called the Disc Golf Pole Hole and starting a movement now played on countless courses worldwide. The Professional Disc Golf Association currently boasts more than 130,000 members across 70 countries with an average of five new courses opening each day. Parallel to golf, disc golf is played on nine- or 18-hole courses, with each hole consisting of a tee pad, fairway and hole. Both sports also share scoring terminology, such as "birdie," "par" and "bogey,"  but for disc golf players, the target "hole" is most commonly an elevated metal basket.
When throwing the disc well, spirited competition is likely to arise. Even when playing poorly, disc golfers still enjoy nature courses set in beautiful Central Oregon landscapes. Because Bend is filled with amateur and professional athletes with a desire to spend time outdoors, it's no wonder disc golf has been on the rise in the area.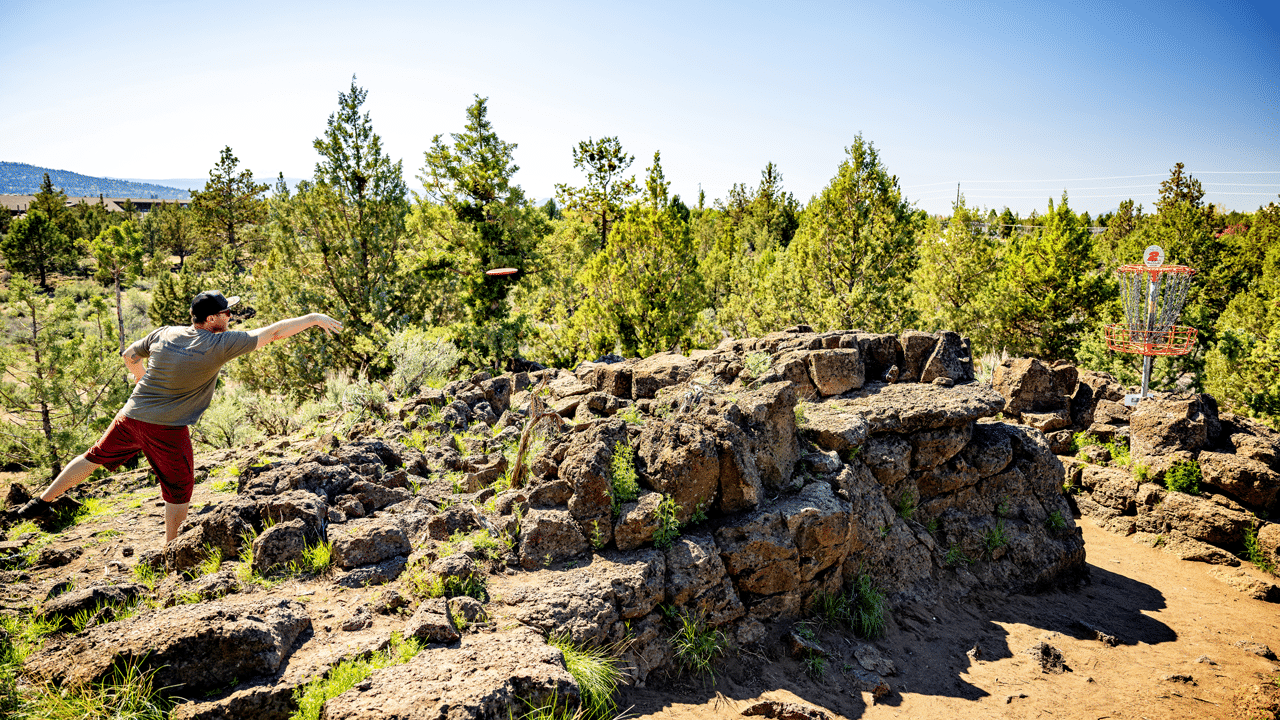 Let's Play Disc Golf
According to the disc golf phone app Udisc, Central Oregon is home to more than 30 officially established park and resort courses, as well as non-sanctioned courses usually found on Bureau of Land Management property. Diverse Central Oregon settings pair perfectly with disc golf—as does the post-round craft beer.
In Bend, the Pine Nursery Disc Golf Course offers a quality mix of long and short holes, as well as open and tight fairways. Because none of the holes is too advanced, both beginners and experts can enjoy a day spent at the east side park. The surroundings of junipers, sage and lava outcroppings line the course and separate it from the rest of the park's features. For a quicker outing, the Skyline Sports Complex in northwest Bend is home to a fun nine-hole course, while Rockridge Park Disc-Golf in northeast Bend was built intentionally short to allow for beginners and putting practice.
Mt. Bachelor got into the disc golf game several years ago by adding a course to its summer offerings. The Professional Disc Golf-listed course begins just to the west of the Bill Healy statue at the top of the Pine Marten Lodge. Players may want to save their legs for the course and ride the chairlift up. The first three holes wind down the Outback ski area, holes four through 15 are located along the Coffee and Canyon runs, and the course wraps up just above West Village Lodge. 
Other Central Oregon communities have joined the disc golf revolution as well. Just west of Sisters, Black Butte Ranch built a nine-hole course that winds through the resort property. Redmond constructed a very popular 18-pin course in Dry Canyon Park. Downtown Prineville's Rimrock Disc Golf Course offers a mostly flat but challenging game.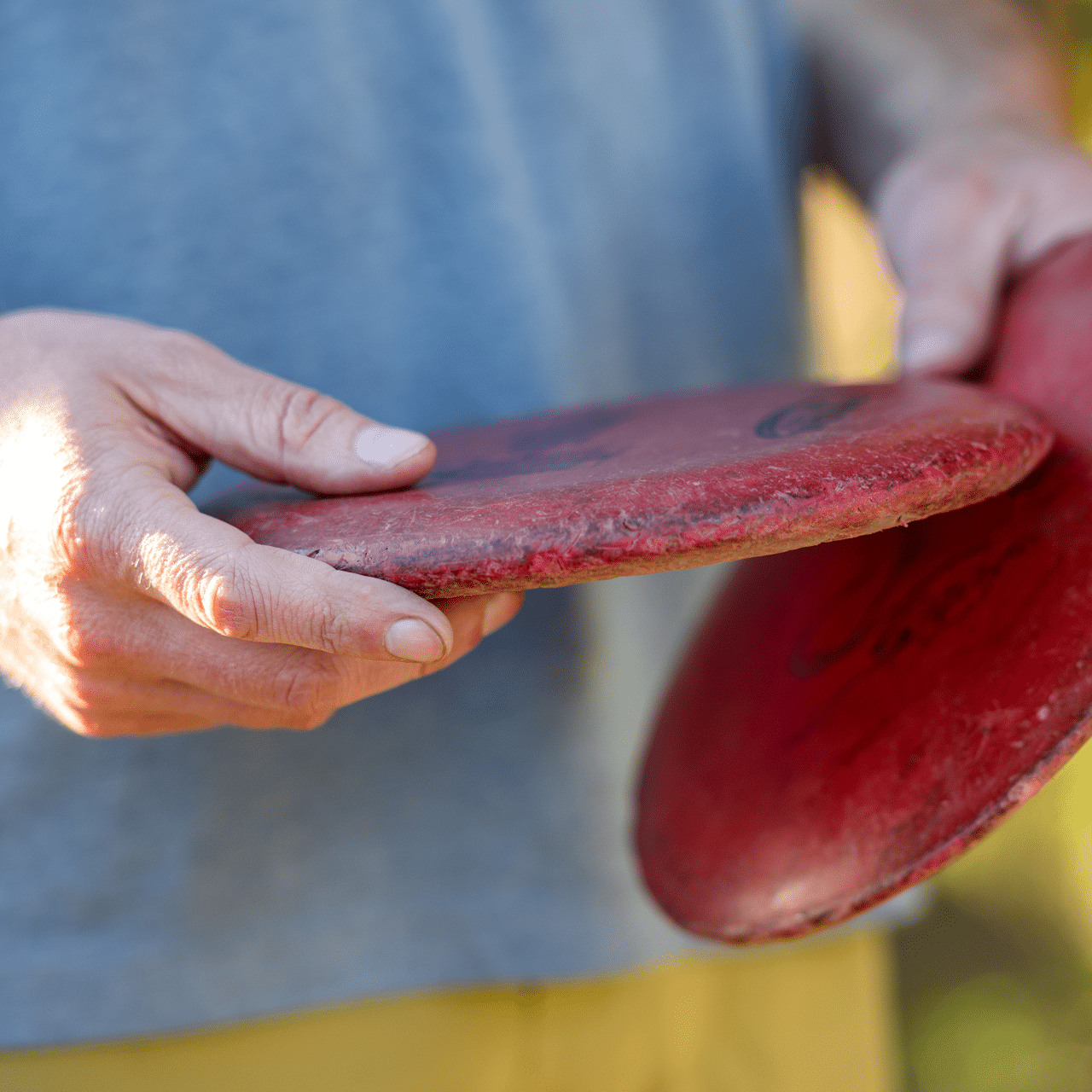 Even More Play: Non-Sanctioned Courses
In addition to the officially recognized disc golf courses, players have built non-sanctioned or "renegade" courses on private and government properties throughout Central Oregon. Armed with a knowledge of the game and a little ingenuity, they scope out areas perfect for a course. Tee pads and holes are marked with natural material. The course is plotted out on GPS to either be kept secret or shared through the Udisc app.
Bendite Jeremiah Fender had only been playing for a year before he got the idea to build the non-sanctioned course Base Camp at Horse Butte. "I used to walk out there all the time and hated seeing all of the trash," explained Fender. "I figured that I would try and bring some different active users to the area." Local and visiting disc golfers like to play the course due to its long and technical nature, as well as its desert location allowing it to be played all year long.
Josh Steele, a local professional disc golfer, began playing after finding a disc in Willamette State Park and then being gifted another one by disc golf legend Nate Sexton. After moving to Bend in 2016, Steele built the non-sanctioned Face Rock Course along Century Drive, a perfect course to practice on with the long, technical holes and beautiful views.
Pairing Favorites: Discs and Beer
Valarie Jenkins and her husband Nathan Doss ended their highly successful professional disc golf careers and opened Bend's Bevel Craft Brewery in 2018. Their career accolades include a combined seven professional world championship titles and Valarie's induction into the Disc Golf Hall of Fame.
Pairing their two loves, Valarie and Nate incorporate disc golf into their brewery as evidenced by the naming of beers such as Par Save Pale Ale, the disc golf tournaments that play on the brewery's televisions and an 18-hole putting course out back. The Bevel Putting Course, located just south of the 9th Street Village food carts, lays out as a fun, yet challenging par-two putting course, complete with tee pads and natural obstacles. In the summer, Bevel hosts a weekly competition to be played at a disc golfer's leisure. Valarie has also found a role in inspiring young people to discover the love of a new sport. While there are legions of current fans, the nonprofit Universal Play Disc Golf aims to spread the word about the many benefits of disc golf to kids worldwide.
"While disc golfers can be from all walks of life, there is a common thread that these people enjoy the outdoors, traveling and doing things off the beaten path," explained Valarie. "There are lots of amazing benefits to the sport, but it's the people and the connections that we've made along the way that we will always be thankful for."
To learn more about our disc golf community, see CODGC.org. 
---