Where to snowshoe around Central Oregon this winter.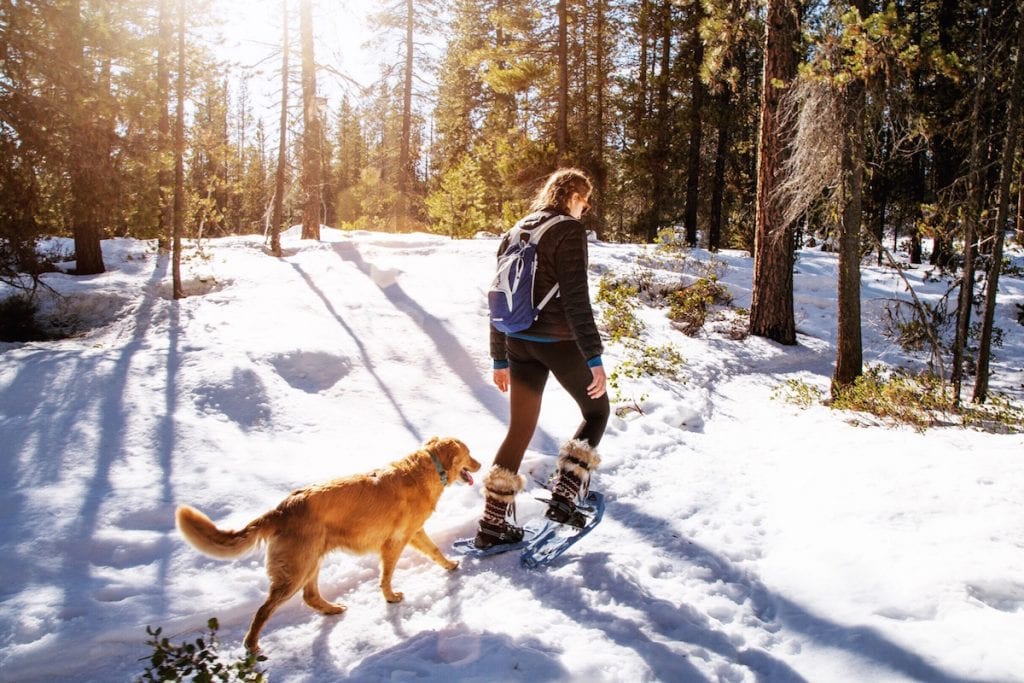 Whether you are a snow sports novice or a lifelong devotee looking for new trails to explore, snowshoeing is one of the best ways to play in the snow in Central Oregon. Snowshoeing is also a fun way to introduce snow sports to young children or for people looking for a winter activity less intense than skiing or snowmobiling. As for trail etiquette to know before you go, yield to the uphill snowshoer and leave nothing but footprints. Many of the trails are multi-use, so on trails that aren't designated just for snowshoers, watch out for cross-country skiers, snowmobilers and fat-tire bikers.
Tumalo Mountain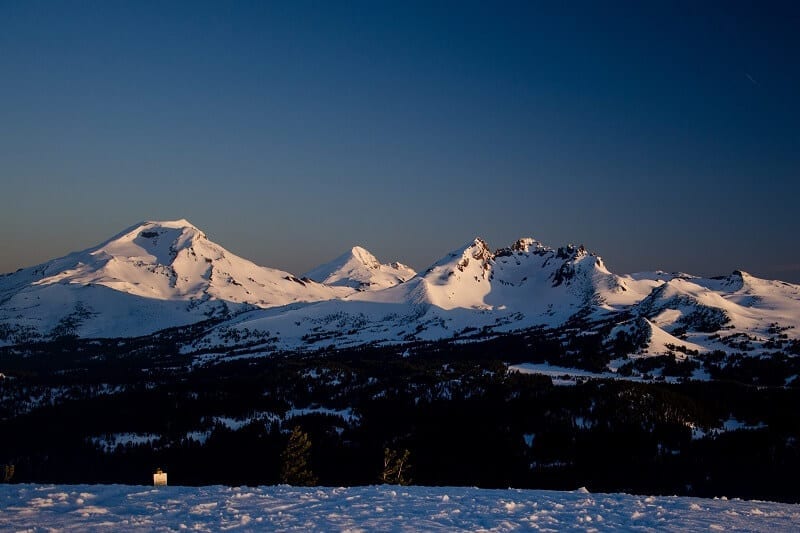 Across from Mt. Bachelor, the top of Tumalo Mountain will give you some of the best views of Bachelor, Broken Top and South Sister. The hike starts off steep, but the solitude and powder you'll find stashed up there is worth the extra effort. The trail is about two miles uphill, and on extra snowy days there isn't always a clear path. The parking lot can also fill up quickly, so get an early start to your day.
Where to park: Dutchman Flats Sno-Park, Bend
Snow Parking Permit: Required
Distance: 4 miles out and back
Difficulty: Extreme
Wanoga Snowshoe Trails
For families with young children or first time snowshoers, Wanoga Sno-Park is one of the best places to start. The designated snowshoeing trail is one-mile long and is groomed and flat. The trail also allows you to bring your dog along for the adventure. When you're done on snowshoes, there's also a sno-play area to sled or tube down small hills.
Where to park: Wanoga Sno-Park, Bend
Snow Parking Permit: Required
Distance: 1-mile loop
Difficulty: Easy
Edison Hut Loops
For more of a backcountry snowshoeing experience (without the elevation gain of Tumalo Mountain), try Edison Sno-Park. Like Wanoga Sno-Park, there are designated trails for snowshoeing, and the longest is about 3.5 miles. Along the way, you'll find lots of powder, trees and lava tubes. There's a warming hut at the sno-park as well, which is a good place to stop mid-hike for lunch and a warm drink and meet a community of fellow snowshoers.
Where to park: Edison Sno-Park, Bend
Distance: up to 3.5-mile loop
Snow Parking Permit: Required
Difficulty: Moderate
Paulina Creek Falls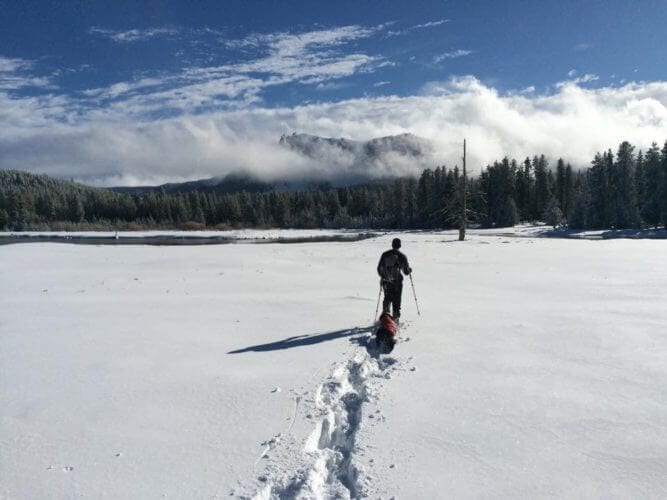 Located in the Newberry National Volcanic Monument, Paulina Creek Falls is a winter wonderland in the snowy season. While the trails are popular with snowmobiles, there is a designated ski and snowshoe trail that's about a seven-mile loop. There's a warming hut at the front of the park, so pack a lunch and warm drinks and make a day out of it. About three miles from Ten Mile Sno-Park, the rustic Paulina Lodge on the shores of Paulina Lake also serves food and drinks.
Where to park: Ten Mile Sno-Park
Snow Parking Permit: Required
Distance: 7-mile loop
Difficulty: Moderate
Ray Benson Sno-Park
West of Sisters on the way to Hoodoo Ski Area, there are six snowshoe trails to choose from at Ray Benson Sno-Park, ranging in difficulties so whether it's your first time on snowshoes or you are a seasoned pro you will find a trail that suits you. There are also shelters and three warming huts accessible by the trails. The park is big, with more than sixty-five miles of trails for skiers, snowmobilers and sled dogs.
Where to park: Ray Benson Sno-Park
Snow parking permit: Not required
Distance: up to 65 miles of trails
Difficulty: Easy to moderate