Bos Taurus Chef George Morris leverages modern techniques for classic steakhouse fare with a progressive American twist.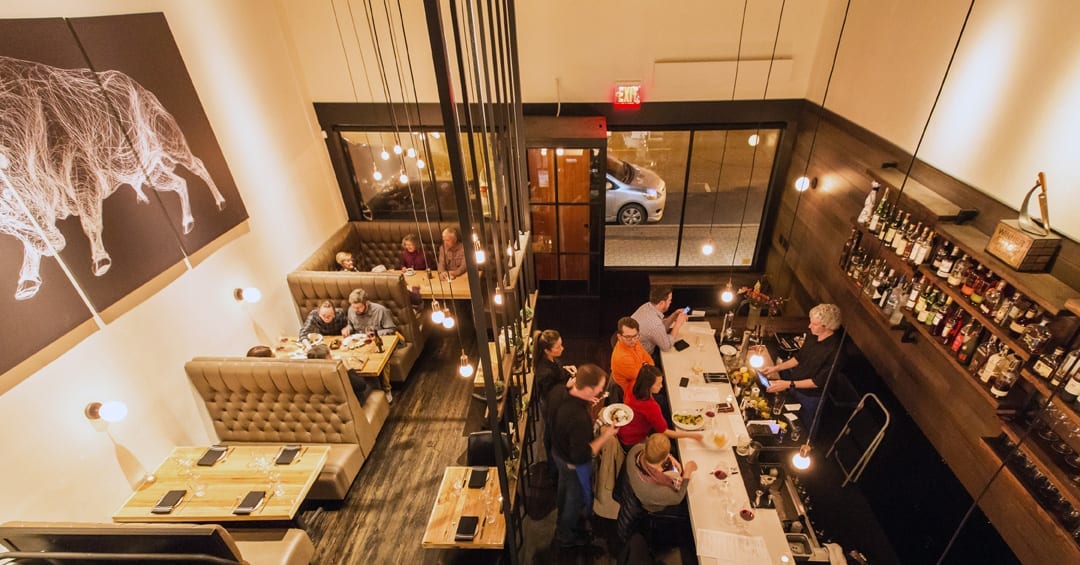 It's the early '90s in suburban Chicago. A 7-year-old boy, at home on the couch in his basement, is flipping through channels and comes across a cooking show. It's with a lady who talks funny, so he stops, then watches as Julia Child prepares coq au vin. He'd never seen anything like it before.
That moment was what set George Morris on his life's path. He asked his mother about the dish of chicken braised with wine. "That weekend, my parents took me downtown to a French bistro," he said. "They were really good at recognizing how interested I was, and they'd take me to new, hip restaurants, ones with open kitchens where I could watch the cooks and chefs doing what I do now."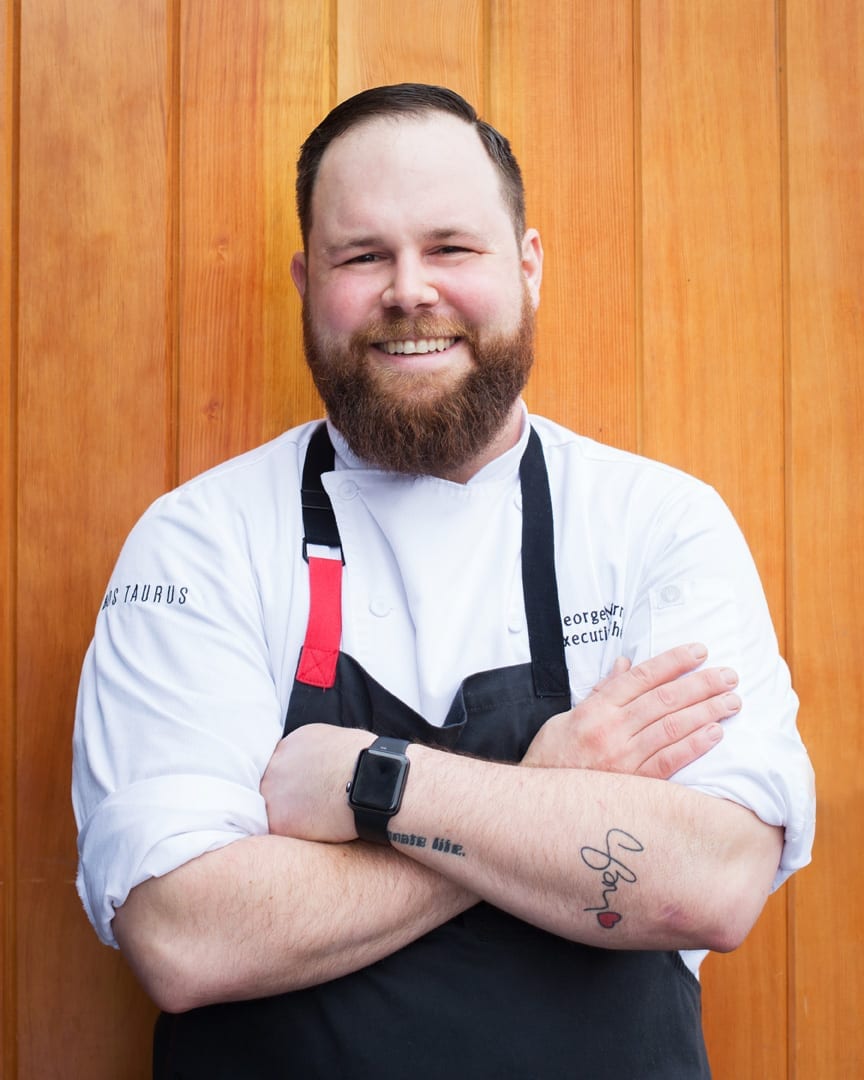 Today, as the chef of Bos Taurus, an intimate downtown Bend restaurant serving some of the highest quality beef from around the globe, Morris feels that he has finally found his true home after nearly two decades in the industry. While at the Culinary Institute of America in Hyde Park, N.Y., he'd done stages at some of Manhattan's best restaurants, from Le Bernardin and Daniel to Per Se and WD-50. He was sous chef at 5 Ninth in New York City (working with Chef Zak Pelaccio, James Beard Award winner of Best Chef Northeast) and at some of Chicago's top restaurants. He rose to executive chef at Truffle Pig in Steamboat Springs, Colo. By 2015, he'd become executive chef at The Madeline Hotel and Residences in Telluride, Colo., overseeing the luxury resort's three restaurants.
After he and his wife, Kellie, visited her father in Bend, George asked his father-in-law to let him know if he ever heard of any executive chef positions here. At the same time, the team behind 10 Barrel Brewing, founders Chris and Jeremy Cox, company president Kyle McKee and James Meskill, director of operations of The High End (the craft brands of Anheuser-Busch, which bought 10 Barrel in 2014), were looking to launch something new in Bend's culinary scene. They got a lead that Barrio was looking to expand and leave its spot on Minnesota Avenue.
"It had been super successful, and some of our favorite restaurants had been there, such as Mars," said Meskill. "And all of us remembered how much fun that place was, and we were excited to be the next in line."
The space dictated the concept—a twist on a classic American steakhouse. "We wanted to keep it simple, classic, somewhat timeless, with clean lines, but with a Bend feel, not stuffy. We wanted to have fun with it." Morris learned of it, came out to meet the team, and they hit it off. He said he wanted to grow with the endeavor, and they offered him a partnership.
Morris researched ranches, selected thirteen, and sourced seventy-five steaks. "Every cut we thought we wanted to use: porterhouse, ribeye, filet, New York, bavette and hanger."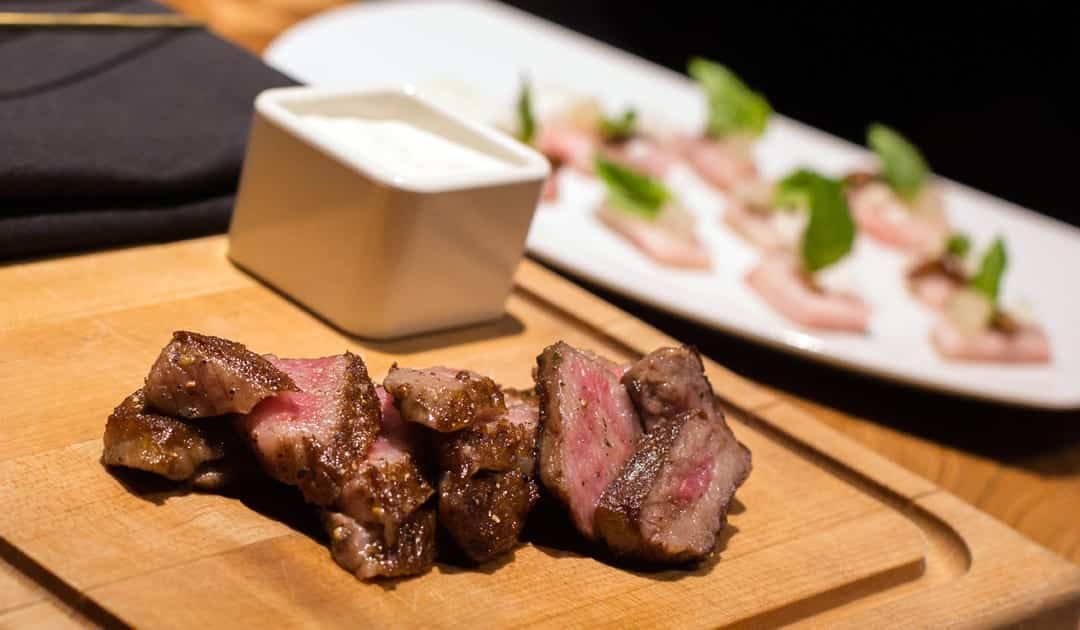 In one night, the five partners and general manager Jim Kiefer tasted all of them. "It was one of the greatest and worst days of my life," said Meskill. They compared notes and voted unanimously on about a dozen steaks from five ranches. The ones that made the cut for the opening last year range from Japanese Hokkaido A5 Wagyu, with its off-the-chart marbling for tenderness and flavor, to the hanger steak from 7X Ranch in Hotchkiss, Colo., where the sustainably raised cattle graze on nine types of grasses.
Morris rubs the steaks with hickory-smoked salt and a blend of peppercorns and seasonings, sears them on a custom-made, two-inch thick, 200-pound, cast iron slab heated to 550°F, removes them, rubs them with local butter, lets them rest, and re-sears them to achieve the perfect crust and medium-rare doneness.
"I don't think people realize how difficult it is to cook a perfect steak … every time," said Morris. "It's hard to find a staff that can do that daily. They're amazing." Morris and Meskill said the most important ingredient in any restaurant's success is the quality of the staff, and they've got it.
"They care a lot," said Meskill.