---
Sunriver Resort underwent an overhaul, and the culinary delights at Carson's American Kitchen are on trend and authentic thanks to head chef Travis Taylor.
---
When legendary mountain man Kit Carson guided explorers westward nearly 200 years ago, he camped below a meadow that today is the panorama from Sunriver Resort's revamped signature restaurant. At Carson's American Kitchen, chef Travis Taylor is leading a culinary corps of discovery. He brought the resort's dining scene into vogue, deftly walking a fine ridgeline between trendy and authentic.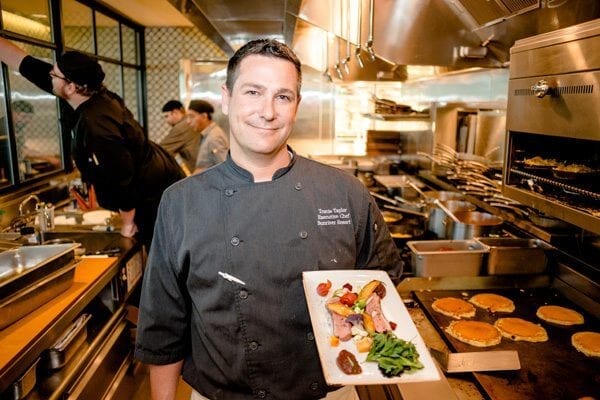 "What's going to tell our story?" asked Taylor, who has crafted a compelling narrative based on the area's local bounty. "Whether it's local fish and what's running, or farmers' markets or going to [Bend's] Windflower Farm … with produce, I'm like a kid in a candy store."
Carson's menu focuses on Oregon flavors in dishes that are "unintimidating," said Taylor. Dinner may begin with a flatbread with Rogue Creamery blue cheese, roasted apples, roasted garlic, candied walnuts and arugula or Oregon-raised charcuterie served with local honey, dried fruits, pickled vegetables, marionberry mustard and cherry chutney.
One of the best entrées served anywhere in Central Oregon is Carson's perfectly prepared herb-and-butter poached salmon with "American mole" dark-chocolate barbeque sauce, lobster mashed potatoes, spiced shrimp and garlic wilted spinach. You will count the days until you can return to have it again.
Taylor, who took his first cooking class at age 16, began his career as an apprentice at the Jacksonville Inn and then Jacksonville's McCully House Inn, where he discovered the possibilities that come with preparing dishes with produce grown on site. He began cooking at Sunriver's Crosswater Grille in 2002, and last year was named resort executive chef, overseeing the destination's eleven dining outlets.