One of the first things Donald Yatomi does upon entering his home studio is to flip over a ten or fifteen-minute hourglass. It's the amount of time he can reliably devote to painting, given his responsibilities as a father of four teenagers and his job as a full-time visual designer for Sony video games.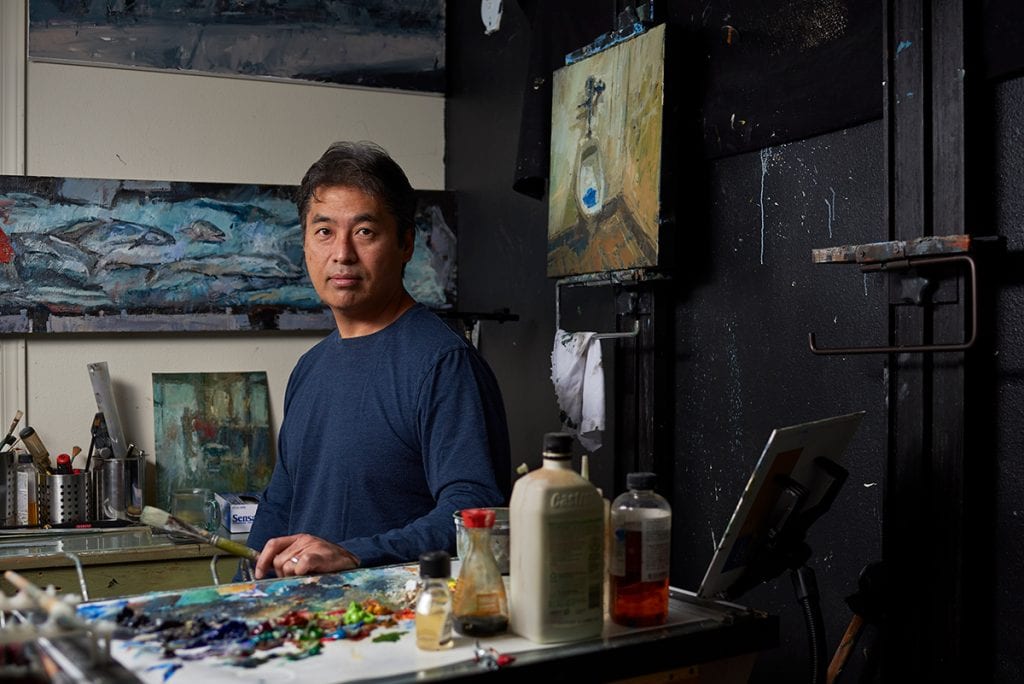 "We're always happy to get one of his paintings because we know he is so busy," said Tracy Knish, an art consultant with Peterson/Roth Gallery in Bend.
But Yatomi's short stints in the studio have built a body of contemporary realism that depicts scenes not typically associated with fine art. Rather than mountains or meadows, Yatomi turns his eye and his brush to "the industrial mundane, the urbanized deserts and the metropolis serenity," he said. "My challenge is to find the uncelebrated things in life – trailer parks, laundromats, the homeless. I'm not interested in capturing the romance of life."
"I know I'm not a good painter, and I don't want accolades as someone who handles the craft well," he said.
Despite this self-effacement, Yatomi offers new insight on every day and often overlooked situations and objects. A typical Yatomi scene might center on idle passengers awaiting a flight, the lone patron sitting at a diner, salt and pepper shakers, or shimmering cocktails and beer cans. He turns everyday machines, such as cars, motorcycles and even washing machines, into statements of time and place.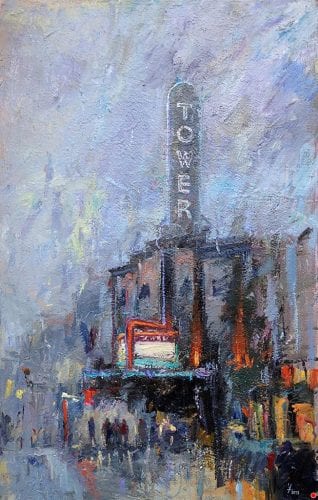 Yatomi's canvases have a rough-hewn quality of paint laid down helter-skelter. The result is a vibrancy of color and movement achieved with brushes, palette knives, spatulas, caulking guns and brayers. His handmade cabinet holds the implements as well as oil paint, which sometimes ends up on the carpet, evidence of a painter in a hurry. The studio also includes a mirror where he can view a piece in reverse. "When you flip over a painting, you can see composition mistakes," he said.
He draws inspiration from American artist Chuck Close whose large-scale paintings of faces appear from a distance to be photo realism but upon closer inspection, "expose blemishes, stubbles, hair and pimples," Yatomi said. "These are things we don't like to look at when we get close to a person's face. That's what I like to paint, things that aren't good to look at, the unromantic scenes of life."
Yatomi calls himself a Realist after an art movement that took off in the mid-19th century. And while his subjects are real enough, his works have the soul of an Impressionist. Yatomi said he is drawn the Realists' approach that avoided romanticizing subjects. "Before then, classical artists painted bourgeoise and the elite," he explained. "Realists began painting the poor, farmers, people on long train rides, slaves and the unromantic. I want to capture places people don't want to look at. My realism celebrates things we take for granted. My challenge is to look at subjects that aren't on gallery walls and put my own twist on them."
The Japanese-born artist graduated from the University of Hawaii in Honolulu with a BFA in painting, and then attended the prestigious Art Center of Design in Pasadena, completing a BFA in illustration with distinction in 1996. After college, he lived in Los Angeles and entered the entertainment design field, working in video and film. He also painted and wondered how he could feel so lonely. His canvases then and today evoke these mundane and lonely urban landscapes.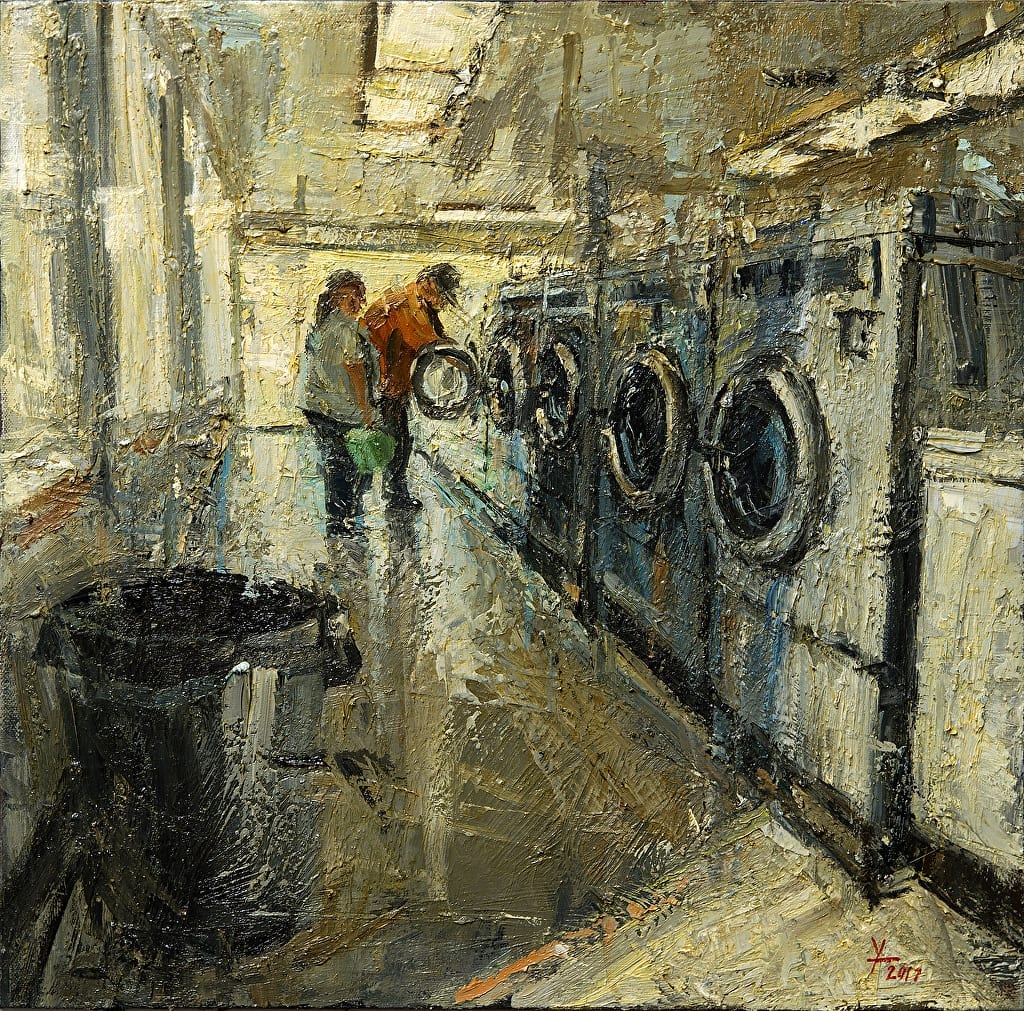 While living in Southern California, he met his wife, Leslie, a Corvallis native. They lived in LA for a while and then spent several years in Salt Lake City. Sony Interactive Entertainment eventually moved the couple to Bend in 2006. An artist herself, Leslie wanders into the studio during our interview and the pair begins an easy banter about the urinal painting he's working on.
Leslie: "It's too personal."
Donald: "That's it! That's the point."
Donald: "One of our favorite things to do on a road trip is stop by a dive bar. I really want to be the guy who paints urinals."
Leslie: "It borders on the line between humor and disgust."
Donald: "A transgender man in Utah bought one of the urinal paintings. Until he transitioned, urinals were inaccessible. He bought the painting because that's the space he always wanted to be at."
The urinals were part of works he recently shipped to an art gallery in Utah. He says the gallery was initially surprised but when his show opened, all the urinal paintings sold. Despite his success, Yatomi says he's indifferent about whether a painting sells, which gives him freedom to follow his own impulses.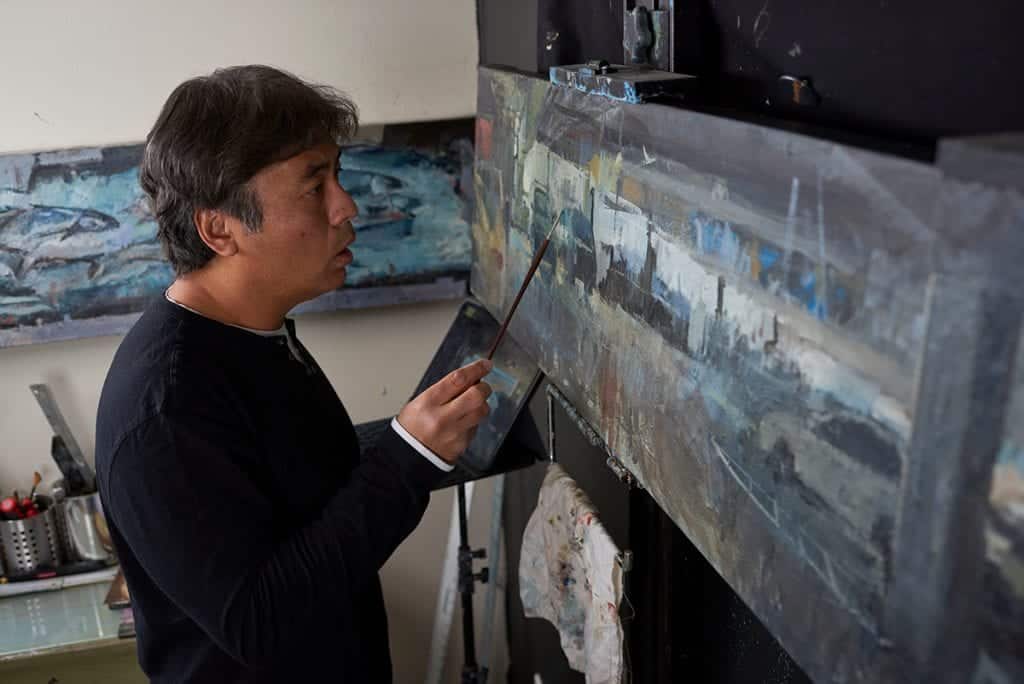 Donald Yatomi's work will be on display at Bend Magazine's offices during February, beginning with a kick-off event on Friday, Feb. 7 in conjunction with the monthly downtown Art Walk. To see more of his work, visit Peterson/Roth Gallery or go to his website, donaldyatomi.com. Better yet, follow the prolific Yatomi on Instagram @donald_yatomi_fineart