photo Life in jeneral
From spice blends to sourdough starters and air fryers to instant pots, cooking essentials have taken over our kitchens. Home cooking grew exponentially over the past year, both as a diversion and out of necessity. This trend means we're keeping more food and more appliances on hand. Where do we put it all?
In the quest for efficient storage, savvy home chefs are taking a fresh look at their pantries. Once a black hole of outdated canned goods, crammed with chip bags and dust pans, today's pantry is transforming into an inviting extension of the kitchen space. A pantry space, large or small, can keep the meal prep humming along in any home. 
All it takes is a bit of planning, a few modifications and some really cute baskets.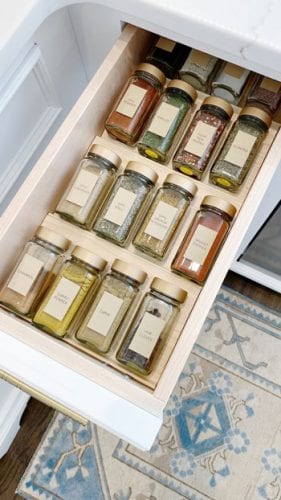 Designing the space
Unless you're remodeling or designing a new home, upgrading the pantry means working with what you've got. Makeover the current pantry, reclaim an underused broom closet or repurpose a vintage armoire. Even a wall along the basement stairs or mud room can serve as pantry space. 
First, plan shelving to fit your needs: large, bulky items go on low shelves, where pullout drawers are a plus. Seasonal items like turkey roasters go up high. Everyday items go in-between, on shelves about ten inches deep. For individuals with food sensitivities, avoid cross-contamination with dedicated shelf space for gluten-free or special foods. 
To max out the pantry, make your door do more. Sliding doors save space, but traditional doors offer valuable storage territory. Bat-wing door shelves hold spices and small jars. A coat of chalkboard paint turns the door into the family notepad for grocery lists and reminders.
The butler's pantry, reimagined
Actual butlers are not required to tap into the elements of an old-fashioned butler's pantry. Installing a countertop between upper and lower shelves adds workspace for a multitude of purposes, like out-of-sight preparations during dinner parties. With electrical outlets, the counter becomes home to the coffeemaker, toaster or microwave, keeping kitchen counters clutter-free.
Busy families use pantry countertops to manage calendars, charge phones and plan meals. Even four-legged family members can claim some pantry space, with a food bowl station tucked into a low slide-out. 
Wine lovers might tuck a modular wine rack or fridge below the counter and hang wine glasses on stemware racks above. When your hands are full, motion-sensor switches for LED task and track lighting makes pantry use even easier.
Tip #1: Not every home has a dedicated pantry space, so work with what's available. Repurpose a closet or armoire or squeeze a narrow cabinet into the space beside the refrigerator.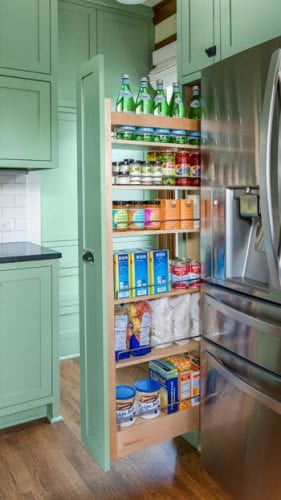 Hold it! Baskets and containers
When it comes to elevating pantry style, clear containers win the prize. From cereal to baking powder, decanting dry goods into see-through tubs creates a clean apothecary vibe. Whether you choose simple mason jars or a contemporary set, keeping quantities visible means you're less likely to run out. Look for lids that are easy to remove but air-tight to keep staples fresh.
Clear containers are meant to be seen, but what about pantry items best kept out of sight? Baskets are the unsung hero of the pantry, corralling a mishmash of packaging into low maintenance, easy-to-use boxes. Woven seagrass, wooden crates, canvas, or metal—they snug into shelving and present a uniform, attractive front. Give each basket a theme: one for kids' anytime snacks, one for grab-and-go breakfasts, one for spur-of-the-moment entertaining supplies. They're not just for corralling food—baskets work well for art supplies and paper goods. 
Pantries are no place for mysteries—every container needs a label. If you've got a steady hand, use oil-based metallic sharpies to write directly on the surface or on sticker labels. For those ready for next-level label making, a hand-held label maker may be a worthy investment.
Once the contents of the pantry are in order and labeled, keep organized by putting things away after cooking and carefully restocking after shopping trips.
Tip #2: Keep dry goods organized and easy to find by using clear containers, baskets and even turntables, which offer convenient access to items. Use sharpies, stickers or a hand-held label maker to keep track of what's in every container.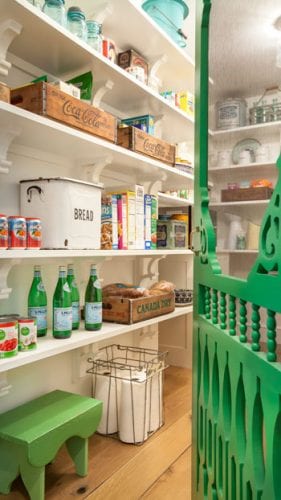 Craving color
Pantries can be a great place to add colorful accents to liven up an otherwise neutral kitchen and dining area in the home. Try painting the pantry door a vibrant color such as a bold blue or green. If the door has a window to see inside or will be open most of the time, consider the colors of containers, foot stools, small appliances and other items on display inside the room, too.
Wallpaper is once again a popular way to add color and fun designs onto the walls of a room. Choose from a growing number of peel-and-stick varieties to quickly change the look and feel of the pantry. This type of wallpaper is renter-friendly and a great way to test out new décor without a significant commitment. 
With a little planning and organization, some labels and a touch of color, the pantry can be a functional and fun addition to any kitchen.
Tip #3: Consider ways to add a pop of color to the pantry, which can liven up an otherwise neutral kitchen area. Try painting the pantry door a bold color or adding peel and stick wallpaper to a pantry wall.