Sponsored Content
Bend architect takes an innovative approach with a classic touch.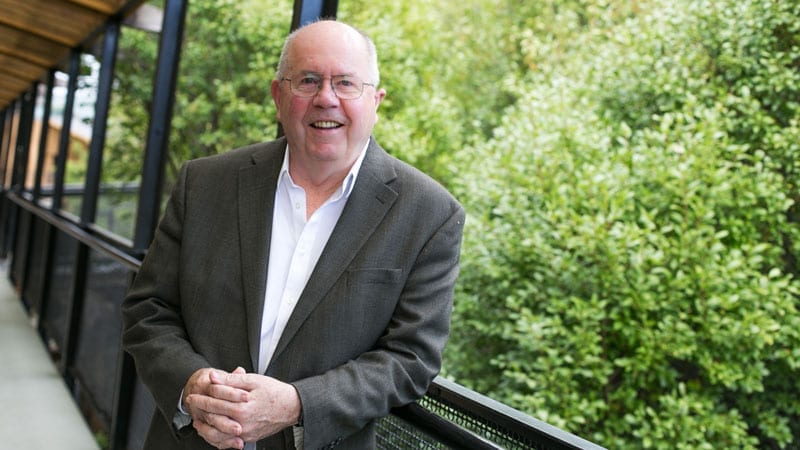 In any given Bend neighborhood, you're likely to be near a home or building designed by local architect Neal Huston. There's Worthy Brewing on the east side, the Ronald McDonald House off Purcell Boulevard, condos in NorthWest Crossing and custom homes in North Rim.
The long list of structures Huston has architected over his decades-long presence in Central Oregon range from mountain lodge-style to mid-century modern. But there is a common thread throughout. Huston takes a thoughtful approach to offer fluid layouts with timeless design.
"I believe one thing we try to think about is how some of these really starkly contemporary homes are going to feel and weather over time," Huston said. "If someone wants contemporary, we try to follow that path, but also think more classic, so that it's going to be appealing to the owner or future owner as time goes on."
Huston has worked as an architect in Bend for well over forty years. An Oregonian raised in McMinnville, Huston started his career in Bend designing homes in Black Butte Ranch for Brooks Resources in 1970. By 1976 he'd finished his apprenticeship and partnered with two other fellows to start Waldron Huston Barber, which later became Huston Barber Barrett Turner, before opening up the enterprise we know him for today—Neal Huston & Associates.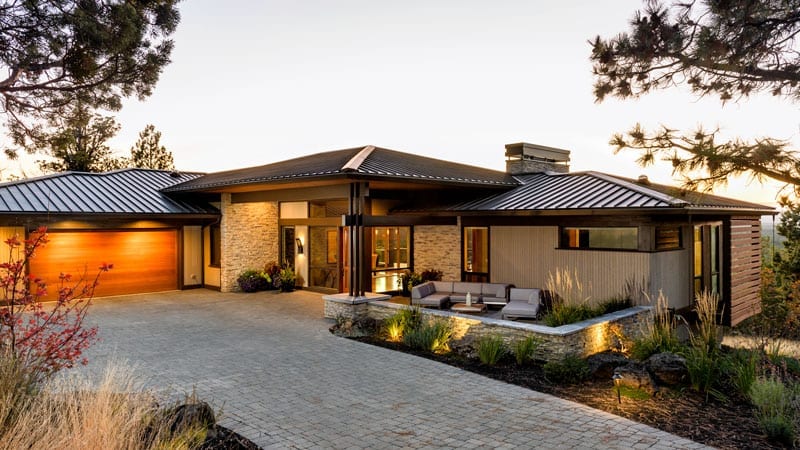 Much of Huston's work in recent years is on custom homes, though you'll recognize his commercial work around town, too, like inside Jackson's Corner eastside. With years of practice under his belt, Huston is an expert at integrating a client's vision with a smooth user experience, architecting a design that will stand the test of time.
In his office of five, Huston is joined by his wife and business manager, an office coordinator, and two fellow architects, who have been with him for twenty-plus years. While Huston provides the design component, his colleagues provide support for other aspects of the project, including producing construction documents and communicating with contractors throughout the building process.
"The thing about our arrangement is that there's continuity in design because I'm always doing it, where in a larger firm, this project may go to various staff," Huston said.
Huston is known for crafting plans that speak to the style of the moment but remain ageless. For several local couples, Huston has architected an initial custom home, and designed for them again when they've downsized years later. "What a lot of people tell us is that we listen to what they want to achieve, but if we think they're going down a path that may not be the best for them we offer them options," Huston said.
He remembers coming to Bend years ago, noticing how so many homes and businesses had windows that were overly small and wood paneling that soaked up the light. Huston wanted to take advantage of Bend's natural beauty and abundant sunlight by architecting plans that highlighted Bend's best views while being beautiful in their own right.
In any of his designs, you'll notice sweeping windows, plenty of natural light and a creative approach that incorporates the builder's wishes and ideas into a classic form that will age well. One of Huston's favorite projects is a home he designed in 1997. The home was in many ways ahead of its time—fitting the style of the moment but still holding up perfectly today.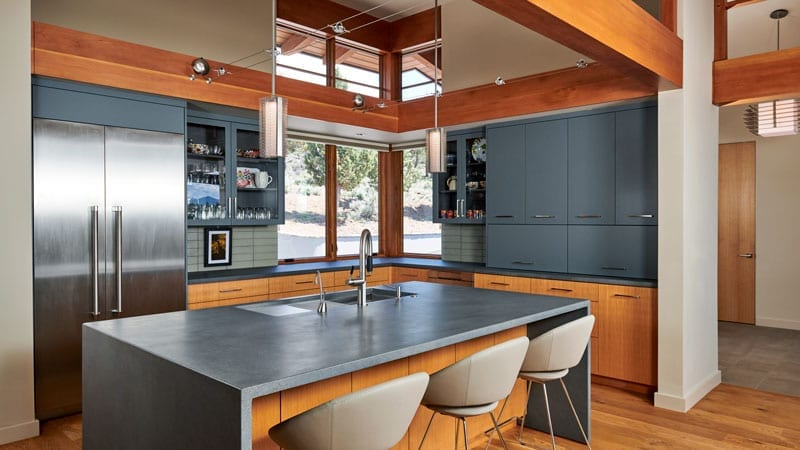 The couple who originally built the home had Huston architect again for their next, smaller home. The young couple who recently bought the contemporary 1997 house couldn't believe it was more than twenty years old. "Contemporary to us is very broad," Huston said. He asks clients to share images that appeal to them so he can get an idea of their brand of "contemporary." From there, he can draft a design that fits current style while maintaining classic elements.
Until about 2008, Neal Huston & Associates's work was comprised of about 70 percent commercial and the rest residential projects, but as the nation started coming out of the recession Huston's firm began doing more residential and less commercial.
"Whether it's modest or larger commercial projects, I believe that the perception is often that a larger architectural firm is required to take on such work, while smaller firms usually provide the same level of technical expertise and design creativity while perhaps providing more personal attention," Huston stated. "One would think, that if you've survived for decades, you must have something of value to offer."