Dana Robles has been a brewer at Boneyard Beer in Bend since 2015. Here's what a typical workday looks like for her.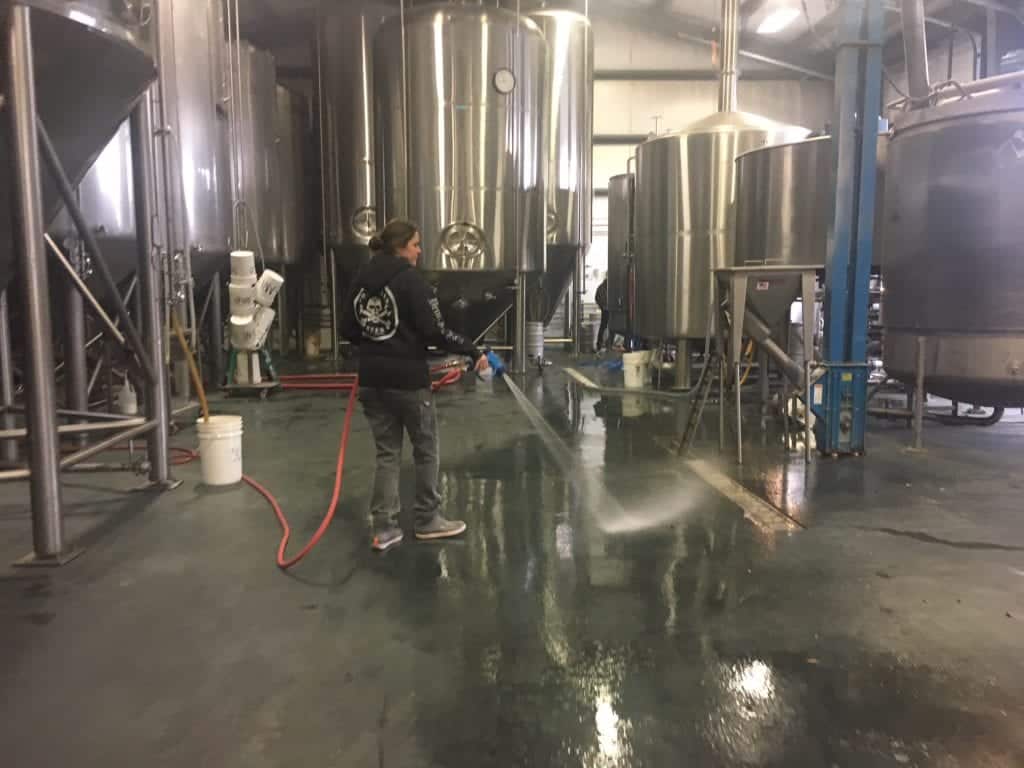 Dana Robles thought she might become a teacher after college. But she started working at Oakshire, a brewery in Eugene, and decided that she could turn her homebrewing hobby into a career. "I met a lot of brewers, and it just really made sense," she said. "The lifestyle and everything about brewing seemed to fit me more." Robles, 34, ended up going to brewing school, then landed a job at Ninkasi, where she met her now-fiancee, Mark Henion. In 2015, she got her brewing position at Boneyard Beer and moved to Bend with Henion (who's also a brewer at Boneyard).
She said the thing she enjoys most about brewing is how hands-on it is. "It's a lot of physical work, and can be challenging when things go wrong," she said. "It challenges you to troubleshoot, think and act on your toes and dig into the well of knowledge gained throughout the years to keep things running smoothly."
Robles added, "Work hard, play hard seems to be the M.O. Plus, we make beer, which is inherently fun and interesting." Here's how she spends a typical workday. — Bronte Dod
4:30 a.m. Not all of our shifts start this early. This is the opening shift, and we all rotate through it. That being said, 4:30 a.m. is really too early to be getting up. This morning, like every morning that I work at 5 a.m., I groggily get out of bed and turn on the coffee maker, which gives me 15 minutes to throw on my Carhartts, T-shirt, socks, sweatshirt and boots, brush my hair, my teeth and pack my lunch. Then I am out the door at 4:45 a.m.
5 a.m. Arriving at the brewery, I unlock the doors and immediately begin mash-in. On a day like this, we will brew three batches of beer, it takes about fourteen hours. Mashing-in, at our facility, consists of loading a super sack of milled malt above a bucket elevator that dumps the grain into the mash mixer scoop by scoop, while hydrating it with water. This morning is cold, and so is the grain. I am mashing-in at a strike temperature of 166 degrees. The strike temperature is the temperature that the water from the hydrater meets the grain. The goal is to finish mash-in with the entire mash at 150 degrees, the perfect temperature for the enzymes to convert starches to sugar in the malted barley. This process takes one hour, from start of mash to transfer to lauter tun, the vessel in the brew house used to wash the sugar from the mash and send it to the kettle.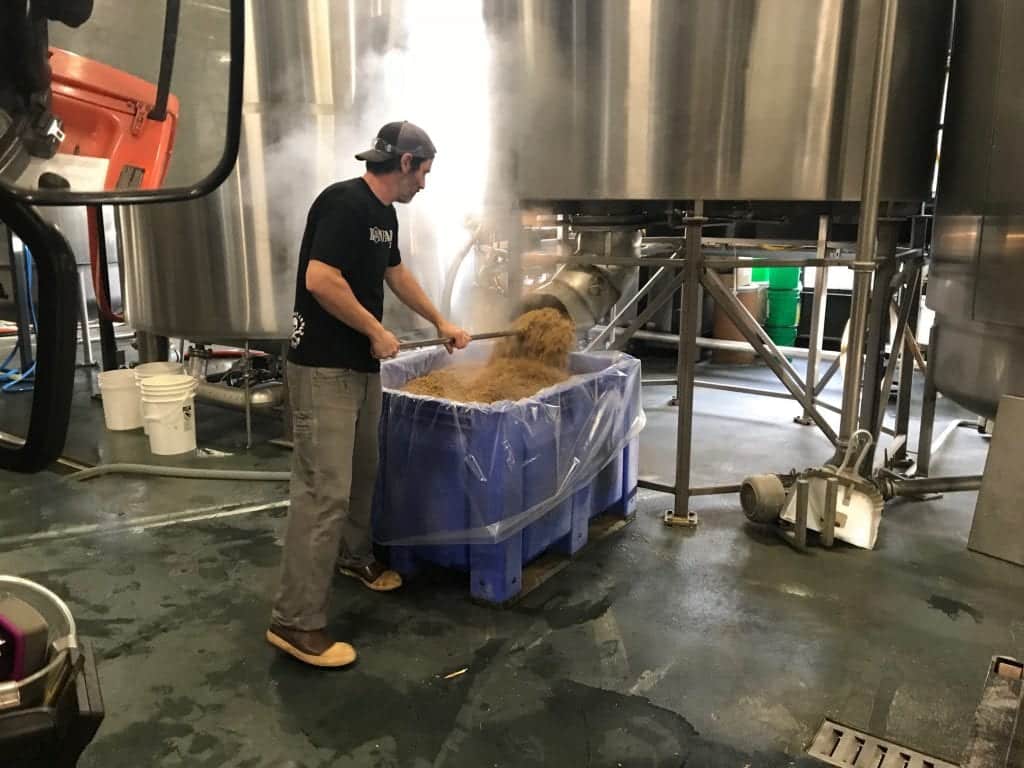 6 a.m. Cellar-persons and racking crew have began to arrive. I am transferring the mash to the lauter tun via a three-inch pipe and a pump. This process takes ten minutes. After "first wort" (the most sugar-concentrated liquid) is through, the sparge water will rinse the grain for the remainder of the run to kettle. The liquid created in this process is called wort. This is usually un-hopped until boil.
7 a.m. Yeast harvest. There are many ways to harvest yeast for the days brew. It is an essential part of the process because the yeast is what converts the sugar to precious alcohol. At our brewery we harvest into fifty liter kegs depending on the batch size, then pitch the yeast in line to the fermenter, mixing it with wort and oxygen. The oxygen is another essential ingredient in the process. Yeast needs oxygen to thrive. Without the addition of oxygen, fermentation would be sluggish and the yeast would struggle to grow and survive in that environment. 8 a.m. Second mash-in. We are mashing three beers today, and mash-ins occur every three hours, unless there is a problem.Today, everything is going smoothly. Another brewer has joined me at this point and is helping with mash-in. The other brewer has weighed out the hops we will use for today's three brews.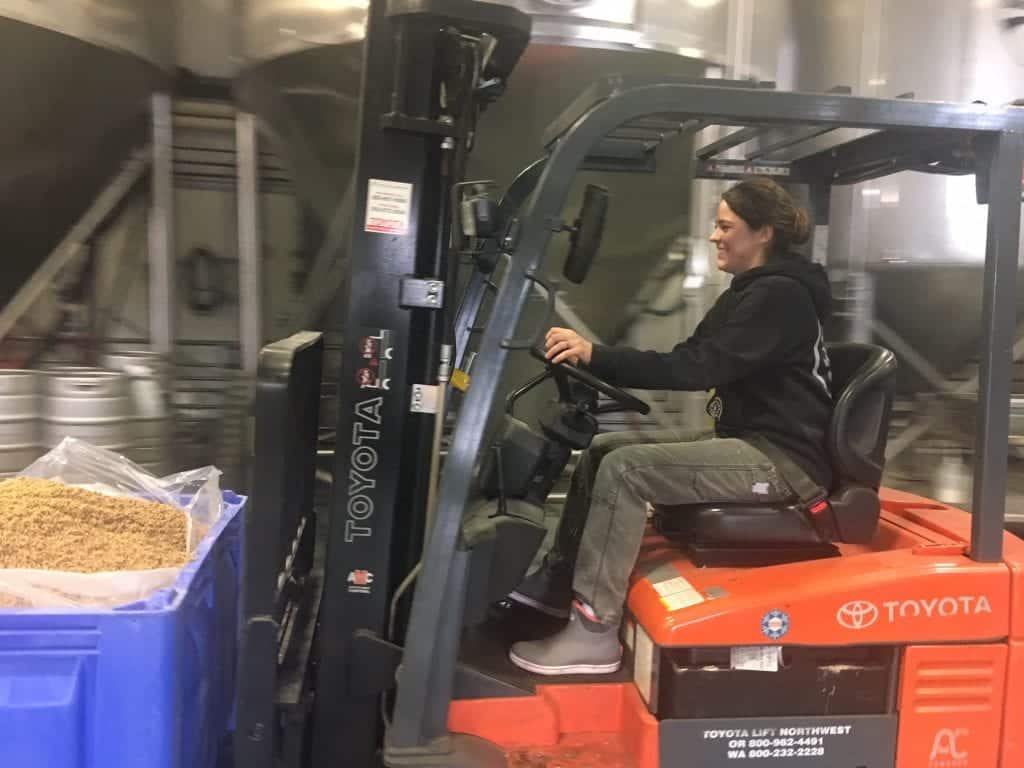 8:30 a.m. Kettle full and grain-out. This is the boogie. The "boogie" is a term coined by a brewer named Anders Johansen who I worked with at Ninkasi. He's a veteran brewer with thirty-plus years experience, and has a one-of-a-kind vernacular. The boogie is the part of the brew day that ultimately has the most going on, requires multitasking and usually involves attention to multiple vessels at once.
While still mashing in, we get to kettle full, which is at sixty-seven barrels of wort. The kettle is boiling, hops get thrown and the lauter tun is ready for grain-out. After securing the kettle lid and recording boil time, I hop on the forklift to assist my fellow brewer in graining-out. An "iris" below the lauter tun is manually opened and out pours hot spent grain into plastic totes. Most people visiting the brewery at this moment remark on the terrific smell of the spent grain. After each bin is filled, I fork lift the totes outside behind the brewery. Later, an employee of Barley Beef will come by and we will load the totes onto his truck. That grain will later be taken to feed their cattle.
We have many "Groundhog Day moments" at the brewery. Mashing-in and graining-out are two of those moments. Brewing is monotonous and is designed to be so. Consistency is key in making quality beer that people can trust will taste like the last one they had. So everything we do throughout the day is part of a very regimented minute by minute brew schedule. Only when equipment fails, or people, does chaos happen.
9 a.m. Grain-out is over, and the new mash has been transferred to the lauter tun and is resting before vorlauf. Vorlauf, a german word, is the process of recirculating wort. We do this for about twenty minutes, until it is bright enough to send to our secondary holding tank called the wort receiver. The kettle is still full and boiling so we cannot send wort here just yet.
This is a good time to check in on the rest of the brewery's happenings. I head over to the keg line, and help load empty dirty kegs onto the keg line. I bring new stacks of dirty kegs to the line via forklift, and remove the tags and shrink wrap. I haul away freshly packaged beer and help out wherever possible before returning to the brew deck. At this point in the day we are all hands on deck. If I leave the brew deck to help with cellars or packaging, there will surely be another brewer or two keeping an eye on the brews.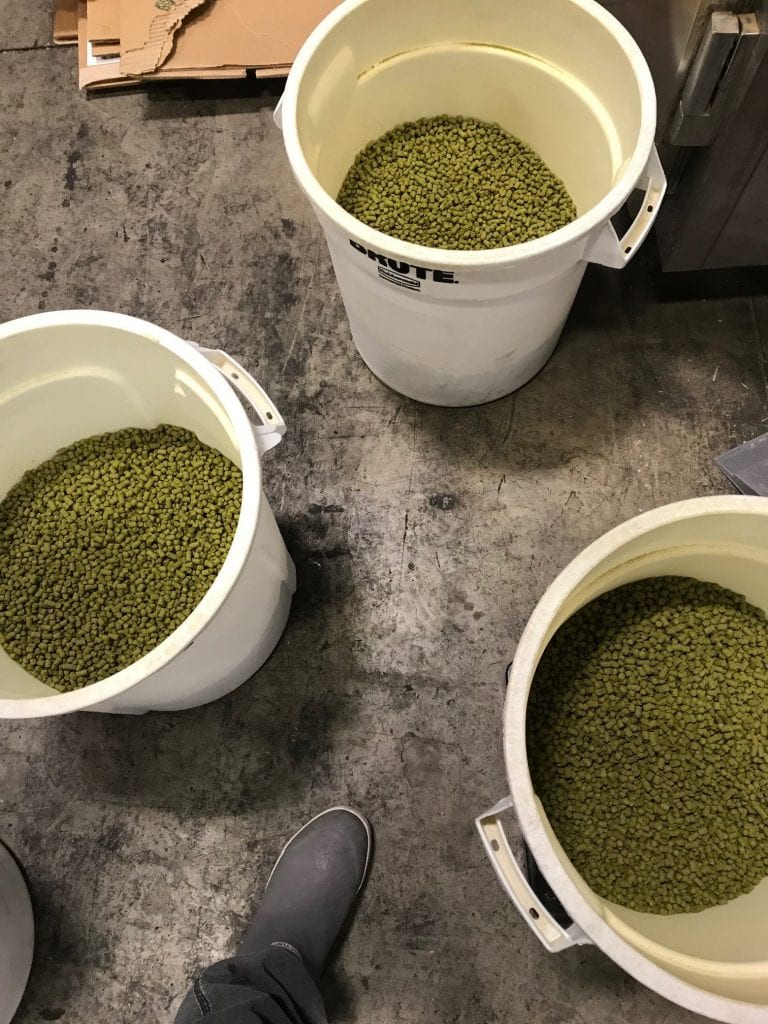 10 a.m. We are just about done transferring the boiled wort to the whirlpool. This process is called knockout. It is essential in separating heavy solids out of the beer to help with clarity downstream and in not clogging the heat exchanger when we send the wort to the fermenter. This process takes twenty minutes. Once the brew kettle is empty we send what we have collected in the wort receiver to the empty kettle and repeat the process we just completed with the first brew of the day.
10:30 a.m. Time to send the wort from the whirlpool to the fermenter. This is called "pump over." This consists of running hot 200 degree wort through a plate and frame chiller, that has cold groundwater running the opposite direction of the wort. By the time the wort exits the heat exchanger it should be at our fermentation temp of 67 degrees. This is where I add the yeast I have harvested earlier. Pump over takes one hour.
11 a.m. Third and final mash-in. Now it is nice to have three brewers on shift. One monitors pump over, another filling the kettle and grain out and the third mashing in. We have an incredibly manual large brewery, so it is a very hands on process for the size.
Noon Lunch break. I take a half hour to sit quietly in the office and chow down on some food I got from the taco cart down the street.
12:30 p.m. Back to work, for the next hour and a half I will be loading kegs, cleaning drains and tank feet and monitoring run to kettle.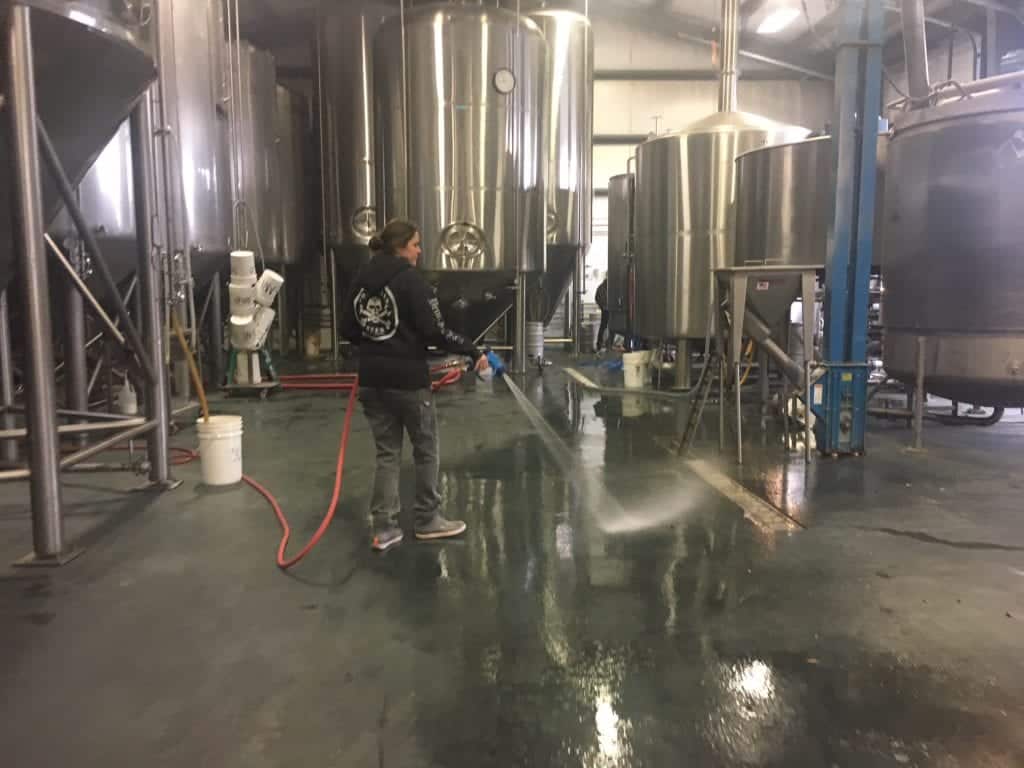 2:20 p.m. Final kettle full, final grain-out. I assist in graining-out, while my co-worker forklifts the totes away. My other coworker is finishing the second brew as it goes into the fermenter. Once I get the lauter tun empty, I do some final tidying around the brew house while the late shift brewer pulls plates up and rinses the lauter tun, tucking it away for the night.
2:40 p.m. Today is special because we have sensory. A nice surprise and a good way to end the day. I sample five different beers, rate them in order of preference, describe the aroma, flavor and appearance and offer criticism or praise for each.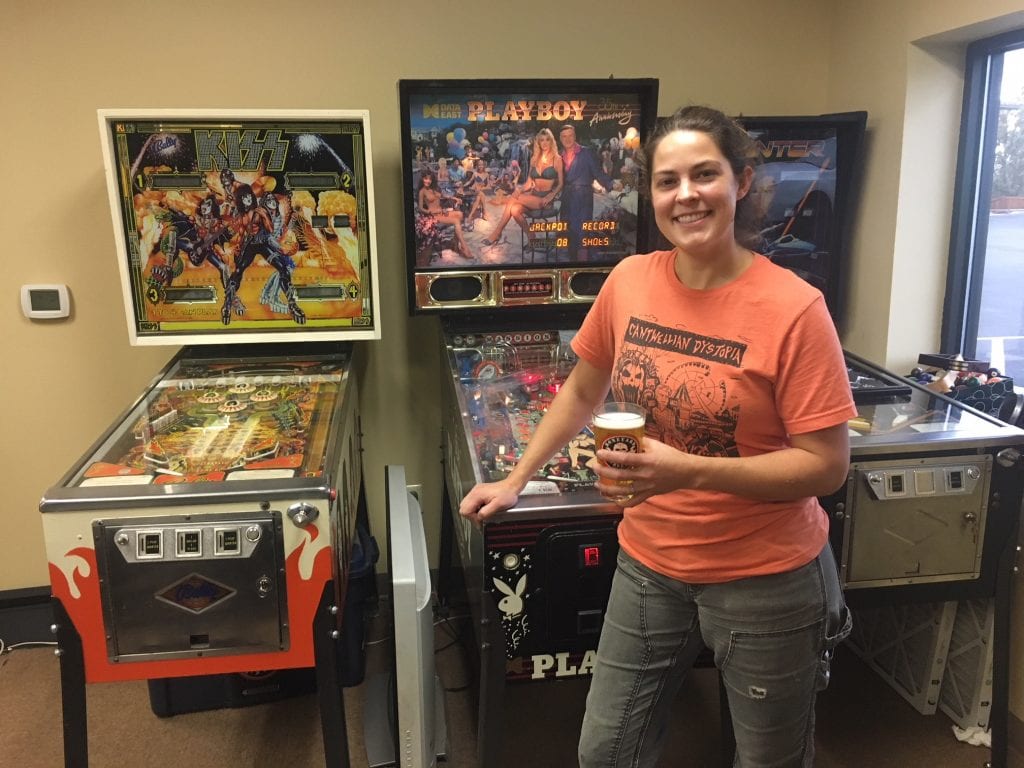 3 p.m. My shift is over. I take a stroll to the back office to indulge in my favorite after work pastime: pinball and beer. I pour a PABO pils off the kegerator and fire up Playboy Pinball. "Welcome to my party," Hef exclaims as I hit player one. Ball is life.
After that I either go home and head to Cycle Bar for spin, dig into a sewing project I dreamt about at work or snuggle with my old pup who isn't doing so well right now. Or all three! Either way I am happy to be home and happy to kick off my stinky boots. Ready to make some more delicious beer tomorrow.