Marcelle Howard began dancing at the age of three at a studio formerly known as Jean's Dancing School in Prineville. Slipping on her tap shoes, she emerged into her first recital before dance became her life's work. "I was able to do a triple threat: ballet, jazz and tap as a senior in high school," Howard said about her growth as a dance student. From there she studied in Western Oregon and taught dance at multiple locations around Central Oregon, including the Athletic Club of Bend. After noticing a lack of dance classes in Bend offered for young children, Howard opened Mrs. Marcelle's The School of Dance in 1995, which now offers classes for children ages three and older. The first class at her studio was a pre-ballet class for ages three to five; Howard recalls the school only blossoming from there. Today, she has a team of experienced dance teachers working beside her to urge the mission of Mrs. Marcelle's The School of Dance forward.
There are a couple of main goals that make Mrs. Marcelle's The School of Dance stand out in the Central Oregon community. "Number one, when you have a student, let them realize how special they are," said Howard. Her philosophy is to allow an opportunity for students to be aware of how extraordinary they are. Another belief of Howard's is "everybody can dance"—the ideas of inclusion and acceptance are the backbone of the mission behind Mrs. Marcelle's The School of Dance.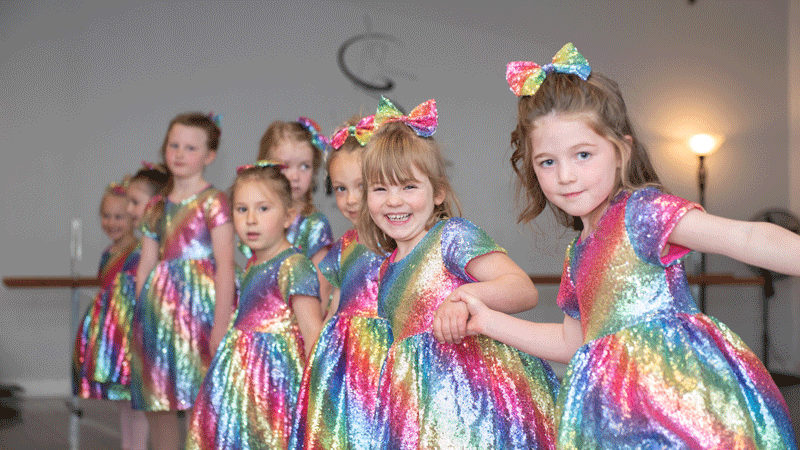 Veronica West began practicing ballet with Howard at the age of four, and continued with ballet, jazz and tap until 9th grade. At twenty-eight, she no longer dances but still holds a love for the practice, and looks back fondly at her experience with Howard as her dance teacher. "I loved dancing with Mrs. Marcelle. She was the most charismatic, energetic teacher who made everyone feel welcome…Dance practice was always something I looked forward to because of Mrs. Marcelle," West said. This bodes well for one of the key takeaways from Mrs. Marcelle's The School of Dance. Howard hopes that whether her students are practicing, performing or simply dancing for fun that they revel in what they are doing. "Enjoy it. If they aren't enjoying it, I'm doing something wrong," she said. 
Over time, the school's recitals have sold out performances, bouncing between the Tower Theatre, Bend High and, recently, Caldera High School. A lot of love and thought goes into the development of the big end-of-the-year recital, and practice begins in October, running through June when the performance takes the stage. "Having our families and friends come watch us perform in our costumes was something we all looked forward to, and [Howard] put so much time, effort and planning in making sure the recital was amazing for all of us. We felt like professionals dancing on stage," West said. Most recently, the students of Mrs. Marcelle's The School of Dance performed in a Broadway-themed recital, pulling inspiration from classic Broadway show numbers; including a favorite routine of Howard's, "Popular," from the hit Broadway show "Wicked." Howard is overjoyed to produce a Disney-themed recital in 2023. It's one which takes place every five years. 
In the summer, the school plays host to dance camps. Keeping in the spirit of the importance for everyday harmony and family time, "combo classes" are available at the school: all-in-one tap, ballet and hip-hop classes that provide time-saving efforts for both the children and parents during their busy lives.
The energy that radiates from the school and from Marcelle Howard are the purest forms of excitement and happiness. She has much gratitude for the ways in which the school has has enriched her experiences over twenty-seven years. As for her life outside of work, she said, "I love the balance it gives me, because I can make all my own decisions." However, from the standpoint of a teacher, one of the gifts Howard treasures most is the ability to provide love and joy to all the dancers of Mrs. Marcelle's The School of Dance. 
Learn more at mrsmarcelleschoolofdance.com