Renaissance man David Sowards-Emmerd is a physicist, blacksmith and a recovering reality TV competitor.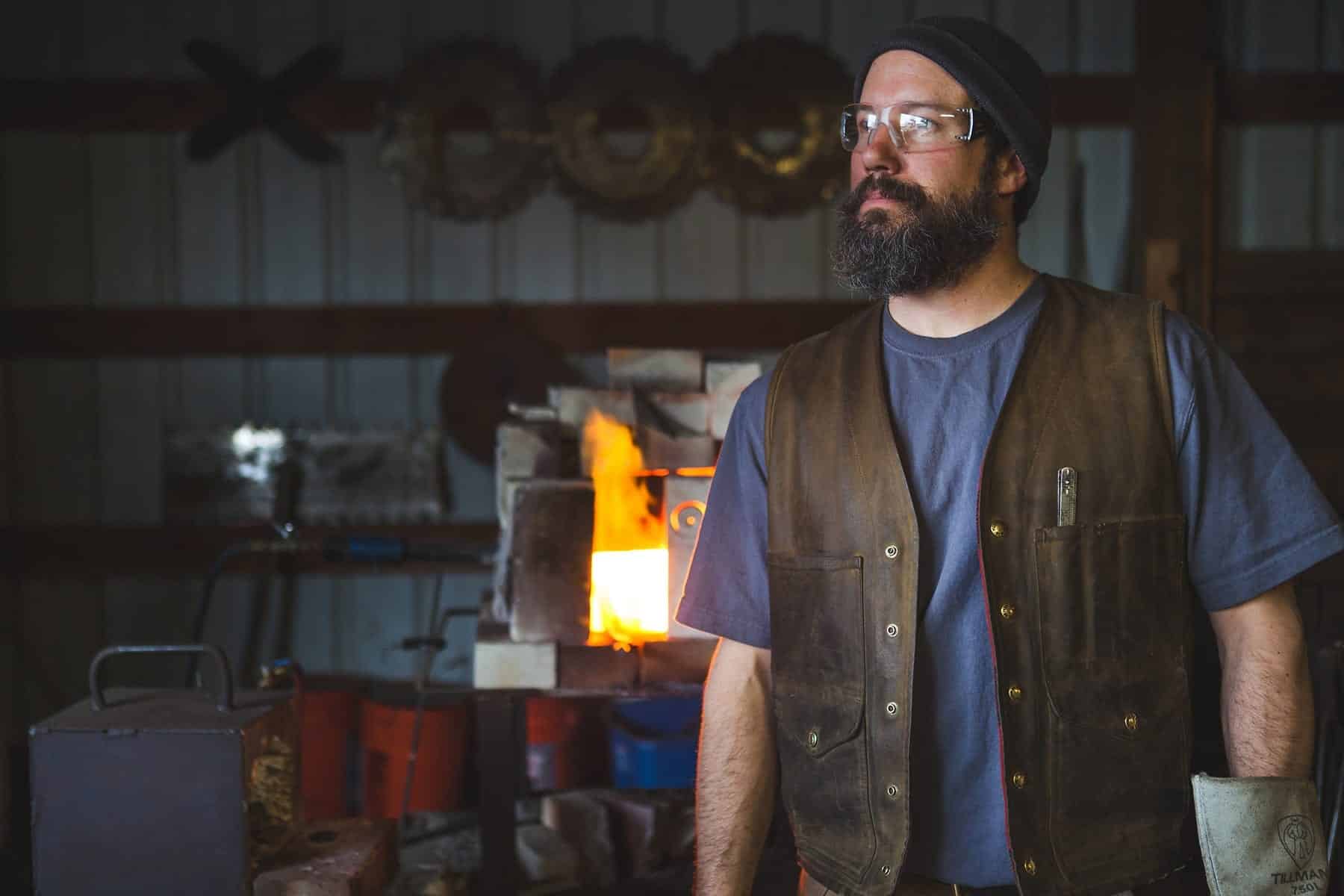 On a cold winter day in his barn, David Sowards-Emmerd pulls on leather gloves and grabs iron tongs to extract orange-hot metal from his backyard blacksmithing forge. A pair of yellow labs pay scant attention to this bit of daily alchemy that goes on around here as ordinary hunks of metal become extraordinary objects of beauty and usefulness.
That transformation of steel into Damascus knives worthy of a king and an Instagram post in 2017 earned Sowards-Emmerd a spot on the History Channel's "Forged in Fire" series. He traveled to Stamford, Connecticut, to appear twice on the show, the first time competing as one of four bladesmiths tasked with making a slasher blade suitable for a horror movie. Each contestant selected a hunk of steel from a smoking cauldron and had three hours in which to complete the project.
Sowards-Emmerd turned his steel into a campfire chopper blade but when he put the it in a vice and cranked down, the blade unexpectedly broke into three pieces. The failed stress test essentially eliminated him from the winner's circle. He returned to the show a second time but came up short in the show's "Project Runway"-style round of judging.
"Forging on the show was a great experience," he said. "I work well under pressure, and I think it showed that I love what I do and was able to stay relaxed in that chaotic environment." He adds that on his second appearance that aired in February, he was able to show that his Damascus would hold up to J. Neilson, a renowned knife maker and one of the show's most demanding judges, "beating the hell out of it."
He notes that the other contestants were like family. "We're all just focused on making the best blade we can and helping each other out along the way. I still keep in touch with folks from both episodes. The [show] tends to throw a wrench in it, and that's where the drama comes from."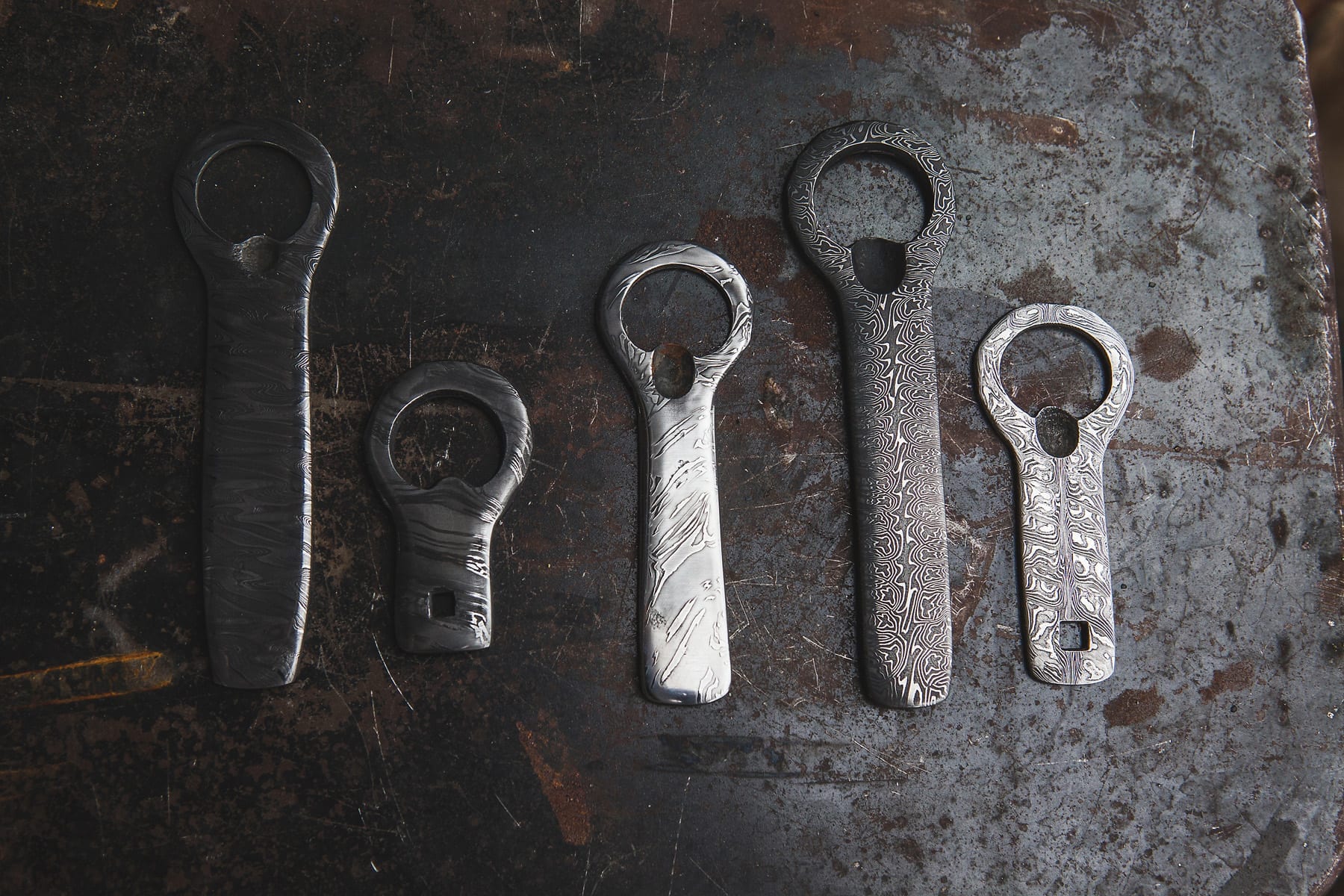 Sowards-Emmerd is happy to explain the ins and outs of this ancient art that dates to the Iron Age. He rattles off terms such as forging temperatures (thousands of degrees), quenching (rapid cooling), thermal cycling (heating and cooling), buffing (shining and sharpening), grinding, punching (hole creation) and many other factors to produce knives, bottle openers and other objects from steel. His blacksmithing barn on ten acres east of Bend is replete with hammers, tongs, anvils, propane and coke-fueled forges, a hydraulic metal press, scrap metals and propane tanks.
The tools may be straight out of the Middle Ages, but Sowards-Emmerd brings a 21st century approach to the trade. He earned a PhD in physics from Stanford University and thought he'd live the life of an academic. He taught astronomy at City College of San Francisco starting in 2005 but after two years, accepted a position at Phillips Medical Systems North America in the Bay Area.
"I worked in CT and nuclear medicine, and instead of studying signals from distant galaxies, I designed medical devices that help diagnose and treat cancer and heart disease," he said. When the company closed its California office in 2012, Sowards-Emmerd worked remotely for several years rather than move to Cleveland. But working remotely took him away from his lab and the hands on aspect of his work. He began forging in 2012, which he said, "kept me sane after sitting in front of a computer all day."
He and his wife, Rebecca, moved to Bend in 2016 where they bought a farm that provided space to expand his forging business. He continued to work remotely until 2018 when the company completed its final round of layoffs. Untethered from the corporate world, Sowards-Emmerd could turn his love of blacksmithing into a full-time job.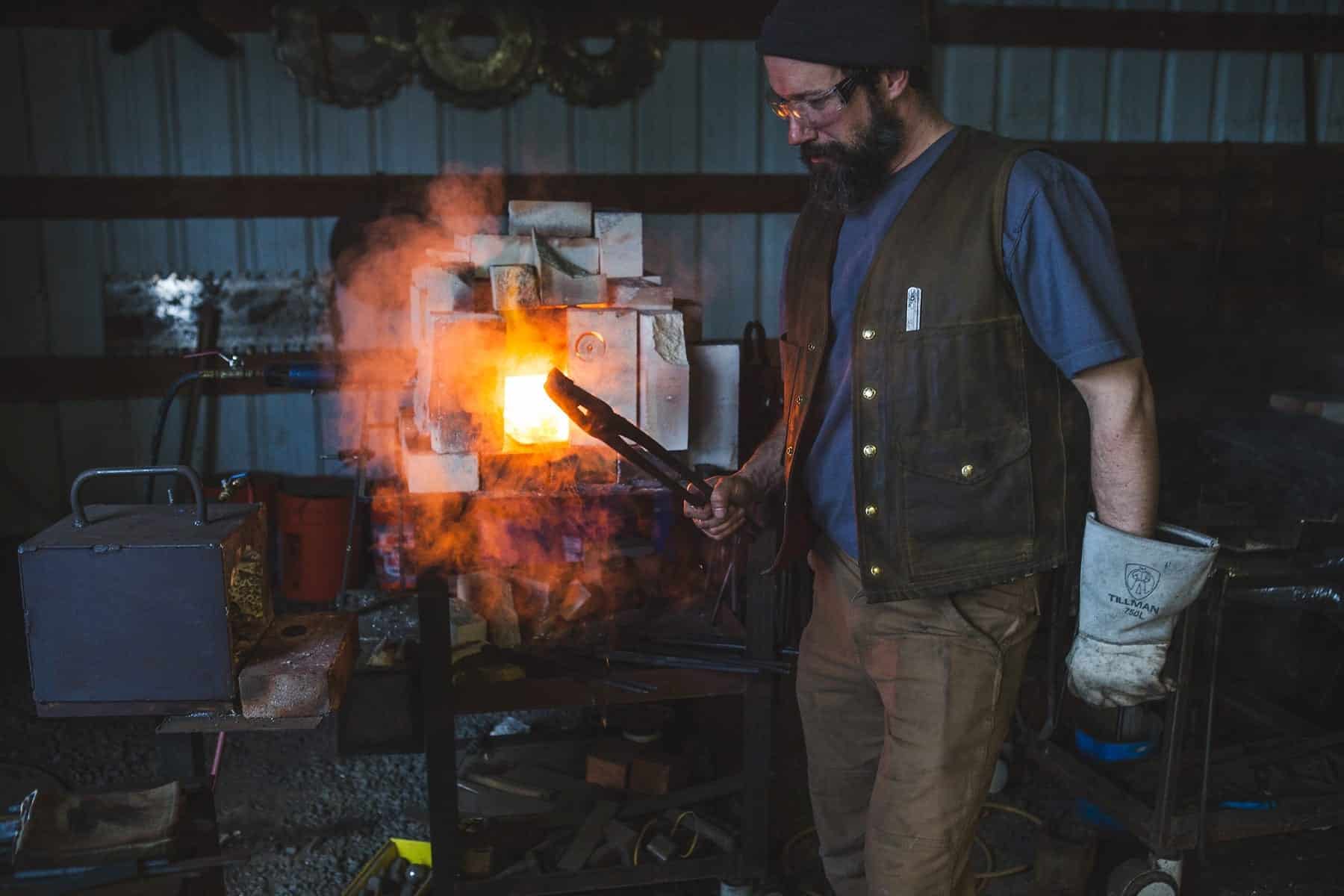 "David has an enormous capacity to learn and absorb things," wife Rebecca said. "He puts a lot of time into experimenting with different patterns and exploring the artistic parts of Damascus. You can see the quality when you can pick up an item and hold it in person."
Sowards-Emmerds coaxes unique and beautiful patterns from his steel through techniques, such as stacking and layering, twisting, hammering and etching. He sells his blades and bottle openers online on Etsy and in knife-related forums, by word of mouth or on his website, drunkenmarmotforge.com. Buyers include campers, hikers and bushcrafters, and they pay between from $50 to $1,500 for bottle openers and knives.
"People are afraid to use high-end knives, but my goal is to convince folks that well-made Damascus tools will hold up to many lifetimes of regular use," he said. "[Bladesmithing] isn't my retirement job, it's my forever job. It's fun and challenging and it gives you the satisfaction of making something."