Justin Chu was raised in a Bend restaurant family, but owning his own Central Oregon dining establishment wasn't always in the plan. The owner of NorthWest Crossing's 2-year-old poke restaurant Poke Row, Chu was born in Bend and graduated from Mountain View High School. His mother, Lilian Chu, co-owns downtown Bend's renowned 5 Fusion & Sushi Bar, and she had another local Asian restaurant many years ago.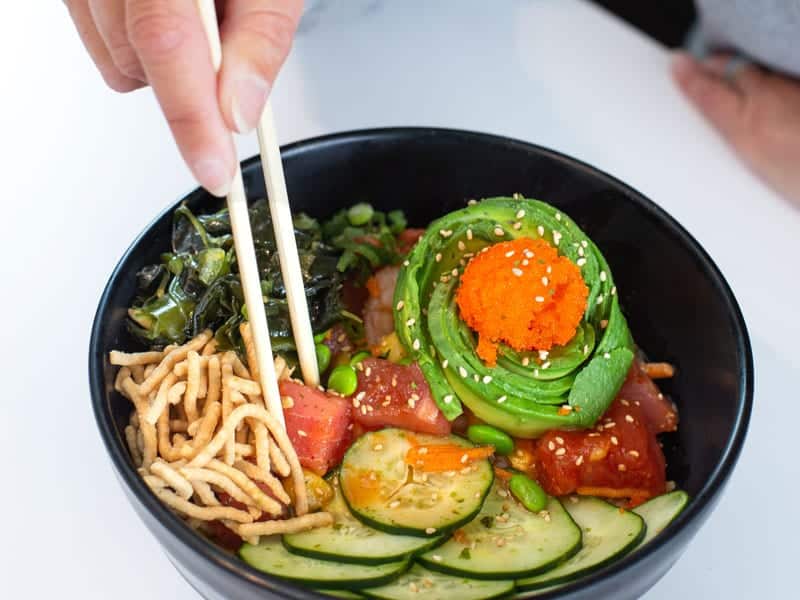 But Justin had gone his own way, settling in Los Angeles after college and launching his own company, an outdoor advertising firm called OutWerks. Still, perhaps the restaurant business was always waiting for Chu, even if he didn't know he was waiting for it. "Poke Row was never planned," he said. "It just came together as an opportunity."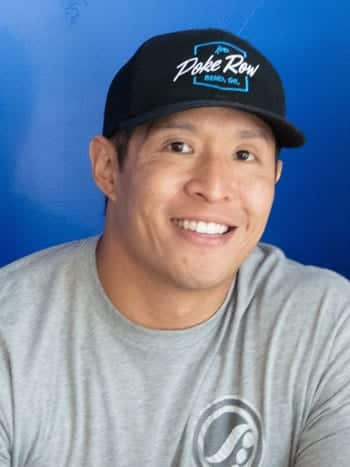 While the NorthWest Crossing residential and retail building Fremont Row was under construction three years ago, the developers approached Lilian Chu about opening a second 5 Fusion in the signature restaurant space. At the same time, Justin was considering a move back to Bend from Southern California. He and his wife had young twins, and were looking to be closer to his parents, in a more family-friendly community than Los Angeles.
Lilian wasn't interested in a second 5 Fusion, but the query got the wheels turning for the Chu family. "We'd traveled to Hawaii a lot and had been introduced to true authentic poke," recalled Justin. Poke means "to slice" in Hawaiian, and began hundreds of years ago as fishermen's simple snack—take the cut-offs from your catch, season them, pop 'em in your mouth. Modern poke is diced raw fish, usually ahi, sometimes octopus, flavored with a variety of sauces, tossed with toppings, sometimes served with rice.
On the Hawaiian islands, poke is easy to find. The average deli or grocery store will typically have several fresh varieties on hand. It was just a matter of time until the food trend hit the mainland. "Poke restaurants were starting to turn up in Los Angeles right before we moved back to Oregon. My wife and I love sushi, but going out for a full sushi meal can be an expensive prospect," Chu said. "Poke is basically deconstructed sushi. It's healthy and fresh, and gives you that sushi fix without the $100 price tag."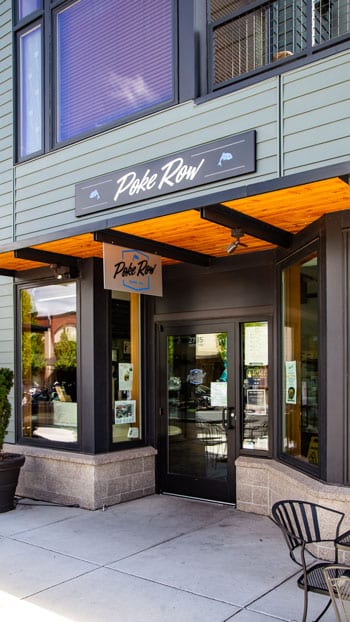 Even though Poke Row and 5 Fusion are separate entities, Poke Row benefited greatly from the 5 Fusion team's expertise. Chef Joe Kim and his cohorts masterminded the sauces, ingredients and recipes for Poke Row. By the time the business opened in August 2018 in a "small, simple space" in Fremont Row, the poke dishes were tried and true.
The menu allows for creativity, with the build-your-own-bowl as the most popular option. "We also offer signature bowls, created by the chefs." Chu's favorite of the signature bowls is the Tyler Bowl—spicy tuna, salmon, tuna, cucumber, edamame, carrots, mango, sweet onions, sesame soy, spicy mayo, seaweed salad, tobiko, ginger, furikake, fried onion and avocado. "It's a nice balance of all the ingredients," he said. Bowls come with greens, rice or both.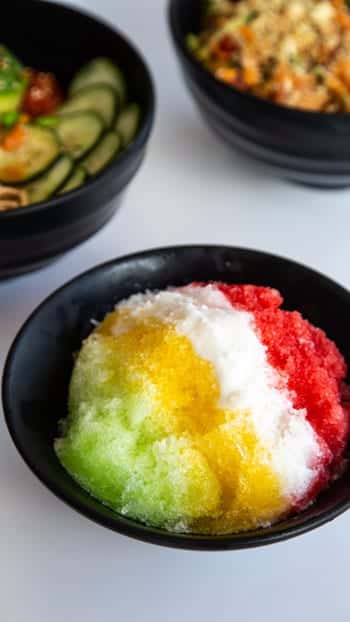 The menu also offers miso soup, and, for dessert, the delicious treat of Hawaiian shave ice—soft serve ice cream topped with shaved ice and your choice of flavored syrup, including pineapple and coconut. Beer, wine, sake and kombucha are available in the casual space, which has a few tables inside and out, but does mainly take-out.
Two years into his own restaurant adventure, Chu has faced no shortage of challenges, from juggling life with twin 4-year-olds, continuing to run his advertising business and navigating the COVID-19 complications. "We stayed open for take-out through the spring," he said. "I'm so appreciative of our customers. The great feedback they give us and their repeat business are the biggest rewards so far of Poke Row."
"We're considering a second location down the road," Chu said. "My simple hope is to continue to serve the community."