As Pat Mullens set out on a fat-tire bike tour last February, she expected some adventure. What she didn't expect was to be saved by a search and rescue unit.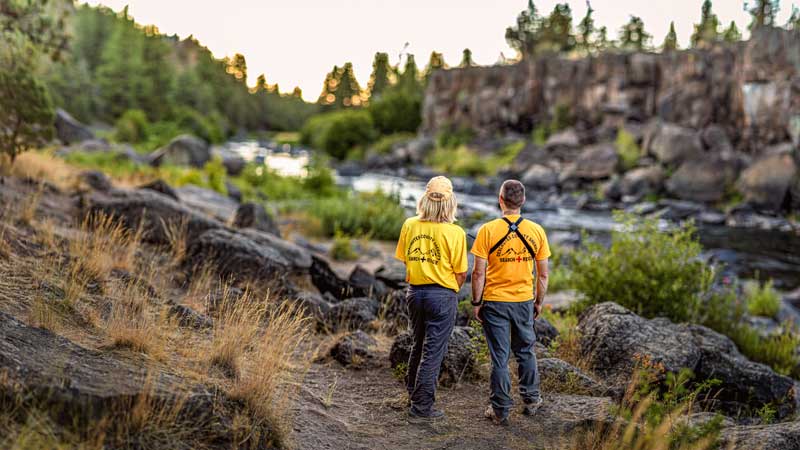 The morning was cold and clear when Mullens, 60, and her friend Siobhan McNulty set out to ride the loop from Skyliner Sno-park to Tumalo Falls, returning via the Skyliner trail. Both women are experienced in backcountry adventures and were fully prepared with emergency supplies. "Several inches of fresh snow had fallen, so we were working hard, but having a great time…until we came to a narrow wooden bridge that was mounded high with packed snow,"  Mullens said.
As she carefully walked her bike across the bridge, Mullens' foot slipped off the snowpack. She fell six feet into the creek and landed sandwiched between a boulder and her bike. The fall had broken her pelvis and she couldn't stand. Mullens inched out of the water and wrapped herself in a space blanket, while McNulty rushed down the trail until she found cell service. Frantically, she called the people she knew could help: Deschutes County Sheriff's Office Search and Rescue.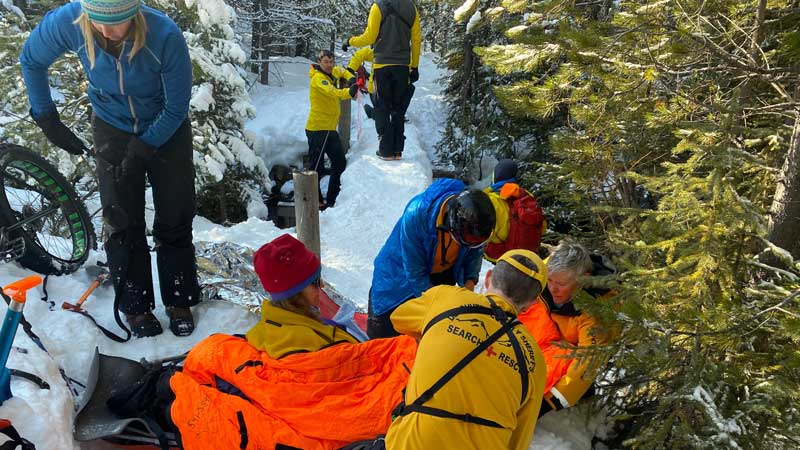 At the Heart of Bend's Outdoor Culture
Every county in Oregon provides search and rescue activities as part of the Sheriff's Office special services. In Deschutes County, Lieutenant Bryan Husband leads the SAR unit, along with four full-time deputies. According to Husband, it's the volunteers that place Deschutes County's SAR among the most capable in the Pacific Northwest. More than 130 trained local volunteers participate in an average of 140 rescue missions annually, in environments that range from river rapids to steep-angle cliffs to backcountry mountain terrain.
"Central Oregon's wealth of extreme outdoor recreation creates greater demand for SAR help," Husband said. "Fortunately, our volunteers have such expertise in their fields and are passionate about this work. We couldn't do this without them."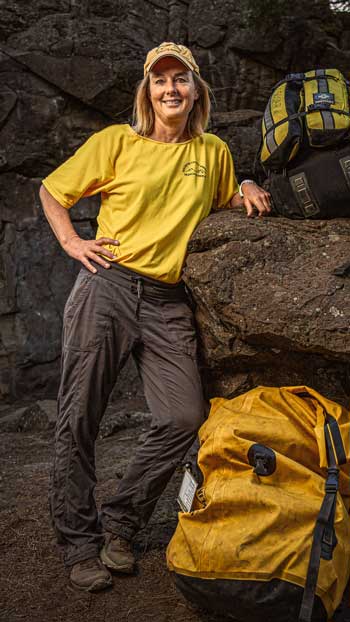 SAR is no small commitment: in 2019, volunteers averaged more than 200 hours of SAR training and mission time. All volunteers train for general rescue missions, and many specialize to work in swift water, deep water diving, tracking by horseback, rock climbing, aerial searches by drone and helicopter—and winter rescues like Pat Mullens'.
When McNulty called for rescue on that winter afternoon, every SAR volunteer certified for winter rescue received an alert on their phone. Those available jumped into action, as Husband's team planned how they would get to Mullens. The team snowshoed in from Tumalo Falls with a sled litter, thermal blanket and medical backpack. They shoveled the bridge flat, packed Mullens in the litter and pulled her back up the trail. At the falls, they transferred her to the "Smurf"—an enclosed snowmobile trailer that delivered her to a waiting ambulance.
Mullens has since healed from her injuries and is back on her bike. "The hardest part was getting back across that bridge. This could have had a very different outcome if not for the SAR folks. I'm so grateful," she said.
The Volunteer Experience
There's nothing like the feeling after a successful mission, according to SAR volunteer Mary van Hilten. Van Hilten joined the SAR medical team soon after she moved to Bend in 2006. "Some nights, after a rescue, I can hardly sleep from all the adrenaline," she said. Van Hilten, 55, has been a hospital nurse for several decades, but SAR emergency medicine is her passion.
On the way to a rescue, her sole focus is handling the medical issues at the scene. "I'm thinking through what I know about the person—their injury, their age and condition. What am I dealing with? We can't heal people in the field, so how will we stabilize this person and package them for transport—will it be Airlink or an ambulance?" she explained. Medical volunteers bring a Basic Life Support pack equipped to address any medical emergency, from airway and breathing support to splints and bandages. Most injuries don't ruffle van Hilten's feathers. "But tell me there is a head injury, and I'm concerned."
The responsibility feels heavy at times, but van Hilten never feels alone. "I've got an excellent team and I can talk with the ER if needed. Most of all, I rely on the deputies—they are tremendous. We follow their chain of command, and they make smart decisions," she said.    
The work gets under her skin, permeating her personal life at times. "I've become more cautious, for sure. I might be hiking to a beautiful summit, but I hardly notice the view. Instead I'm planning how I'd get someone out of the ravine or evaluating other hikers for potential heart attacks. I can't turn off the SAR instinct," she said.
But for van Hilten, the rewards outweigh the worries. "When I'm out on a cold winter night rescue, on the back of a snowmobile, I'll look up at this beautiful starry sky, and I think 'how cool is this? I get to go save a life! How did I get so lucky to be doing this?' SAR is really in my blood. These are my people and I can't get enough."
Employing High-Tech Tools and Low-Tech Habits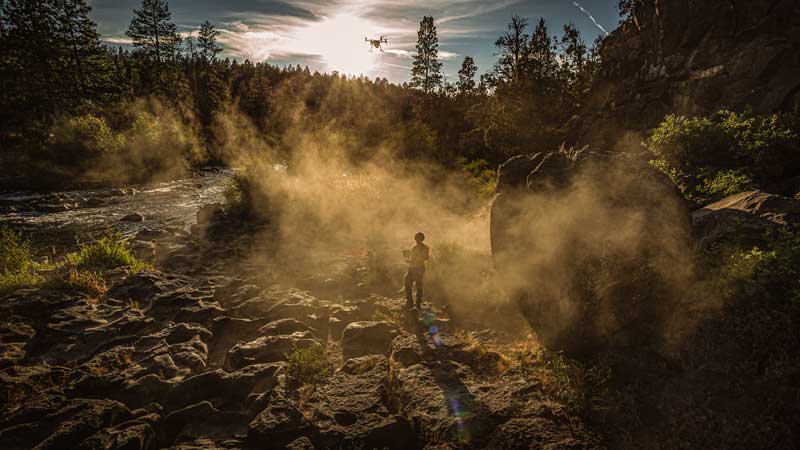 Over the past decade, SAR activity has shifted towards more rescues and fewer searches. Smartphones and GPS technology allow backcountry explorers to know their routes and get lost less often. "It also means more people venture farther out, so more people get injured or stuck," Husband said. Often, SAR can pinpoint locations by cell phone, and even guide lost hikers back to the trail by phone.
Drone technology is changing SAR operations as well. Dan Dawson, SAR volunteer, serves as the Air Operations Coordinator. His team of thirty-eight volunteers began training with drones in 2017. Their fleet includes a Mavik Pro and a Mavic 2 Enterprise, for scouting landscapes and routing search teams in real time. Their most advanced aircraft, the Matrice 210, uses thermal imaging to spot warm bodies at night. Dawson appreciates the new ways to apply the technology. "We can drop supplies with the drone, like water or a radio, or give instructions through the speaker. We're working on delivering life preservers during swift water rescues."
New rescue technology is impressive, but SAR experts agree the best strategy is to practice low-tech, common sense habits to stay safe in the wilderness. Do research before setting out: check the weather, plan the route and share it with a friend. Pack the ten essentials (see sidebar). Learn to use a paper topo map and compass for the inevitable moment when batteries fade. Stay clear-headed in the backcountry, because over-indulging leads to poor decisions. Most of all, trust your gut. If conditions feel risky, consider a different plan.
Husband encourages people to contact SAR by calling 911 as soon as they realize they need help. SAR does not charge a fee for their rescues, even when a person's own behavior has caused the problem. "No sheriff's office would want a person to hesitate calling us because they fear a ticket or a fine," Husband said. Waiting until dark, or until the situation becomes dire, makes the mission far more dangerous for the volunteers as well as for the person, he explained, and keeping the teams safe is a top priority.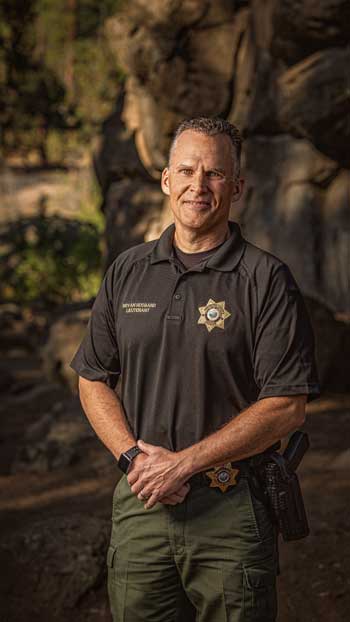 The Sar Community
Central Oregon culture revolves around outdoor recreation, with search and rescue at the hub. The most memorable adventures ride a fine line between pushing limits and managing risk. In the same way, SAR volunteers blend passion for their activity with helping others survive when the balance tips toward danger. Along the way they become a second family, a tightknit community with a singular focus.
"There's no room for egos here, no heroes. Every rescue is a team effort."
Deschutes County SAR recruits new volunteers each November. The application process typically kicks off at the Powder Hound film festival, a long-standing community event which raises funds for equipment and training, through the Deschutes County SAR Foundation.
The selection process is competitive: only twenty-five applicants are accepted each year to train at the SAR academy in the spring. Beyond physical abilities and specific skills, Husband seeks team players. "There's no room for egos here, no heroes. Every rescue is a team effort," he said.
No individual heroes, perhaps, but surely a collective one.