---
Bend–La Pine Schools roll out the iPad experiment, beginning with third-graders.
---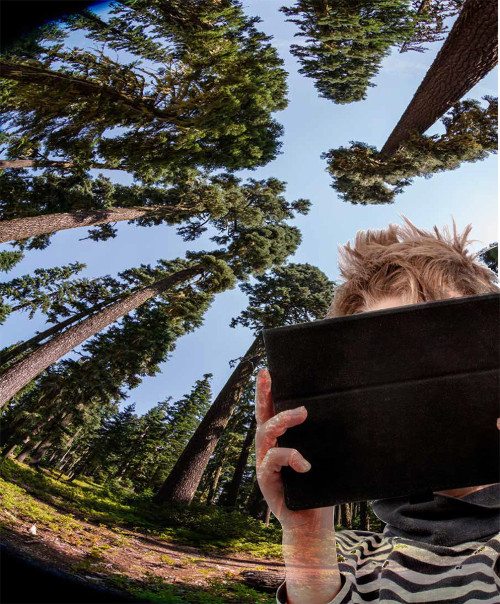 Not long ago, Karissa Sams walked up to her fourth-grade teacher at Jewell Elementary School and asked a simple question: "May I please have paper homework?"
She was struggling to use her school-issued iPad to complete her assignments, said Misti Sams, Karissa's mom. The device had become a point of contention for the family and a cause of stress in Karissa's life.
"There are five different programs they have to access to do their homework," Misti Sams explained. "She's never been behind in homework. She has spent so much time stressing over making the iPad work that she is behind now. It has been more of a stressor than anything."
Since the culmination of Bend-La Pine School District's roll-out of its digital conversion program this year, all students in grades 3 to 12 have their own iPad for use at school and at home. The idea behind the program is to give every child access to digital tools that will prepare them to succeed in the workplace.
It is the largest digital conversion of its kind in the Pacific Northwest, said Skip Offenhauser, executive director of curriculum and instructional technology for Bend-La Pine Schools, with more than 16,000 devices distributed to teachers and students to-date.
"What we have done and what we are doing is groundbreaking," Offenhauser said.
Yet many parents throughout the district are frustrated with the devices and are questioning if use of the iPad is actually improving education—or if it is nothing more than an experiment with their kids cast in the role of lab rats.
Parental advisory
Sally Maskill and Cortney Runco each have four children in the Bend-La Pine School District.
The friends have spent a lot of time discussing the district's digital conversion and the iPads their children now bring home each day. Their concerns range from health issues associated with too much screen time to worries that their kids are missing out on the fundamental building blocks of education.
They also wonder if the effort isn't more about cost-savings for the school district than it is about innovation.
"This is replacing books and paper with iPads. This is not technology," Maskill said. "I don't appreciate our kids being the guinea pigs."
"Our little ones are going to start in third grade and go all the way through," Runco added. "It feels like an experiment with no plan."
Depending on the class, their kids can end up without a paper textbook to reference. Texts are available online, but the students need to switch in and out of applications to look at their book and then answer their homework questions—a problem that school officials say is improving with newer devices.
"You can't look at your textbook and your question at the same time," Maskill said. Her kids have often used their phones to take a photo of their text so they can refer to it when working out homework assignments as they flip in and out of different interfaces.
In some cases, the homework is just a scanned paper document turned into a pdf. The school-issued iPads do not come with keyboards, which can be challenging when assignments require a lot of typing.
Because the digital conversion is still underway, Offenhauser said that teachers and schools are at different places in the transition. Those using scanned pdfs are at the beginning of the process—the substitution phase, where the technology directly replaces the paper and pencil tool with no real change in function.
It's an eighteen-month process to go from substitution to augmentation to modification and finally to redefinition in what's known as the SAMR model, an acronym representing each part of the process.
"Many of our teachers right now are still in that [substitution] area," Offenhauser said. "When you see kids who are just filling out a pdf, that's in the [substitution] range. Could they have done it with a pencil? They could have. Where the teacher is and where the kid is, it's establishing habits and comfort level in the technology."
The goal of the digital conversion has never been to replace all textbooks and papers with the iPads, but to make the program cost-neutral for the school district, some cost savings have come from moving to digital texts, he said.
Maskill and Runco have both resorted to buying textbooks for their kids for certain classes—at a cost of roughly $60 per book. Maskill has been willing to purchase some of the advanced placement books for her high school kids, but drew the line at one of the more expensive texts for her middle school-aged daughter.
When her son's geography book arrived in the mail, she said the whole family flipped through the pages in awe of its beauty. "There is so much research out there that says if you want to read deeply and understand the context, you have to have the book in hand," she said. "The screen time is a huge concern."
Until recently, the American Academy of Pediatrics recommended no more than two hours a day of screen time for kids older than 2, other than use of a computer for school work. In October, the organization backed away from setting specific time limits, but still advises parents to be mindful of how their children are using screens and the importance of time spent away from devices.
Bend-La Pine School District does not have specific guidelines for teachers on how much time students should spend using the devices each day, said Scott Mc- Donald, an information technology coach for the district. The iPad, he said, is meant as one of many tools.
"I want a teacher to be able to use a device when it helps their curriculum and put a device away when it doesn't," McDonald said. "We don't celebrate teachers that use the iPad all day long. We want them out when they enhance learning."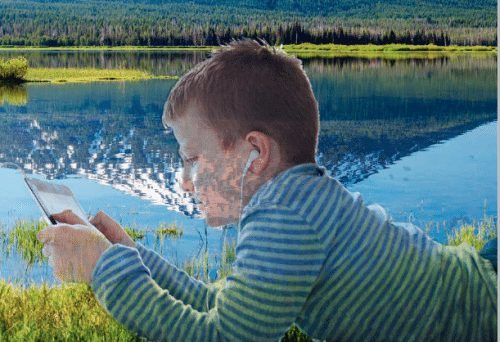 Digital conversion
In his role, as a technology coach for schools, McDonald hears the frustrations of parents, students and teachers every day.
But he also hears stories that inspire him and make him believe that his job is worthwhile. McDonald works with teachers, training them to use the technology in their classrooms and researching ways to make the programs more innovative.
"If you walk into a building and you want to find a frustrated student or teacher or parent, you will. If you do the same thing and want to find someone who is psyched, you'll find that, too," McDonald said. "My job is to make it so that every year we have less frustration and more success. I take it very seriously."
On a recent Wednesday, McDonald was on his way to REALMS, or Rimrock Expeditionary Alternative Learning Middle School, to gauge how students are integrating technology with more standard pencil-and-paper learning.
While studying Edgar Allan Poe's, "The Raven," the kids made poster storyboards with stanzas from the poem on each page. They then used an iPad app called Aurasma to create an augmented reality experience for other students in the halls.
"When the kids point their iPad at the poster they have written the stanza on, they hear "The Raven," read out loud to them in the student's voice," McDonald explained. "That's transformative. They get excited about it. They have a genuine audience of their peers. So many more people will benefit from their work because of the iPad."
Across town at Bear Creek Elementary, McDonald said that same morning he watched a teacher leading students in two languages—English and Spanish—using an app called Notability. On a screen in front of the room, the teacher guided students as they edited a standard worksheet from one language into another.
"He's comfortable with it, and the kids are all engaged. One kid in the room is semi-off task," McDonald said. "If you did that same project with paper, you wouldn't see the results up on the screen. You would have kids not engaged."
Risks and rewards
Maskill is part of a small group of parents at Miller Elementary School who provide feedback on their experience with the digital conversion. The group is made up of parents with different backgrounds; Maskill herself is a former educator and others in the group have medical experience.
Each person brings different concerns to the table.
Maskill's biggest fear is that her children aren't developing the strong connections in their brains they'll need throughout their lives and truly learning the material. Others question the health risks associated with screen time ranging from eye damage to musculoskeletal issues.
"The real consequence (of too much screen time) is missing out on what is essential—time in real life with people learning how to talk and react, and time doing things essential for health: falling asleep, playing and moving outside in the sunlight, and the opportunity to focus for long periods of time on one thing," said Dr. Wendy Sue Swanson, a pediatrician at Seattle Children's Hospital. "Everything in life is a balance, and one that we have to think of as a series of opportunities for delight, learning, mindfulness and exploration— we have to balance distraction."
Swanson, who writes the blog Seattle Mama Doc about a wide range of children's health issues, believes in the power of technology, but also focuses on the need for restrictions. With kids having access to more screen time at school, she advises parents to set limits at home.
"With schoolwork and learning transitioning in large part to screens, we can optimize time out of school," Swanson said. "We can work hard to restrict time in front of screens and time with devices in our hands."
She encourages families to set "tech-free" zones in their homes that include the dining room table and the bedroom for at least one hour before bedtime until morning. For these reasons and more, every weekday Runco asks her son, who is in the fourth grade at Miller Elementary School, to hand over his iPad when they walk in the door to their house so she can lock it in her closet to charge for the night.
But for her two older kids who attend Summit High School, the situation is different. They need the device to do their homework. She can't take it away from them.
Maskill said she feels the same way.
"We've all been told, 'No computers in the bedroom,'" Maskill said. "Will starts out his homework at the dining room table, then says, 'I'm going to my room where it is quiet.'"
Pretty soon he's watching ESPN.
At the Sams household, Misti Sams has faced similar struggles. She ends up taking the iPad away from her daughter most days, but resents the battle the device has created for her family.
"I'll ask her if she's doing her homework and she says, 'Yep, Mom, I'm doing my homework,'" Sams said. "And you go over there and she has taken forty pictures of the dog."
Digital distraction
Cortney Runco is not surprised that her fourth-grade son gets his iPad taken away at school frequently for playing games when he shouldn't.
"I try. I tell him he can't do that," she said. "What did you think was going to happen? You are giving a fourth-grade boy an iPad. Of course they are going to play games."
She has also heard parents yell to their children to stop looking at their iPads while walking through the school parking lot at pick-up time.
Her high school kids admit that some students watch movies during class instead of listening to their teachers. While the devices are locked down with security so kids can't access inappropriate sites, they can still listen to music, watch YouTube videos and generally surf the internet.
"As a teacher, how do you police it? They are in the hands of every kid in the room," Runco said. "I think it's rude as a high-schooler to watch a movie when your teacher is up there talking."
Sams said she feels her high-school age son has had fewer challenges with the iPad in terms of setting limits than her daughter. She questions why the school district decided to start the program in third grade and wonders if the younger kids have the maturity to be responsible for the device and to handle putting it away when the time is right.
Some of the reasons for starting the digital conversion in third grade have to do with the curriculum, McDonald explained. The entire third grade curriculum is now digital. But he agrees that asking whether the devices need to go home each night for elementary school kids is an important question.
"When you talk to families, their frustration with the iPad in the classroom is a frustration that any modern family feels with devices of any kind," McDonald said, explaining the problems come from gaming, social media use and cyber bullying. "We are all in this place in this world where we are sick to death of hearing about technology's role in these problems. Now it is in the classroom. My answer to almost every issue is this: If we can have students see this as a productivity tool and something that moves into their learning rather than something we are entertained with, we will all benefit."
McDonald said he doesn't really set screen limits for his kids, but parents can restrict internet access on iPads.
Offenhauser, who served as principal of Buckingham Elementary School when the digital conversion began, said that many students already had their own smart phones and other devices at school before the schools started providing them, meaning the distraction was already in place.
"We need to begin teaching our students how to be good digital citizens and begin teaching them future-ready skills," he said. "I believe that needs to start early."
Going slow
When Karissa Sams asked to receive her homework on paper, her teacher was understanding and she now takes her worksheets home rather than trying to complete the scanned documents on the iPad, her mom said.
But when Maskill emailed her son's chemistry teacher with a similar request— asking if she could print out the pdfs to send home for him to study—she got a different response.
"She was awesome and receptive and wrote, 'We no longer have a budget for printing,'" Maskill said.
Some of the underlying frustrations for parents seem to come from the inconsistencies at schools throughout the district. Runco and Maskill said having one standard tool for their kids to use to turn in their homework, for example, would help.
At the district level, Offenhauser and McDonald said they want to give teachers a chance to experiment with different apps before making any standard decisions in order to ensure what is being selected is the best possible option. The three apps used for turning in homework—Google Classroom, iTunes U and CanaryFlow— have different capabilities. Having options, Offenhauser said, is important.
But parents feel that options for their children are important as well. If kids want books instead of iPads, they should have a choice.
"The teachers were told to go slow at Miller. They are doing it slowly, stepby- step," said Maskill. "In their reading groups they read off the iPad. Paul doesn't like it. You can't mark your page or your favorite part."
It's this kind of feedback that Offenhauser said is useful to the schools, many of which are creating parent groups to address questions and concerns.
"We are not throwing everything away," he said. "Our world has changed whether you like it or not. There is no way we are holding back this tidal wave. The ship has sailed. We can either embrace it or let it roll us over. I intend on embracing it and using it for good."