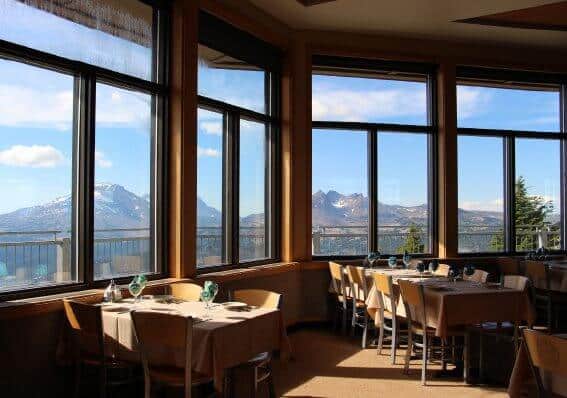 Sunset dinners serve up one of Central Oregon's best-kept summer secrets.
For six months of the year, dining on the slopes of Mt. Bachelor typically entails handwarmers, hot chocolate and chili cheese fries, but summertime takes Mt. Bachelor cuisine to new heights. On weekends, guests can ride the chairlift up to the mid-mountain Pine Marten Lodge for dinner and a sunset at 7,800 feet, with stunning views of nearby Broken Top and South and Middle Sisters.
"The drive up to the mountain is beautiful and the chairlift ride up to the restaurant is thrilling—especially for those who normally don't ski, it's an amazing experience," said Mt. Bachelor's hospitality director, Chas Savage.
Started in 2009, the first sunset dinners on the mountain were originally served on Labor Day weekend. They became so popular that Mt. Bachelor staff extended the service through summer, starting in early July. Food is served buffet-style, with a different theme each week. After dinner, guests gather out on the deck for sunset and linger until twilight, then ride the chairlift down (blankets provided on chilly nights). This year, the lift ticket is included in the price, with beer and wine tasting as well as live music scheduled throughout the summer.
This year also brings a fixed price menu. For $39 to $49 guests can feast on fare centered around rotating themes. Currently planned themes include Tuscan, American barbecue, Hawaiian and seafood, all served at one of the highest elevations in the state.
During the day, the Pine Marten bar is open with limited lunch options at Scapolo's, the lodge's year-round restaurant. Stirling Cobb, Mt. Bachelor's marketing director, said that dinners are diners' favorite because the sunsets beat even the dessert.
"With the Sisters and Broken Top right in front of the lodge, at night it's pretty special up there," Cobb said. "It's something that most people have never seen, and coming down on the chairlift after dark is definitely one of the cooler things to experience at Bachelor in summer."
Dinner Friday, Saturday and Sunday, starting at 5 p.m.
July 8 through Labor Day. Reservation-only, 800.829.2442