Opening Carnaval Mexican Grill in downtown Redmond in November has been a series of pleasant surprises for owner Yadira Medina, who runs the restaurant along with her husband and head chef, Emmanuel. "It's been amazing," she said. "We've been blessed."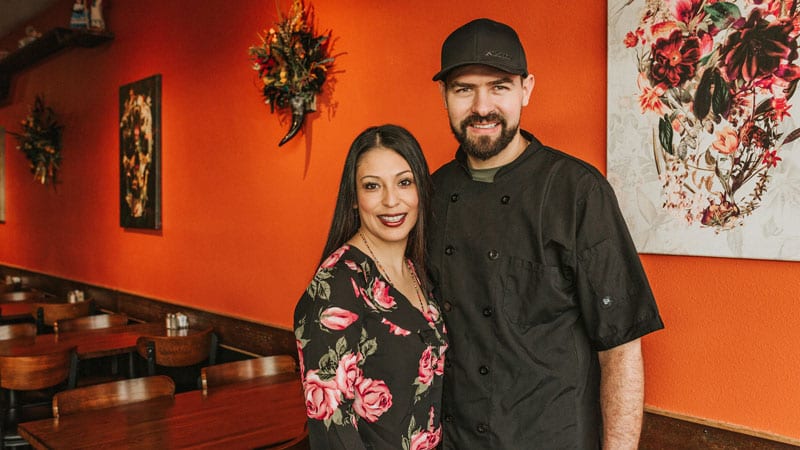 Both Yadira and Emmanuel were born in Mexico—she in Mexico City and he in Jalisco—but moved to the United States when they were young and met in the food service industry in Redmond more than fourteen years ago. While Emmanuel always dreamed of running his own restaurant, it was only recently the couple found themselves wanting to take charge of their future and open Carnaval.
The restaurant draws from the couple's roots but sets itself apart from other Mexican restaurants with a unique menu, a modern dining room with touches of history and a smoky selection of Mezcal-based drinks.
Since Carnaval's soft opening in mid-November, Medina said she's been impressed with how vibrant Redmond's downtown is becoming. Carnaval is located at 343 SW Sixth Street, next door to the reimagined Odem Theater Pub and a quick walk from the newly reopened Redmond Hotel. "I was surprised to see how busy downtown is," Medina said.
The Medinas and nephew Angel Buenrostro together developed the menu, adding favorite recipes, like the crispy fried pork chicharones and the carnitas de puerco, slow cooked pork that falls apart on your fork, paired with the usual sides and served with hand pressed tortillas. "As a little girl, my dad always made the carnitas with the chicharones," Medina said. The restaurant works its way through twenty pounds of masa for tortillas each day, serving up salsa with tortillas, rather than chips, when guests arrive.
Among the unique menu offerings are grilled octopus—a menu addition from Buenrostro—and the ensalada de nopales, a cactus salad with cherry tomatoes, pickled onions, cucumber pepitas and crispy tortillas. Medina also recommends the torta ahogada. A dish native to Jalisco, it's a big bun smothered in tomato sauce with beans, carnitas, and pickled onions and radishes.
A longtime bartender comfortable in the front of the house, Medina is proud of the restaurant's drink menu, with several options using mezcal, a Mexican liquor sometimes referred to as tequila's smoky cousin. Chili is sprinkled on the rim of the pink blood orange mezcal margarita, a cocktail with fresh orange juice that is not too sweet and pairs well with the carnitas.
The biggest surprise for Medina is the reception from the community. On a snowy Monday night in January, a steady trickle of new and repeat customers arrived at the restaurant through dinner time. "People said they like the vibe here. That it's warm and comforting," Medina said.
Part of that vibe comes from the design of the dining room, with clean, bright walls and wood shelves reclaimed from a historic hospital building on Deschutes Avenue in Redmond. "We'll salvage older buildings and try to reuse the same material and bring it back to life," said Vladimir Aslamov, who runs contractor-design company NGrained, LLC with his wife, Kaci. Aslamov said the Carnaval space had plain white walls and gray floors before the husband-wife team was hired to transform it. "It was a really great project," he said.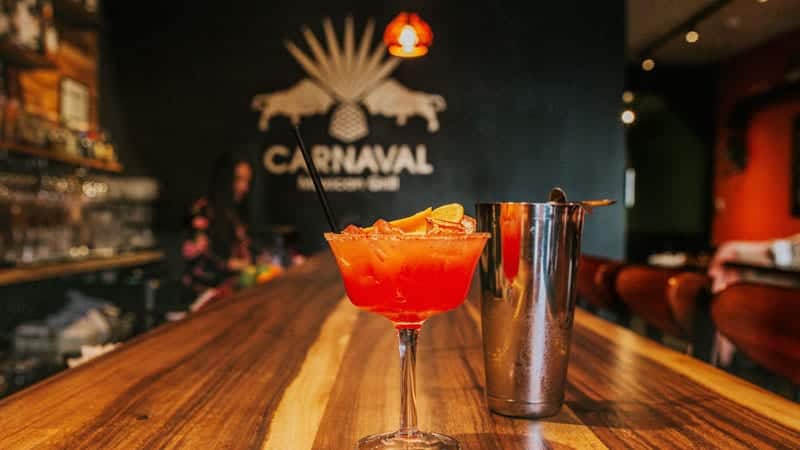 A couple of months after opening, Medina is already looking toward the future at Carnaval, and has modest plans for the restaurant to give back by contributing a portion of its proceeds to charitable organizations, both in Central Oregon and back home in Mexico. The restaurant is setting aside profits from the first customer each day, and will donate them monthly. The first recipient was a group helping underprivileged children in Mexico that had reached out to Medina. "These children were so excited," Medina said.
343 SW 6th St., Redmond | 11am-10pm weekdays, 9am-10pm, with breakfast, weekends | 541-316-6960