Six miles west of Redmond, Eagle Crest Resort is a surprise to anyone who's never stopped to see the resort, play golf at one of its three courses or wander its neighborhoods. "It's a hidden gem," said Robyn Fields, managing principal broker at Eagle Crest Properties.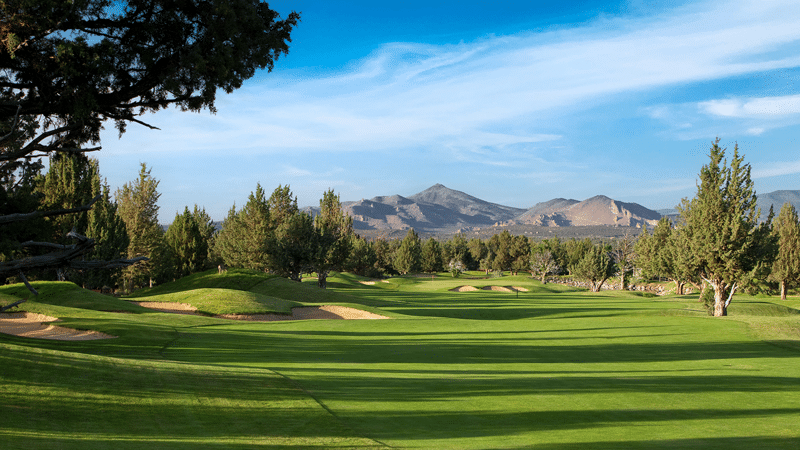 The hidden gem metaphor is apt. The two entrances off Cline Falls Highway are modest compared with the vast network of neighborhoods and resort amenities that fan out over more than 1,700 acres. The resort's main entrance is on the east side, extending to the cliffs above the Deschutes River. A road on the west side leads to the Ridge and a newer section known as West Ridge. Mountain bikers and hikers coming off the extensive trail system above the resort can access Eagle Crest's West Ridge from the popular Cascade View Trailhead off Highway 126.
Despite being out of sight from the two highways, Eagle Crest has a population of 2,973—slightly larger than La Pine, for reference. Unlike a city, though, the destination resort is designed to maximize on-property activities and draw nightly guests, second-home owners and permanent residents. Set in the sloping juniper forest east of Cline Butte with views of the Deschutes River, Smith Rock and the Cascade Range, and proximity to many of Central Oregon's outdoor attractions, Eagle Crest offers many conveniences.
"It feels like you're in this fabulous community in the high desert's banana belt where it doesn't get the extreme weather of Sunriver," said Fields, who lives at Eagle Crest as well as works there. "We're surrounded by farmland and [Bureau of Land Management land]. It's fifteen minutes to the Sisters Movie House, ten minutes for cocktails at General Duffy's in Redmond, ten minutes to Tumalo's The Bite and a half hour to the Old Mill in Bend."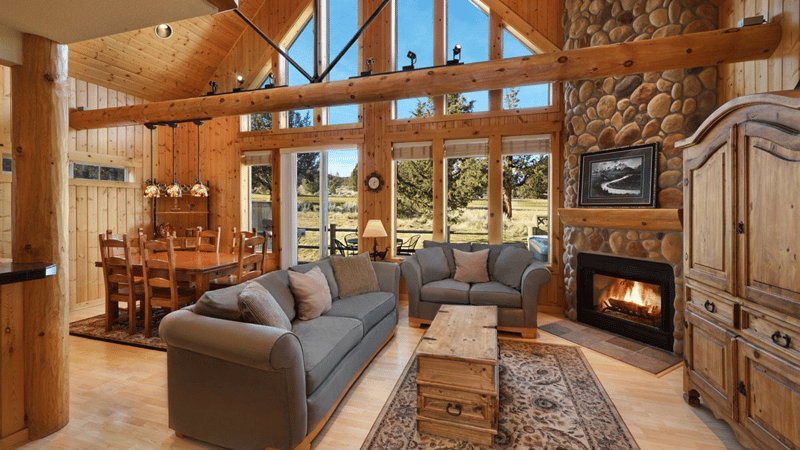 Compared with newer luxury resorts in Central Oregon such as Pronghorn and Tetherow, Eagle Crest is more affordable. Fields said that recent lot sales ranged from $195,000 to $335,000, fractional properties from $5,000 to $50,000, and townhomes and single-family residences from $405,000 to $1.6 million. Fractional ownership is where an investor has part ownership of a property's title rather than units of time and is typically more expensive than a timeshare.
A resort in phases
An early 1900s-era 550-acre potato farm was reportedly located somewhere on today's Eagle Crest property, but nothing much else sprouted in the area until 1981 when Deschutes County approved it as a resort. During the '80s, the resort built a 100-room lodge, restaurants and a large convention center and developed 202 home sites which included two gated communities, condominiums in the Riverview Vista Estates and townhomes in the Fairway Vista Estates. 
In 1993, based on new laws from the Oregon Legislature on destination resorts and updated Deschutes County zoning codes, Eagle Crest was able to expand into a second phase on the west side of Cline Falls Highway. Construction began on the Ridge and Challenge golf courses and a variety of neighborhoods, including the over-55 Falls neighborhood. Resort features including a spa, pools, sports and fitness centers, and tennis and pickleball courts were also added.
In 2001, the county approved a third phase allowing the resort to expand three miles westward through BLM land to what's called West Ridge. This area has six neighborhoods, including the high-end Scenic Ridge with one-acre lots, big homes and full Cascade Mountain views. Home construction is ongoing in West Ridge.
"One of the things that makes Eagle Crest special is there's something for everyone: fractional ownership, a townhome with or without a garage, classic Eagle Crest chalets or a single-family home," Fields said. "Like everywhere, the slowing real estate market has affected second-home buyers, but sales in Eagle Crest remain steady." 
A 2021 Deschutes County report shows Eagle Crest with 1,911 residential lots and 430 overnight lodging units (100 at the Lodge at Eagle Crest, 106 operated by WorldMark by Wyndham and the remaining 224 in privately owned vacation rentals). The twelve subdivisions throughout Eagle Crest are represented by seven homeowners associations, and about half the owners are full-time residents.
Residents and guests throughout the resort have access to all three golf courses, various resort amenities and 13 miles of paved paths for walking, jogging and biking. For road cyclists, Cline Falls Highway connects Eagle Crest with hundreds of miles of rural roadways; mountain bikers can be on single-track trails in minutes. Smith Rock State Park is a half-hour away, Mt. Bachelor and Lake Billy Chinook are both an hour's drive.
During the holidays, it's impossible to miss Eagle Crest when it puts on StarFest, a nightly display of lights that runs from Thanksgiving through New Year's Day. The public is invited to drive the 1-mile display or enjoy hot drinks and cookies at the lodge. Learn more at eagle-crest.com and eaglecrestproperties.com.