Thinking of refreshing and updating your shower or tub? Maybe you're even considering an entire bath redo, in which case you'll want to think about how the shower and tub, or the combination of both, integrate with the style and function of the entire bathroom. So, let's take a wide-angle perspective on bathroom trends and then sharpen our focus on bathing fixtures.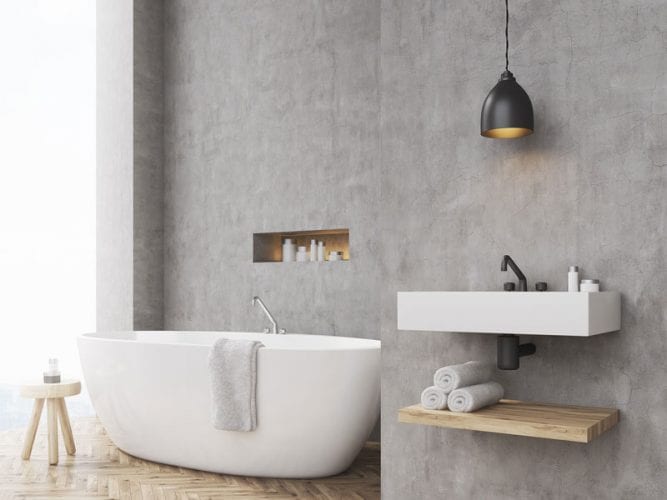 Today's bathrooms are trending toward minimalism, with lots of glass, natural materials and open space. Bright colors and vibrant tile patterns may be okay for small spaces or as a wow statement, but larger spaces are returning to classic white—a favorite among millennials—and neutral accents, such as black matte or gunmetal for mirror and window frames and plumbing fixtures.
With that backdrop, let's turn our attention to what's popular in tub and shower design, along with potential drawbacks.
A Resurgence of the tub
Remember the clawfoot bathtub at your grandparents? It's back. The Modern Bathroom website says, "what was originally marketed as a glorified horse trough (adding legs turned it into a tub) eventually became regarded as a must-have luxury item for the wealthiest homes in America."
Clawfoots and modern versions of freestanding tubs are turning up in master baths (and even bedrooms) as a spa-like feature or for a touch of class. Choices range from industrial cube shapes to oval and round and everything from all black or all white to sizzling colors. When considering a standalone tub, be aware that it may require floor reinforcements, and the high sides can make it difficult for bathers to get in and out.
Built-in tubs have moved away from yesterday's oversized, jetted versions to ones that can be customized for your space and bathroom décor. Maybe you'd prefer to design your own built-in soaking tub with mood lighting or to overlook a garden. Perhaps you'd like easy access for the kids' bedtime splash or an older adult who lives with you. Incorporate a ledge for shampoo, candles and a glass of bubbly water or wine.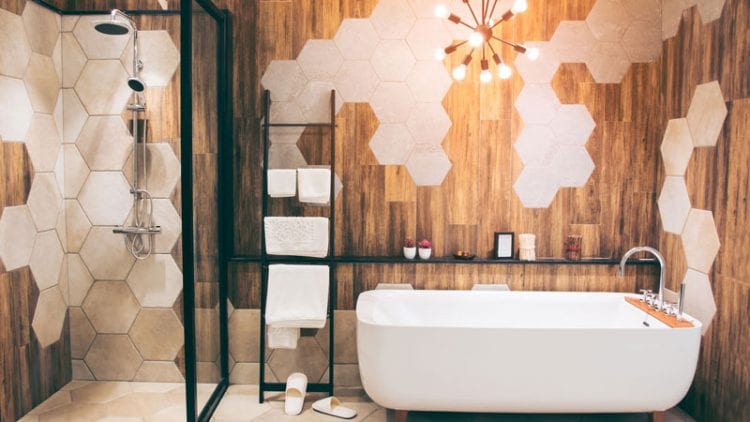 No threshold, no shower curtains
Bathroom design du jour is sleek and open. Showers no longer hide in a closed space between the wall and curtain or a sliding door with hard-to-clean tracks. Instead, look for doorless showers with no threshold and a partial wall often made of glass to keep water from splashing out. Drains have also gone minimalist, with showers that slope toward a grate or linear drain near the wall, thus eliminating the central drain and its visual distraction.
Large-scale tile for floors and walls is a favorite choice and simplifies cleaning and reduces cracks in grout. Marble is making a comeback—its natural swirls and patterns create visual interest in tones of black, white and gray.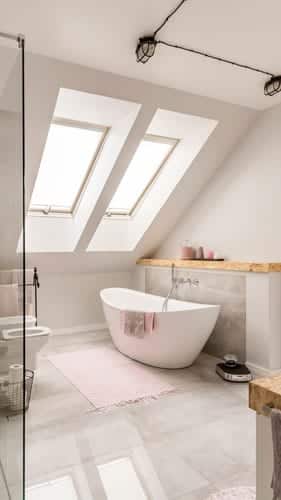 But the open, walk-in shower has its critics. Bob Vila, TV home improvement guru, cautions people that a shower barrier "keeps warmth and the humidity inside the shower enclosure and keeps cold drafts from entering while you lather up. In a doorless shower, you may feel cold despite the heat of the water."
The ubiquitous tub-shower combo
In America's post WWII construction boom, track homes and the ever-popular ranch style popped up everywhere. Built for a growing middle class, they almost always included a stock tub and shower fixture. This venerable workhorse of the bathroom is still going strong, but homeowners can refresh or remodel an existing one by changing up a few things. Replace the curtain with a half or three-quarter wall of glass or other bathroom-compatible material. Take out the old chrome faucets and install a multifunction fixture—maybe a waterfall or rain shower head and a hand-held wand. Cover a wall with tile or marble.
In the end, what you choose to do in your bathroom, well, should stay in your bathroom. Consider the trends, but pick the one that will last for you.