If the walls inside the cabins of Paulina Lake Lodge could talk, they would tell a story a hundred years in the making. It's a tale of pioneers and preservationists who created and maintained this unlikely recreational outpost and continue to do so today.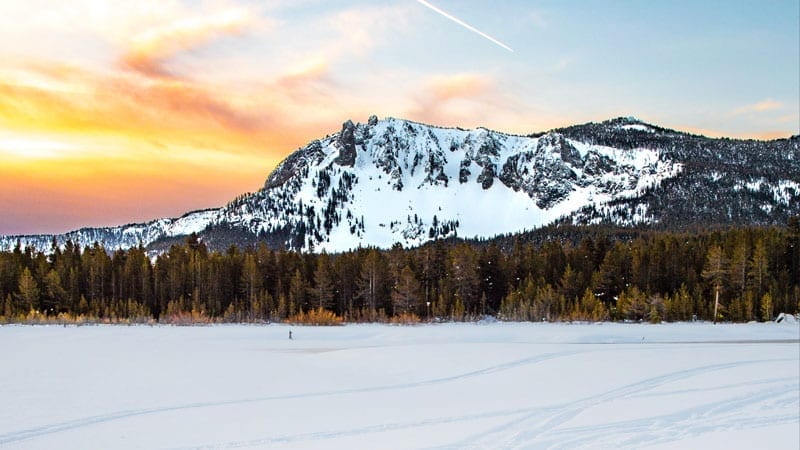 Known to many Central Oregonians as a popular summer resort, Paulina Lake Lodge is a spectacular Pacific Northwest destination that takes on a new personality after the first snow arrives. Come winter, it's basecamp for a devout snowmobile community, as well as backcountry skiers and those seeking a cozy winter escape.
On the heels of an epic late winter snowstorm, we visited the lodge to explore this Central Oregon gem. We found not only an epic volcanic wilderness to explore, but also a retreat of rustic comfort and small luxuries, including hot showers and warm meals.
A Short History of Central Oregon's Mightiest Caldera
Six hundred thousand years ago, the first volcanic activity began to rumble beneath what is now Newberry Volcanic National Monument. Explosions of molten lava shaped the land in the ensuing millennia. Approximately thirteen hundred years ago, it all went quiet, frozen in time, forming a mesmerizing crater with two crystal clear lakes. The larger of the two is Paulina Lake, which takes its name from a legendary Paiute warrior and chief.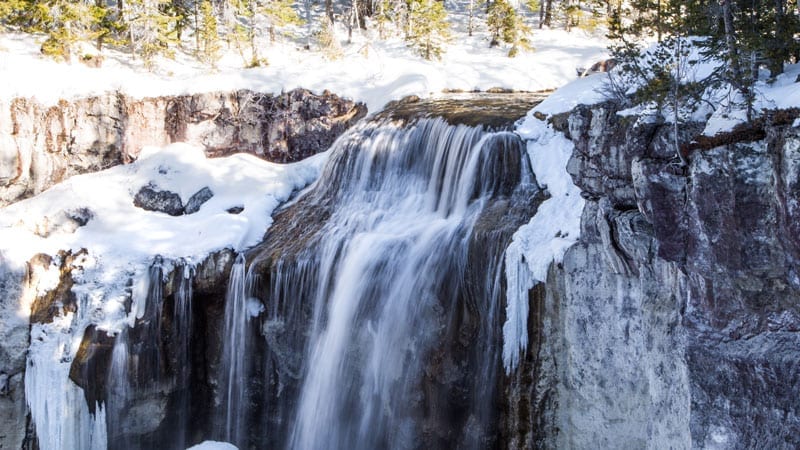 The seventeen-square-mile caldera is the crown jewel of the Newberry Monument, which was dedicated in 1990 and included the adjacent Lava Cast Forest, Lava Butte and Lava River Cave. Each feature tells part of the story of the massive shield volcano that covers more than 1,600 square miles.
The twin lakes are a draw for swimmers and paddlers as well as anglers (Paulina Lake holds trophy-sized brown trout and once yielded the state record fish). There are also ample hiking opportunities, horseback riding, and mountain biking trails and even a natural waterslide on Paulina Creek.
For many visitors, the season ends when the gate swings shut on the access road in late fall. For others, the transition to the winter season opens a whole new world of possibilities. We counted ourselves among the latter.
The Long Journey Inward
Our weekend getaway started at Ten Mile Sno-Park, which marks the end of the road for vehicle traffic and the beginning of a three-mile trek to the lodge, which is usually done using Nordic skis or snowshoes. Our reward: a feast of prime rib and Atlantic cod served with a hearty ale next to a crackling fire at the Paulina Lake Lodge.
At 3 p.m., we clipped into our skis, grabbed our bags, checked the map, and headed into the woods. The gentle uphill ski to the lodge offers views and nature stops, including the roaring Paulina Falls. The tracks lead skiers through a snow-covered wilderness. Alas, our expedition was beset by a broken ski binding that led to a somewhat arduous boot trek over the final mile and a half.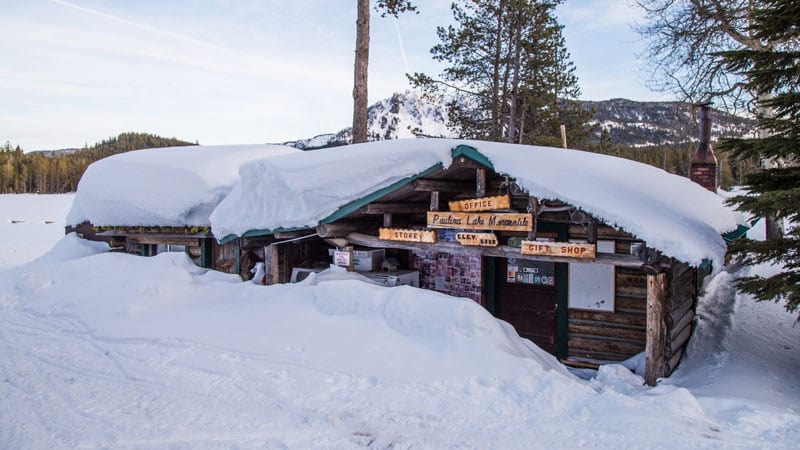 Undaunted, we arrived at the lodge's restaurant and lounge just before dusk. Thanks to a recent storm, snowdrifts reached almost to the rooftops of the low-slung buildings and cabins. Smoke drifted reassuringly from the chimneys beckoning our band of weary travelers.
Despite its popularity with snowmobilers, the lodge was relatively quiet for our late-season visit. I found my group in the corner, beers in hand, and a cold one waiting for me right when I sat down. We soon met our generous hosts, Todd and Karen Brown.
The couple has operated Paulina Lake Lodge for more than twenty-five years. That's thanks to their great hospitality and the resort's long-standing role as an outpost for riders exploring the hundreds of miles of backcountry snowmobile trails around Newberry Volcano.
Quirky keepsakes occupy the lodge's nooks and crannies alongside historical and contemporary photos of resort life. There's a shrine of sorts to Todd, AKA the "King of Paulina," complete with an old photo of Todd adorned with a crown.
"You know, we've been up here since '93," Karen said. "Our kids grew up on this lake. We've watched a lot of our guests grow up and start families. Being up here, on this monument, it probably holds our fondest memories."
A Winter Wonderland
This winter, the lodge celebrates ninety years of operations, and not a whole lot has changed since those early days. You still won't get a reliable cell signal, and you shouldn't need one. Getting away from technology is part of the attraction here. There are fourteen cabins, ranging from the large "grand" cabins that accommodate up to ten people to the more modest one and two-bed "standard" cabins. Each cabin is outfitted with a kitchenette, renovated bathrooms, wood-burning fireplace, and is steps away from the main lodge.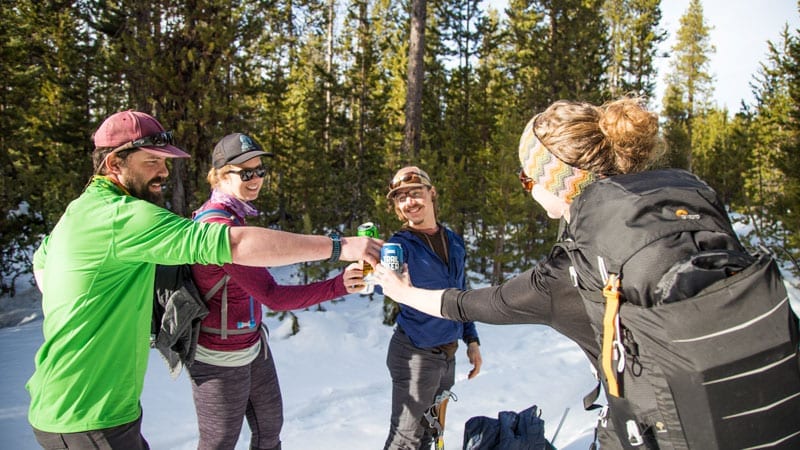 Our home for the night was the Bluebird cabin, one of four so-called "classic" cabins that can accommodate large-ish groups of eight or more. After a hearty dinner, we shuffled back to our cabin to play cards and share stories. With plenty of wood to stoke fire, we slipped into cozy pajamas, and cracked open a bottle wine to warm our bellies. We eventually found our way to a bed of soft, homey linens. With a crackling fire to serenade, we drifted into a well-earned sleep.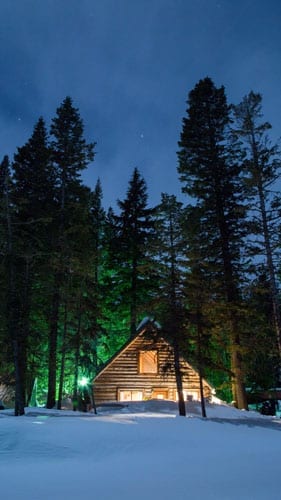 Morning breaks with a chill at 6,300-feet elevation, and nothing is getting done before a cup of coffee. Several of us slipped out early and snapped on skis to watch dawn arrive over the snow-covered crater rim. Others opted to enjoy another hour of shut eye, pulling warm blankets tight against the cold outside. Eventually, we clipped into our skis and kicked over to the restaurant for a proper mug of morning brew. Alas, our short stay was almost over. After a quick breakfast, we hitched a ride with Karen on the resort's snowcat, which shuttles guests back and forth from Ten Mile Sno-Park.
Just before we lost sight of the lodge, I glanced back and glimpsed Todd and his granddaughter on their snow machines zipping between the cabins. She followed him, staying right in his tracks. I wondered if I could make it here all winter, a mile high, enduring storm after storm, maintaining a 90-year-old property against the power of Mother Nature and the march of Father Time.
Luckily, I don't have to. I know that the lights will be on the next time I visit. I also know that the cozy beds will be turned down, and the prime rib will be served up thick. I guess you don't have to be a king to live like one at Paulina Lake Lodge—no matter what the season.