For some, spring skiing is the reward for suffering through the worst of winter skiing conditions. So long to whiteout days and rime iced goggles. Hello to powder mornings, bluebird skies and loosening up your ski boots while you sip a bloody mary on the lodge deck at the end of a long day on the mountain. Oregon has some of the best spring skiing conditions in the Pacific Northwest. Between Bachelor's expansive terrain, Timberline's elevation and Anthony Lakes' powder, there is no shortage of options to choose from wherever you are in the state. It's time to lose a few layers and get to the mountain.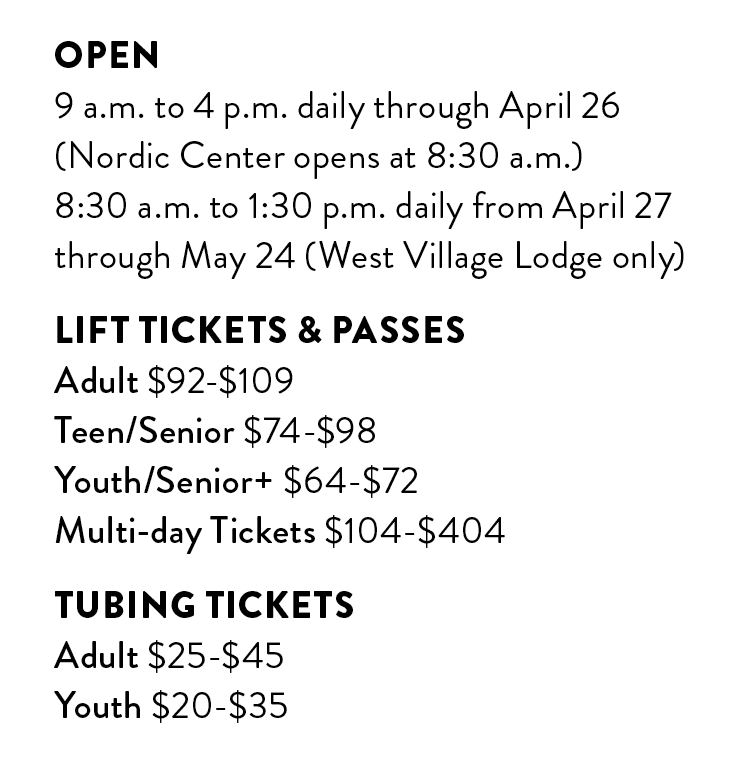 Mount Bachelor
With more than 210 inches of snowfall and counting, Mt. Bachelor Ski Resort headed into Febrary boasting the highest level of snowfall for the 2019-2020 season in the state, though it's still a bummer for those who took advantage of the 600-plus-inch winter just a few years ago. But as they say, it's quality that matters over quantity, and what Bachelor may miss in inches this year it certainly makes up for in light, fluffy powder, clear skies and more terrain available than you can ski in a day. Spring hosts prime conditions at Bachelor for the diehard fans who camp out for first chair as well as for first timers. There's plenty of space to explore on Bachelor, and spring is the time do it.
Anthony Lakes
Mountain Resort 
If you know, you know. The base of Anthony Lakes Mountain Resort sits at 7,100 feet—and the conditions just get better from there. It's the highest base in Oregon, and the resort has some of the lightest powder you'll find in the state. A five-hour drive from Bend, Anthony Lakes is worth turning into a multi-day ski trip to make the most of the weather, terrain and great prices. Don't let the one-chair stat fool you—Anthony Lakes may be a hometown ski hill, but there are a handful of black diamond trails that can challenge seasoned riders. Overall, the diversity of trails makes this resort suited for all levels, and the local vibe will have you feeling at home on the slopes. If you have kids, check out Anthony Lakes' Spring Break Camp. It includes five days of lift tickets, rentals and lessons for $150. It's an incredible deal, and a great way to introduce kids to the sport.
Hoodoo
ski area
Carved into a hillside outside of Sisters, Hoodoo Ski Area is much more than a local's ski hill. With five lifts and dozens of trails to explore, the ski area boats some top-notch skiing. Head to Hoodoo this spring if you're looking for a skiing experience for your whole family. Plus, Hoodoo offers the only night skiing option in Central Oregon. For those that don't want to ski but still want to enjoy the snow and good weather in the spring, Hoodoo also offers tubing.
Mount Hood
Meadows/Timberline
As the highest peak in Oregon, Mount Hood has some of the best skiing in the state. There are five ski areas to choose from, depending on your abilities (and tolerance for T bars and two-person chairs). Spring conditions are best at Mt. Hood Meadows Ski Area and Timberline Lodge & Ski Area, and both offer night skiing into March. For those looking for challenging terrain, head to Meadows. The ski area had picked up 270 inches of snow by early February. Families and those new to the sport may be more comfortable at Timberline, which also has rails and jumps to keep adrenaline-seekers busy. At the end of the day, find a spot in the lodge and enjoy the après-ski menus and stunning views.