The nourishment and healing vibes of water, especially in a dry region, especially in our own yards, can't be overstated. Water features don't just look nice, they also provide relaxation and a sensory experience. In the parched high desert of Central Oregon, the audible trickle or flow of a hydro feature in an outside lounging space can be the thread that ties together all the other design efforts—from landscaping and plant selection to lawn furniture. Whether it's a backyard waterfall, a bubbling basalt column, a modest fountain or an extravagant pond, a carefully designed water feature can help achieve watery backyard (or front yard) bliss.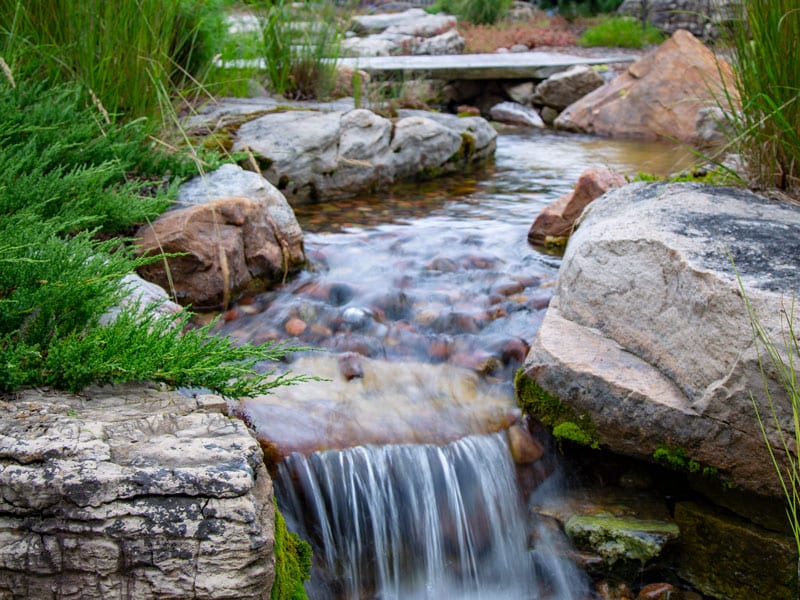 Plan, Then Let it Flow
Before starting a new water feature project, it's a good idea to spend some time getting familiar with different styles and products to decide what makes sense for the space available, according to Shane Conklin of Ewing Irrigation and Landscape Supply's Bend location. Ewing recommends browsing through YouTube videos or visiting the website of a vendor such as Aquascape to look through ideas and find inspiration. "Research it—look at tutorials and learn what style you want to go with," he said.
Conklin said among the most popular water feature styles in Central Oregon is the "pondless," which incorporates a waterfall but doesn't end with the water sitting in a pond at the bottom. Pondless waterfalls are a particularly attractive option if space is limited, but the serenity of a waterfall is desired.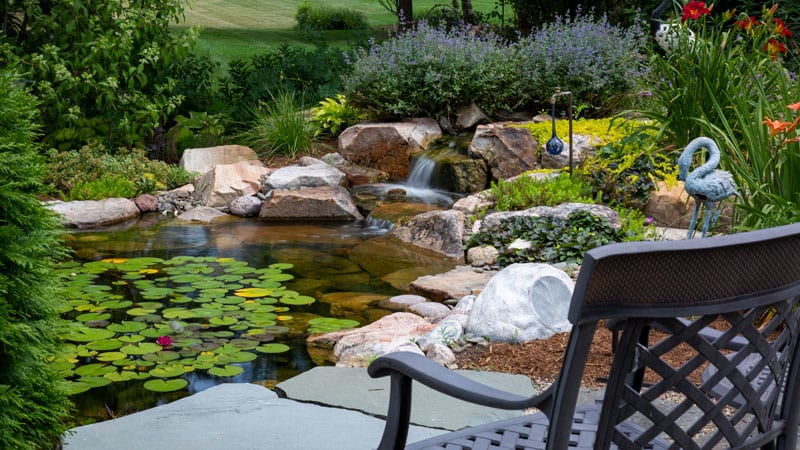 The volume of water flowing through and the height at which water falls both contribute to how much sound will come from a water feature, with a louder fountain being a great option to drown out other sounds, according to Suzanne Day Audette, a landscape designer in Bend. "If we're right next to Highway 97, I'll say we need a stream water feature with a lot of volume," Audette said.  
To avoid an extensive installation process and ongoing maintenance, choose a standalone recirculating fountain—like those made from a large ceramic planter or other piece of colorful pottery. Often times homeowners think they want a permanent waterfall or pond feature, but don't realize the ongoing maintenance it will need in the future, according to Michael Ludeman, owner of Earth's Art garden center in Redmond. Ludeman said he stocks fountains and water features that offer the sound and quality people desire, without the headache of maintenance issues years down the line. "Many people just want to hear the sound of water and have it close to them, near or on the deck," Ludeman said. With a fountain rather than a permanent waterfall or pond, "they're going to be a lot happier in the long term as well as the short term," Ludeman said. 
Rock and roll
Rocks are large and plentiful in the high desert, and water features with carefully placed rock designs can become beautiful visual focal points in outdoor spaces. In addition to looking nice, they can also mask road and neighborhood sounds and attract local wildlife. Imagine the possibility of diverse local birds and other fauna enjoying the water feature as much as the people do. 
Many local homes have native basalt and other lava rocks on site just below the surface which can be dug up, repositioned and incorporated into a water feature. In addition, non-native rocks can easily be selected and incorporated. 
Another approach to creating a rocky water feature is bubbling water coming from the top of a single basalt column or group of columns. A pipe can be run through the center of this type of ancient lava rock, with water pumped up and bubbling up from the column's top. 
Water features with flowing water offer a focal point for the backyard and the sound of water can be calming, Conklin said. "It gives a visual effect to your landscape, and there's also that subtle noise of water that can be therapeutic," he said. "It can be really nice to look at." 
Still Waters
If space and time allow, installing a pond can be the ultimate addition of backyard serenity, and can stand alone or be incorporated into a flowing water feature like those previously described. 
The classic and ever popular koi pond remains a timeless choice. Eye-catching since their backyard origins in the 1800s, tracing orange, white and black mystical elements gliding through the water embodies the feeling of swimming, floating, flying and relaxing.
Landscape design companies can help with the design and installation of a backyard water feature, and with ongoing maintenance for more extensive projects. "It's more a style preference, but pondless or bubbling rocks will need less maintenance (than a pond)," Conklin said. "An open body of water is more susceptible to organic material and grass inside, and with the sun, it can make algae." 
With numerous products to help combat algae and maintain the ponds, the choice becomes more a matter of personal preference. Pick the option that makes the most sense for the space, get the water flowing, kick back and enjoy the soothing sounds of backyard Zen.