---
A Guide To Ditching The Screens, Building Family Traditions and Developing A Lifelong Love Of The Outdoors In One Of The World's Premier Natural Playgrounds.
Written by Eric Flowers
---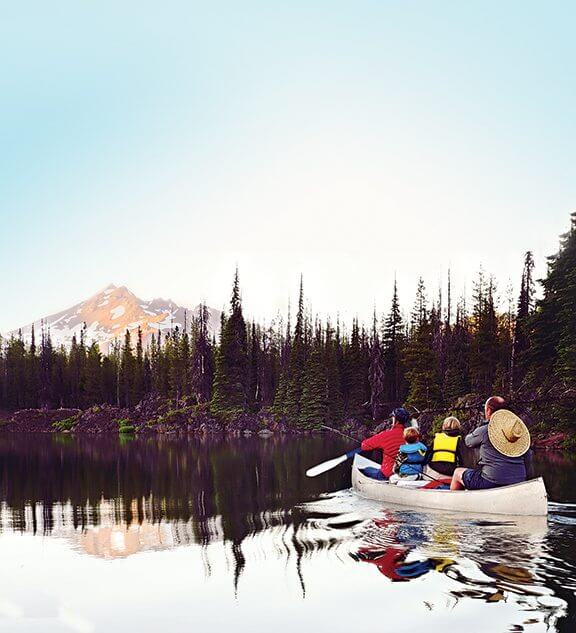 With mountains and rivers in its backyard, Central Oregon breeds the best kind of wild child. In a town where "going to the park" can easily mean going to a state park to scale a cliff, local kids grow up with a healthy appreciation for the nature (and dirt) right outside their front door. Kids by nature want to run, play and climb—and the opportunities to play here abound—from casting flies and running rapids to rock climbing and camping. While raising kids to be rugged may present some challenges, outdoorsy children learn from an early age to push through, be fearless and most importantly to have  fun. When kids tire of casting, start skipping rocks. When they get bored of rafting, find a rope swing. We unpack regional spring activities that kids (and their big-kid parents) can do as a family to discover the joy of being outside. How do you raise a mountain kid? Play outside together.
On the Fly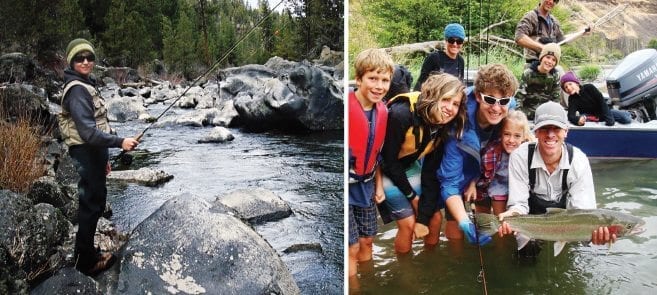 A love of the outdoors brought Scott Cook's family to Central Oregon when he was 15 years old. In fact, it has been a guiding principle in his life ever since. It led him to open the Fly and Field Outfitters in Bend more than a decade ago, and it has grown and thrived through the ups and downs of Bend's tourism economy. Today it's the bedrock of a lifestyle that allows him to share his love of the outdoors with his children, Ellie, 11, and Henry, 4. Whether it's launching a boat on a windless morning at Crane Prairie Reservoir or standing knee-deep in the Crooked River with a fly rod in hand, there's more to being on the water than just catching fish.
"Fishing with your family and kids is a unique part of what Central Oregon has to offer. Most of these locations are within an hour of city limits and some are just right in town. The key is just getting away from the phones, tablets and video games and spending time together," Cook said.
Other places in the world offer the chance to catch more, bigger fish, but Central Oregon is nearly unparalleled with so many choices within easy reach. In Bend, fishing holes await on the Deschutes River above the Bill Healy Bridge. The same river trail affords access to Sawyer Park on the Middle Deschutes where the river slips into a canyon defined by obsidian bedrock channels and pools, an urban gem by any measure.
Beyond Bend's borders, world-class fishing is seemingly limitless. The high lakes near Mt. Bachelor, Crane Prairie and Lava Lake are wellsprings of the mighty Deschutes, offering great scenery and highly productive fishing. A boat is helpful, but a canoe, kayak, inner tube, or even paddleboard lend access to these spots and countless more.
"We have a saying in the fly shop: 'Trout don't live in ugly places.' To me this means if you are on the water looking for trout, it is going to be a memorable experience," Cook said.
Family Friendly Guide Services
If you don't have the gear or expertise, but want to get the full experience while maximizing the chance of getting kids hooked on the sport, grab a guide.
"It's a really good outing when we have kids involved," said John Garrison, owner of Garrison's Fishing Guide Service. He has been guiding on Central Oregon lakes for three decades and specializes in group and family outings. He recommends half-day trips for families with kids. They head to consistently productive spots on destinations such as Lava Lake where kids are virtually guaranteed opportunities to catch rainbow trout and lots of them.
---
On the Rocks

Jules and Sean Reinhart arrived in Central Oregon as self-described "dirt bag" climbers, living for six months in what was little more than a shed in the long shadow of Smith Rock near Terrebonne. It was back in 1998 when the real estate and relocation boom was a dot on the horizon too far to see.
Eighteen years later they are still climbing. But these days it's more of a family affair. Their 11-year-old son Hamish is quickly becoming an accomplished climber.
This kind of dynamic is becoming more and more common as Generations X and Y move grudgingly into middle age, not ready to give up on their passions, but needing to find a way to integrate pursuits like mountain biking and rock climbing into their family dynamic. For Jules and Sean it was a matter of making their passion for the outdoors a part of their family, rather than an escape from it.
The Reinharts, who work for the school district, brought Hamish on his first expedition at three months when they traveled to Bishop, California to climb. Pretty much every extended break from work is spent on the road in pursuit of new lines, be it on rock walls, powder bowls or ocean breaks.
But it was the climbing in Central Oregon that drew them here and keeps them grounded.
"Smith Rock is an absolute anchor, but so are the other recreational opportunities," said Sean Reinhart. "Most important is that Bend has the best schools in the state, and this is a great place to raise a family."
Climbing Monkey Face isn't for the inexperienced climber, but there are plenty of ways for families to gain entrée to the sport, including the Bend Rock Gym, which offers ever-changing routes, from sport bouldering to dizzying technical routes. It's also a great off-season option that offers monthly individual and family memberships as well as instruction. The gym also offers programs and summer camps for kids who can't get enough carabiner time.
The gym is a great place to build basic skills, but also a base to make connections within the climbing community, including with other families that share an interest in doing outings. It's helped to make rock climbing truly a family friendly four-season sport in Central Oregon.
Postcards from Wall: Three Climbing Spots 


Widgi Creek: An easily accessible area near the namesake golf course off Century Drive in Bend offers a range of climbing opportunities from bouldering to belay routes.
Badlands: The subject of a successful wilderness designation campaign, this roadless area just east of Bend is a geological looking glass that offers a glimpse into Central Oregon's cataclysmic beginnings. Explore several climbing areas among the volcanic formations, including the South Wall and the "Walk In" area.
Smith Rock: This is the granddaddy of them all. The birthplace of sport climbing in the Northwest, Smith Rock features more than 1,000 distinct routes. A globally renowned destination, it offers picturesque basalt walls that soar high above the Crooked River and a range of difficulties that challenge the best climbers in the world.
---
On the Water

When Joyce and Mike Stahly decided to leave Salt Lake City a decade ago in search of a smaller town to raise their then young son, proximity to paddling was at the top of their list. Bend quickly surfaced as a relocation destination.
"The fact that we have two runs in town, a winter and a summer run for kayaking, helped," said Joyce Stahly. "We were looking for a place that was close enough to the ocean where we could go for a long weekend, and boating nearby. Bend hit the mark."
Their son Kai, now 13, has been raised on or near the water most of his life. That includes annual trips to the Rogue River in southern Oregon and the legendary Salmon River in Central Idaho during the summer.
Bend may not rival Maupin as a Central Oregon rafting destination, but it's basecamp for many families such as the Stahlys which make rivers an integral part of their summer. The new Bend Whitewater Park is another sign that river culture is thriving here.
Thankfully, you don't need to know how to barrel roll a kayak to enjoy what Bend has to offer on the water for families. Saunter down to Farewell Bend Park on any summer afternoon and pick up a rental inner tube and launch it just a few feet away on the lazy currents of the Deschutes as it meanders through the Old Mill District toward downtown and Mirror Pond. There, for a few bucks, you can grab a shuttle courtesy of the Bend Parks District that will ferry you back to Farewell Bend Park.
For a little more adventure, you need not look far. Several rafting outfitters offer guided trips on an upstream stretch of the Deschutes that plunges through an ancient lava bed. Here the river drops through a series of class-3 and class-4 rapids created by the deposits from the last eruption of Newberry Volcano. The whole trip can be done in less than a few hours and will surely become part of your family lore.
Try Me A River: Water Three Ways
While most rafting tours in the region accommodate children accompanied by a parent, some companies, such as Tumalo Creek Kayak and Canoe offer youth programs to get kids comfortable with currents:
Paddlesports Camp Stand up paddleboarding, kayaking, rafting and sailing. June – August $395 for 4 days
Whitewater Kayaking Camp Kids practice in a pool, alpine lakes and run class II rapids by the end of the week. July – August, $395 for 4 days
Afterschool Paddling Let kids study kayaking or standup paddleboarding with five of their friends. Months vary. $75 for 3 days
---
Happy Campers

For kids in many places, "camp" is a four-letter word. But in Central Oregon, it's cut from a different cloth–such as Gore Tex. These programs take their cue from the region's outdoor recreational community, particularly the lifestyles of parents who moved to Bend to raise their families with the outdoors at their backdoor.
Whether it's sharpening mountain biking skills or learning to build a wildland shelter, there is a program for every personality and ability. But program offerings go beyond trail adventures. There are also arts-based activities designed to introduce kids to creative and performing arts, such as the Tower Theatre's Youth Summer Film Camp.
Parents looking for more long-term engagements focused on athlete development also have options, most notably the Mount Bachelor Sports Education Foundation and the Bend Endurance Academy, two programs designed to take athletes from the earliest stages to the highest level of competition. With graduates that include recent X-Games silver-medalist Ben Ferguson and U.S. Ski Team World Cup racers Tommy Ford and Laurenne Ross, the results are evident.
Bend Endurance Academy Founder and Executive Director Ben Husaby said his nonprofit focusing on three disciplines, skiing, biking and climbing, has gone from a few dozen participants in its inaugural 2009 season to more than 600 today. It thrives because of its ability to help kids become better athletes, but more importantly because it instills a lasting love of the outdoors and activities that get kids and parents off the couch and outside. It also replaces solitary screen time with shared time in the outdoors, an experience that transcends competition and translates into quality family time.
"I think what we're really about is to teach kids the joy of being outside."
Summer Camp: Spring Sign-Up
A tip for Central Oregon families: don't wait for summer to book popular camps.
Bend Rock Gym An easily accessible area near indoor and outdoor camps, including girls-only camps, for climbers as young as age 4. bendrockgym.com
High Desert Museum Week-long camps for kids. Rotating cultural and natural history themes, many of which include interacting with the museum's collection of live raptors, reptiles and other animals. highdesertmuseum.org
RAD Camps The "no child left inside" motto includes adventures in the Deschutes National Forest and more than fifty stellar outdoor destinations. Think of it as therapy for Gen Wireless. radcamps.com.
Bend Endurance Academy Cross-Country Mountain Biking Ride one to three days per week for ten weeks. Skill progression is the goal, with options for more training or race preparation. bendenduranceacademy.org
Camp Tamarack One of the few true overnight camps, kids ages 8 to 13 do five-day stays at the rustic camp on Dark Lake near Sisters. Days are filled with outdoor activities as well as creative projects designed to help develop skills and bonds that last beyond the final day. In partnership with the Bend Park and Recreation District. camptamarack.com