A Michelin-star chef joins The French Market, a new neighborhood French bistro in the heart of Old Bend.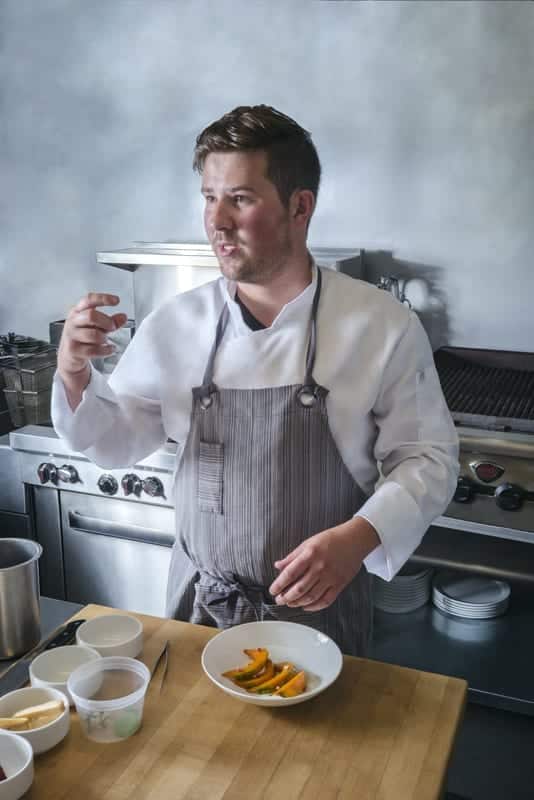 Take a 31-year-old with Michelin-star restaurant experience and Northwest farm-culture roots, blend with a couple of small-business veterans who've lived in southern France, pour in a timber-era building with a checkered history and, voilà, you have the perfect mise en place for a dish that Bend has been craving.
At The French Market, Chef Luke Mason executes artistic renditions of bistro classics built around our region's current harvest. Ingredients are his muse, first and foremost—a mindset born from a childhood in Sandpoint, Idaho, where locally sourced meat, fish, fruit and vegetables have always been the way of life, not a lifestyle.
"You'd go to Mr. Johnson's down the street for apples and squash. All the meat was local because hogs and cows were butchered within a few square miles," said Mason. "If you went outside and picked a strawberry, it tasted super good, with those flavors that just linger."
It was his desire to earn money for a car, though, that drove him to get a job at age 13 (legal in Idaho) as a dishwasher at the athletic club where his mother, a teacher, would swim. It suited him. He progressed to cooking, working his way through high school. Buying an '86 Chevy truck reinforced a work ethic that carried through college in Santa Barbara, eclipsing his political science studies twelve units shy of a bachelor's. He moved to Portland, then San Francisco, to a Moroccan restaurant called Aziza, which possessed a coveted Michelin star.
Professional kitchens have a military-style structure, but Mason likened working at Aziza to becoming a Navy SEAL. "My first year there, it was a constant struggle to survive," he said. "It opened my eyes to—if you want to cook at this level—what it really takes. Like so many other cooks in the world, you dedicate your life to the chef completely for sixteen hours a day, seven days a week."
He learned haute cuisine and molecular gastronomy techniques, elevating dishes into artful works as beautiful as they were delicious. (Think twelve-dish, $140 tasting menu.) Mason rose to chef de cuisine, and Aziza kept winning its Michelin star during the two years that he ran its kitchen.
He left in mid-2014 to try to earn his own star at Lincoln Park Wine Bar in San Anselmo, Calif., and the restaurant was successful, but Mason and his fiancee left for Bend eighteen months later. "We thought, 'Can we buy a house here? Have kids here?' No," he said, referring to California. Bend offered a lifestyle similar to that of Sandpoint, with the benefit of having a significant part of the community hailing from major cities.
At The French Market, owners Judy and Phil Lipton said they were lucky to find Mason after their extensive renovation of the former Riverside Market, a popular watering hole and convenience store, which had drawn the ire of surrounding neighbors for its lively and sometimes rowdy clientele. Long before that it was one of Bend's first gas stations, built circa 1910.
"We like giving Luke creative freedom in the kitchen, because … it keeps you passionate," said Judy, who has opened eight restaurants and a catering business in San Francisco.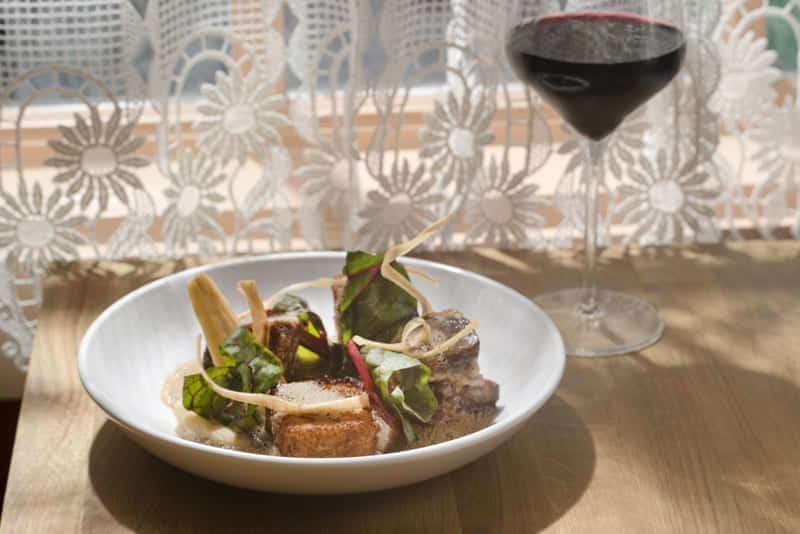 With Mason, they favor a menu with many small plates, so that guests can dine in a more European fashion, sharing a few dishes and experiencing a range of flavors at a reasonable price. For instance, in fall, a duck liver mousse with sautèrnes gelèe, brioche and almonds was $11, (with foie gras, $16); halibut brandade with chicories, pickled shallots, smoke and corona beans, $11.
Mason said he was excited for a winter menu with beef short ribs, pork shoulder, cassoulet, winter squash and root vegetables—just the je ne sais quoi worthy of a bistro beside a river called the Deschutes.