Not all hats are created equal. That's something you learn the first time you walk into Gene Baldwin's hat studio outside Sisters.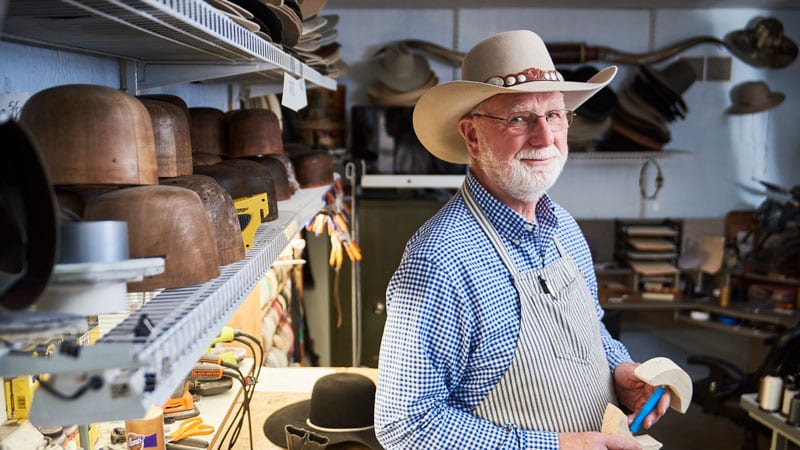 Inside the narrow shop is everything Baldwin needs to create his handcrafted masterpieces, which range from more traditional cowboy and cowgirl hats to Gus crowns, cattleman hats, oversized fedoras or just about any combination of hat crown, body and brim a customer dreams up. Each hat Baldwin creates is unique to the style, needs and head measurements of its future owner.
"This will fit his head and his head only," said Baldwin, showing off one of his latest pieces, a custom hat that's just between the typical sizes you might see on the shelf at a western apparel store.   
Though Baldwin takes great pride in his work as a milliner, or hat-maker, and seems at home in the studio—it wasn't always his calling. Baldwin spent his career in Portland as a funeral director and then later raised Arabian show horses. "I like to do things that are different," Baldwin said. It was only in the early 2000s, after retiring from Portland to Sisters with his wife, that Baldwin turned to hat making.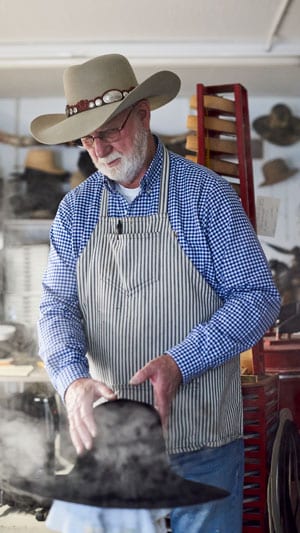 After taking up a new hobby of selling Serratelli cowboy hats, a friend asked whether Baldwin had considered making hats himself. It wasn't long before he'd purchased, restored and in some cases modernized the needed equipment, including antiques dating back to the 1880s. One shelf of his studio is filled with curved wooden blocks, used to represent various head sizes at the beginning of the process. Baldwin stretches and shapes his material over the hat blocks using lots of steam. A plater is used to curve the brim into a ninety-degree angle and an antique crown iron smooths the top of the hat as it spins.
He has quite a measuring technique that he uses, so that it is truly your hat.
More than fifteen years after taking on his new hobby, Baldwin has earned a reputation for his custom hat making, and gained customers from around the world, mostly through word of mouth. "I'm busy," he said, pointing to stacks of new orders around his studio. "There are times I'm getting two new orders a day."
Baldwin estimates he's one of thirty-five or forty custom hat-makers in the United States, though not everyone holds themselves to the same standards as Baldwin. The quality European hare and beaver Baldwin uses to form his hats mean they last longer, retain their shape better and stand up to the weather longer than more commonly produced wool hats or those with a blend of wool and some fur.
"They're wonderful hats," said John James, a friend and customer of Baldwin's who together with his wife owns four Baldwin hats. "He has quite a measuring technique that he uses, so that it's truly your hat."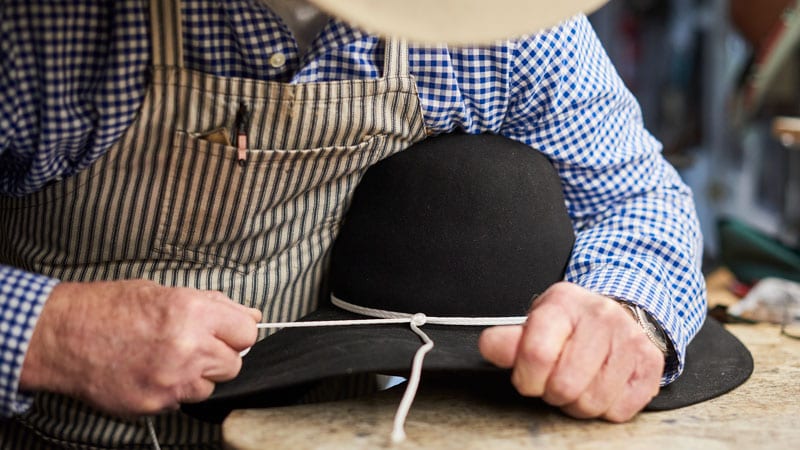 The hats aren't priced for everyone—they start at $365—but for the cost, you're getting personal fittings and a commitment from Baldwin to make a quality custom hat, the old-fashioned way. Old-fashioned values are important to Baldwin, who on his website shares a list of tips for proper hat etiquette (men, tip your hat when meeting a lady) and promises when it comes to hat making, he'll take the time to do things right the first time. "He's a good guy—if he gives his word he keeps it," James said.
The hats earned Baldwin recognition many times, including top honors at the Art of the Cowboy Makers Contest for the five years he entered. The contest recognizes contemporary makers of traditional cowboy wear, including boots, saddles and of course, hats.
For Baldwin, it's about more than hat-making, and he's quick to share the stories behind each hat. Like the hat Baldwin was wearing this winter—sporting a silver and leatherwork band. The silver was melted down from a former customer's wedding plates, gifted to Baldwin in hopes he could breathe new life into the material. The owner of the plates had recently lost his wife, and was so touched by the repurposing of the silver he wrote Baldwin a heartfelt email of gratitude. Baldwin carries a printout of the note in his wallet wherever he goes to illustrate the personal connections behind his work.
"It's not just hat-making," Baldwin said. "You can really touch people with the things you can do."