How a wildlife curator at the High Desert Museum in Bend spends her day.
Alysia Wolf is the Associate Curator of Wildlife at the High Desert Museum in Bend. She's worked there for more than five years, spending her days taking care of the wildlife that live at the natural and living history museum. Here's how she spends her days.
8:30 a.m.: After a stop by the wildlife kitchen I'm on my way, privileged to start my day with the best morning greeters around: Rogue, Brook and Pitch. The three North American river otters seem to anticipate my arrival or, more likely, the arrival of their breakfast, which includes fish and quail.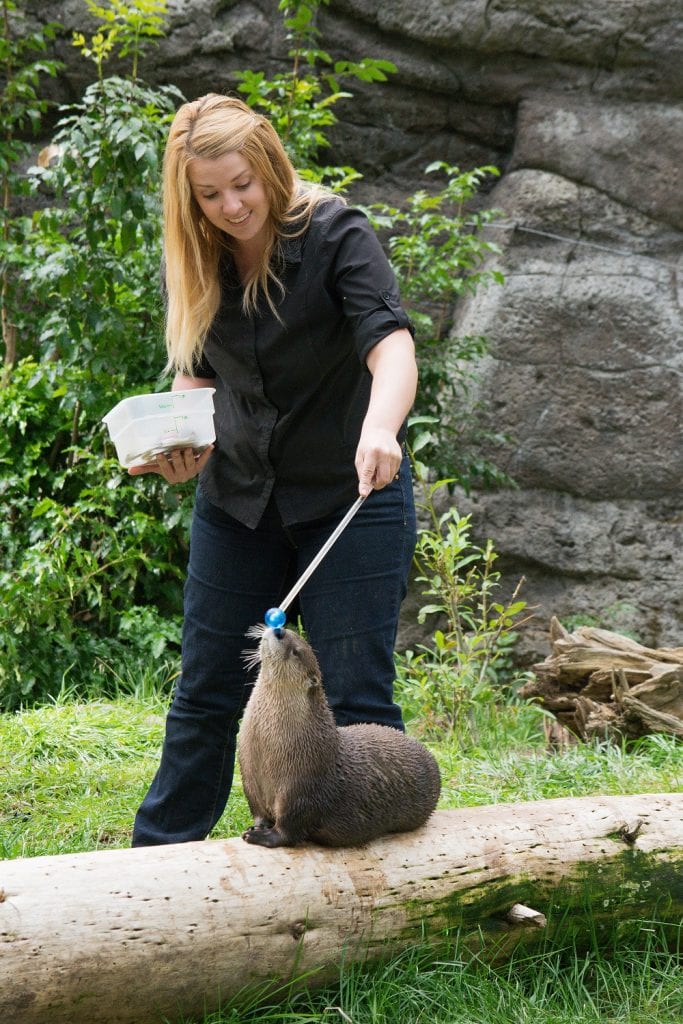 9:00 a.m.: While the otters indulge in their fresh, healthy meal, I clean their habitat. It's a lot of scrubbing and even more scooping. Some of the smelliest odors come from these adorable creatures, but keeping the otters' area sanitary is important for their health. This won't be the only time today that I put on my custodian hat! All the animals at the Museum benefit from clean, well-maintained habitats.
10:00 a.m.: Once the Autzen Otter Exhibit is sparkling (and the otter bellies are full), I'm off to work with the raptors. Like all the animals in the Museum's care, the birds receive routine, daily health checks. The birds are weighed daily so we can prepare the right amount of food for them, and we conduct a visual inspection of their feet, beak, feathers and the rest of their body to make sure they're looking and feeling their best.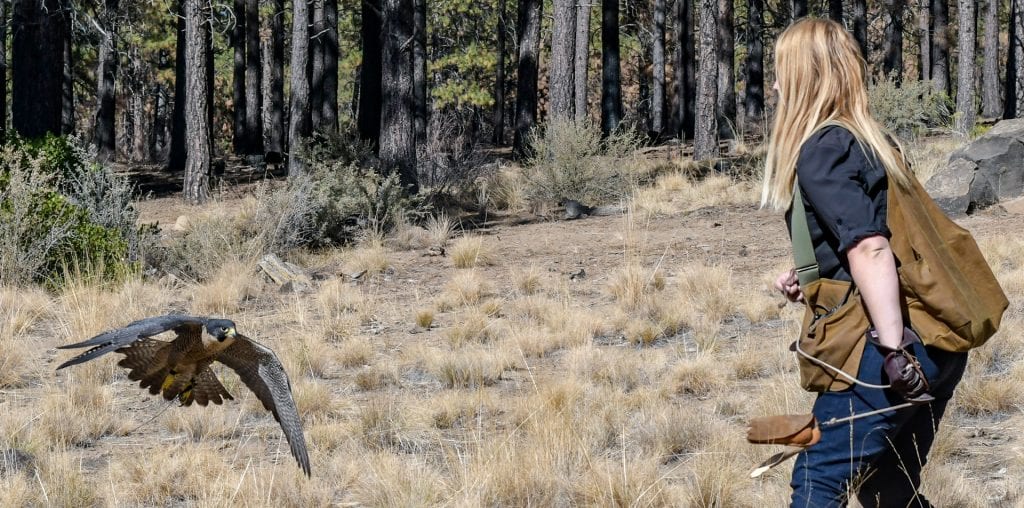 11:30 a.m.: One of our most popular experiences at the Museum is the summer Raptors of the Desert Sky outdoor flight show. Our female peregrine falcon is a crowd favorite as she speeds over and even between visitors to get to the lure—a leather object in the shape of a smaller bird that I swing during the flight show. Even after summer programming is done, the twice-daily Bird of Prey Encounter gives visitors a chance to learn about everything from the birds' habitat and diet to their environmental challenges and adaptations. Sometimes wildlife staff uses the talk as a training session and visitors get the chance to see the birds fly, swooping right over their heads. Teaching visitors about the colorful and agile Aplomado falcon is a highlight of my day. He is an ambassador for his species and helps thousands of our visitors understand how they can help not only raptors, but all types of wildlife.
1:00 p.m.: I return to the Autzen Otter Exhibit once again, this time to give an educational talk to help visitors learn about the role otters play in our riverine ecosystems. Our youngest otter, Pitch, has been progressing every day in his training, so I decide to turn this Otter Encounter into a public training session. He's becoming a pro at following his target stick (known as target training), a behavior that allows me to check his nails, paws, fur and more to ensure he stays fit and healthy. Head on over to the Museum and you might catch me and Pitch during a talk.
2:00 p.m.: All the animals at the Museum get a fresh, healthy diet prepared daily based on their nutritional requirements. We have herbivores who get fresh greens, veggies, seeds and nuts. Our carnivores love a variety of meat ranging from mice to pigeons. Clyde, the American badger, particularly loves rat, which of course is the smelliest food to chop up. Wildlife at the museum is fed throughout the day, so you might catch them enjoying a meal while you're here.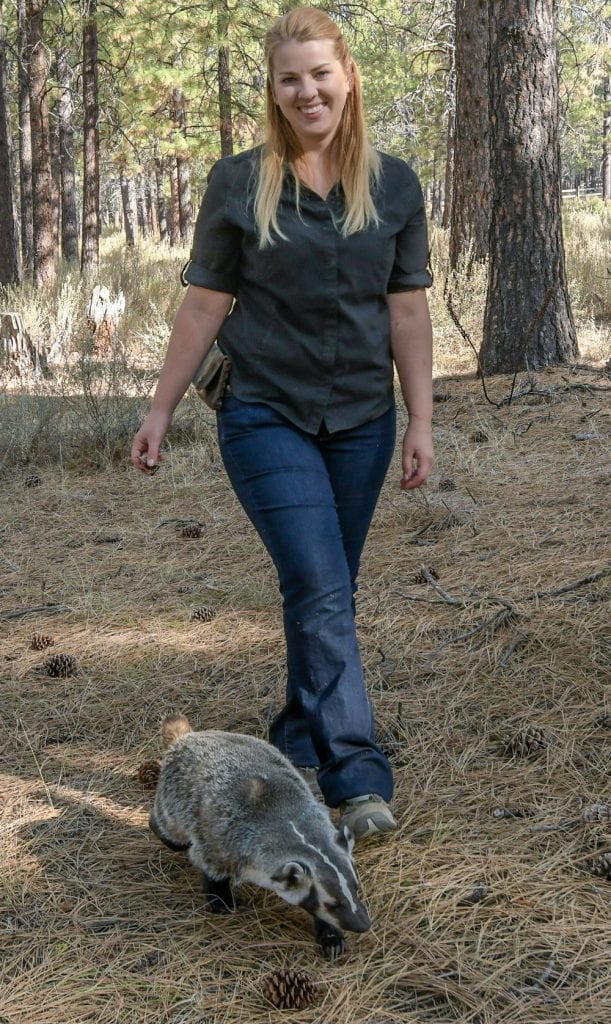 3:00 p.m.: Between feedings, cleanings and talks is when I fit in training sessions. I head out with Clyde for a walk, which is a lot more than just exercise for the badger. A walk through the woods builds trust, reinforces learned behaviors and can help train new behaviors. The wildlife staff strives to make every interaction with the animals the most positive they can be, giving them a chance to indulge in their species-specific behaviors. Clyde and I make regular pit stops so he can sniff for squirrels under rocks or use his long claws to dig.
4:30 p.m.: Before heading home for the day, I do one last walk-through to make sure the animals have everything they need for the night ahead.