Long shot lefty and Sisters local Seth Brown got his call up to the majors late last August. Not long after, he made his first play for the Oakland A's, dropping a base hit down the left field line and picking up his first career RBI (run batted in) as part of a 19-4 win against the Kansas City Royals. You could say that things were off to a great start. "Congratulations, Seth Brown!" hollered the announcer to the nation. "Triple-A's or big leagues—it doesn't matter, bat still works!''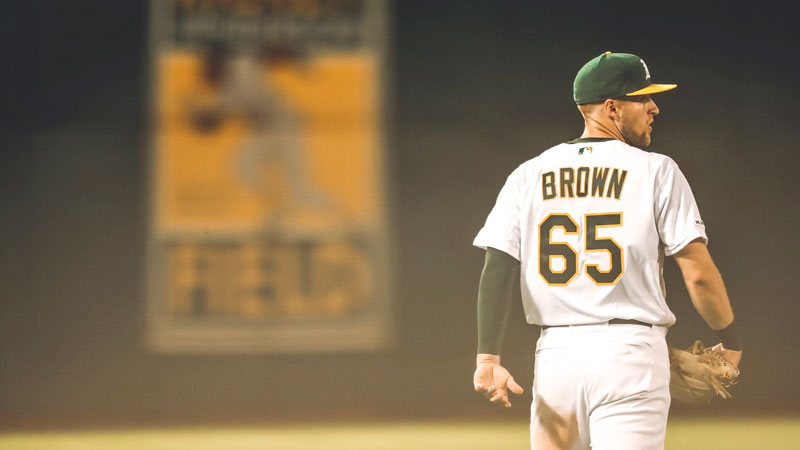 NBC Sports' Ben Ross calls Brown's 2019 batting stats a historic start—Brown was the first player in Oakland A's history to collect ten hits in the first five games of his career.
Brown, a first baseman and outfielder, hails from Klamath Falls and Medford. He graduated from Medford High School, went on to play college ball for Linn-Benton Community College in Albany, Oregon, and later for Lewis-Clark State College in Lewiston, Idaho, where he earned a degree in law enforcement.
In 2015, the Oakland A's brought Brown into the minors fold late in the nineteenth round of the draft. Brown said he got the call up while having a normal day around the house with his family. "I remember Jim Coffman, the scout, said, hey, you're going to be an Oakland A, we gotta get you a pair of white cleats!"
Slow and steady, Brown worked his way up the minors ladder, starting at the AZL Athletics, and moving through seasons with the Vermont Lake Monster, Stockton Ports, Midland RockHounds, Toros Del Este (Dominican Winter League) and finally, the Las Vegas Aviators, from which he was ultimately called up to the big leagues.
Alex Hall of the A's Prospect Watch calls 2016 Brown's breakout year, likely due to the thirty homers he hit, compared to single digits the year prior. Brown said the key was to quiet his mind. "Minors is a long road and you're grinding and it's not for everyone. Long days, bus travel, standing in lines at fast food restaurants late night after games. It wears on the body and mind. Eventually I learned how to work as hard as I could every day but also have fun."
Finding that balance helped Brown finally achieve what he'd long dreamed of. "When I got the call to the big league," he said, "I was hitting in the cages that day, it was pretty unexpected. It was my manager's birthday and he had gotten the best present that day, he got to tell me I was going to the big leagues. I tried to hold it together. I called my dad first. All I could say was, 'I did it.' It's a moment that I will never forget—I had accomplished my dream."
Some have called Brown a late bloomer, as he didn't make the minors until 23 and is a major's rookie at 27. However, his 2019 stats speak for themselves. In 112 games, he boasted a .297 batting average with thirty-seven home runs and 104 RBIs. 'Sleeper agent' or 'ace up the sleeve' seem better suited metaphors.
Don't be surprised to see Brown and his wife Brittaney, a Sisters schoolteacher and baseball coach, giving pointers to local kids, sandlot-style, this off-season. "For kids looking to set high goals, don't ever let someone tell you you can't do something," Brown said. "Any goal can be yours if you're willing to put in the work…and say thank you to everybody who supports and roots for you."
2020 Major League Baseball & COVID-19
In response to ongoing pandemic precautions, Major League Baseball has suspended all operations to include the remainder of Spring Training games and to delay the start of the 2020 regular season. The decision came in accordance with guidelines from the Centers for Disease Control and Prevention, the thirty clubs and the MLB Players Association. "The clubs remain committed to playing as many games as possible when the season begins. We will continue to monitor ongoing events and undertake the precautions and best practices recommended by public health experts, and urge all baseball fans to follow suit," said the MLB in a news release.