It was only a matter of time before a region obsessed with beer would find a way to integrate the nectar into its health regimen, too. Enter: Hop in the Spa.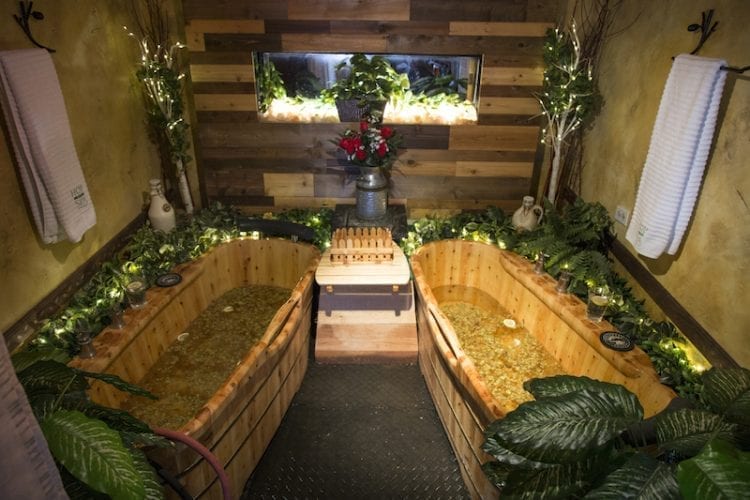 Deschutes Brewery's Red Chair makes a great breakfast beer.
I discovered that on a recent early morning in Sisters, soaking in a warm tub filled with a potpourri of hops, lemon slices and minerals while drinking a tall pour of the Northwest pale ale. Despite the less-than-conventional hour to imbibe, I wanted the full experience of Hop in the Spa, even if that meant sipping beer before coffee.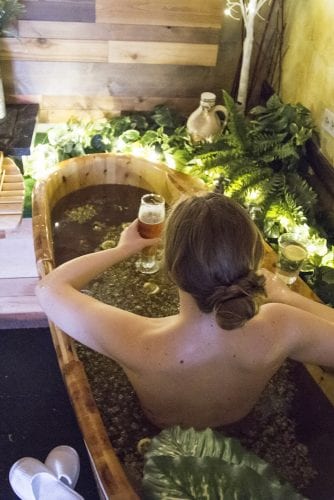 Located in a renovated house on the edge of downtown Sisters, Hop in the Spa received a parade of media attention for being "America's first beer spa" when it opened in February 2016. While beer, exclusively from Deschutes Brewery, is ubiquitous in the spa, one of the biggest misconceptions of Hop in the Spa is that spa-goers soak in beer. That's not the case. Instead, hop oil, extracted from hops grown in the Willamette Valley, is integrated into spa treatments such as full body soaks, massages, and soon-to-come facials and foot soaks.
Two years ago, owner Mike Boyle was in a car accident that almost took his life. Post-accident, Boyle sought pain relief and met Sally Champa, who practices Ayurvedic massage therapy. Boyle called the practice "miraculous" and key to his recovery. On a subsequent trip to Europe, he heard about beer spas and the wheels starting turning.
Returning to Central Oregon, where he's lived for the last thirty years, he and Champa decided to go into business together. They first made hop-infused bath products, and then integrated Champa's naturopathic knowledge and massage therapy practice to create Hop in the Spa.
Extracted from the same plant that provides the bitterness and flowery aroma to beer, hop oil is anti-inflammatory and antimicrobial. It's been used as a sleep aid, a pain reducer and a natural remedy for dermatitis.
The signature soak at Hop in the Spa is a blend of hops, hop oil and other natural ingredients that are steeped in hot water just before you soak. The hops' calming qualities are released in the hot water. That, plus the refreshing beer and the dark room, made for an instantly relaxing experience.
While touring the building recently, Boyle shared his plans to grow Hop in the Spa. "We're onto something here," said Boyle. They have big ideas for the business—some seem a little off the wall. Then again, so did a beer spa.
Oil Essence at Home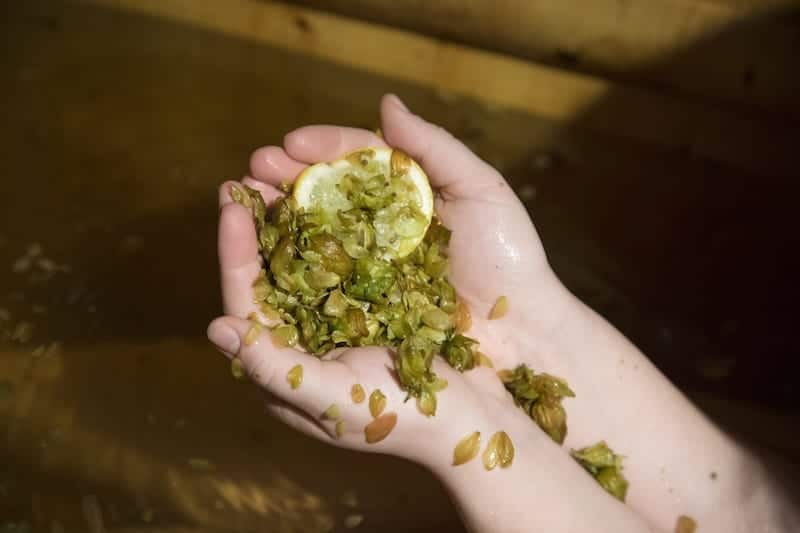 "Beer spa" may have an oxymoronic ring to it, but the ingredients that make up beer, especially hops, have several health benefits. Sally Champa, who partnered with Mike Boyle to create Hop in the Spa, integrates hop oil into the Ayurvedic massage therapy.
"Oils of the hops create a nice moisturizer for the skin," she said. "It helps with any kind of muscular inflammation. It's also great for eczema and psoriasis. Because it absorbs into the skin, it's actually great for the nervous system as well."
To get similar benefits at home, Champa recommends massaging your body with hop oil before you shower. The shower then helps pores open so the oil can absorb into the skin.