It's unanimous—2020 has been a doozy. There isn't one among us who hasn't felt the weight of hardship, helplessness and despair once or twice this year. What helps? Helping. That's a proven fact. When we give back, help out, and do good, we feel more positive. Better yet, the more each of us helps, the stronger our community grows. Giving is a self-fulfilling prophecy of goodness.
There are hundreds of worthy causes all around us. What's yours? Start big, start small, do what you can, when you can—but in the new year, vow to get involved and be one of the helpers as we move forward into 2021. Central Oregon, we're better together.
How to Choose a Cause
With so many worthy causes to support, making a decision about where to get involved can be overwhelming. How do I choose just one? And what if I choose wrong? Shelley Irwin of Volunteer Central Oregon suggests starting with your "why." She said, "What are you hoping to achieve? Are you wanting to share your expertise or are you looking for something new? Do you wish to build experience for a resume, or are you freshly retired and wanting to keep busy?" Here are a few more tips to help you decide where to put your time, energy and dollars in the nonprofit landscape.
What pulls at your heartstrings? Find your nonprofit passion category. When you read something in the news about an important issue or cause, what grabs your attention the most? Children? Animals? Veterans? The environment? Food insecurity? Homelessness? Follow your heart to determine the cause that you can take personally.
Find a personal connection. Talk to your friends, coworkers or people you admire who do give-back work. Find out what they do and how. Is there someone in your circle doing work in your passion area? Sometimes a personal introduction to an organization can make the work you might do there instantly more meaningful.
Do some research. First, find out what organizations are doing work in your passion area. Then, take some time to delve into the nitty gritty. Not all nonprofits are created equally. How much of the annual budget actually goes to the cause? What are the true impacts of the work being done? You'll feel better in the long run if you invest in an organization that puts its money where its mouth is.
Consider staying local. There are millions of meaningful causes to support around the globe, but consider choosing a cause close to home. In some cases, the bigger the nonprofit, the less you see your money at work. Sticking with local organizations tackling local problems can not only make a more significant difference, it puts you in a better position to see the impact of your efforts up close—right down to face to face encounters with the people you help.
Don't seize up. Still not sure what to support? Just choose a cause and start small. Donate a few dollars or a few hours and see how it feels. Supporting worthy causes is your choice—you can change your mind at any point. Be open to the winding path approach—you never know where it's going to lead or who you might meet along the way.
Volunteer Central Oregon
One-Stop Shopping for Volunteerism
What if you could visit one website, with a searchable database, to discover volunteer opportunities around you and sort for what interests you? That's exactly what Volunteer Central Oregon is. Operated under the umbrella of the nonprofit Better Together, Volunteer Central Oregon connects volunteers with opportunities in Crook, Deschutes and Jefferson counties, as well as the Confederated Tribes of Warm Springs. "We host the regional volunteer database volunteercentraloregon.org, which includes more than 200 local organizations and nearly 400 opportunities," explained project manager Shelley Irwin. "These opportunities accommodate wide-ranging interests and are searchable in our database. Our site connects volunteers with both one-time and ongoing opportunities to serve in the community, so it really is a one-stop shop for exploring community service."
Irwin's position gives her unique perspective on the overall volunteer landscape in Central Oregon. The good news? Around here, we're involved. "I'm going to sound like a cheerleader here, but Central Oregon's devotion to serving the community is so inspiring. The efforts that volunteers go to in order to ensure that our community is supported is amazing. Other communities may have more flashy volunteer campaigns, but here in Central Oregon, we just get down to do the good work."
There are as many motivations to get involved as there are people, she said. "Maybe they want to be a part of the solution to problems in our community, they want to help and give back, they want to feel like they are contributing to a better world."
Even with a vigorous volunteer community, the need is still strong, especially in the era of COVID-19. "There is so much need for support out there," Irwin said. "In looking at our data, the top categories are children and youth followed by the environment and then in third place, animals. Mentorship of young people stands out to me, and I think of organizations like Big Brothers Big Sisters, Central Oregon Partnerships for Youth, Heart of Oregon Corps, Camp Fire and Aspire programs at high schools, just to name a few."
In the past twelve months, the Volunteer Central Oregon website received over 70,000 views—many of which led to people helping people. In Irwin's perfect world, every single Central Oregonian who is able would be involved in our community. "Figure out the type of volunteering that will make your heart sing, and make it a priority in your life," she said. "We are all busy, and making space for the needs of others honestly gives us more space for ourselves."
See volunteercentraloregon.org.
Local Heroes
We rounded up the leaders of some of Central Oregon's nonprofit organizations to ask them their needs, challenges, successes and the impact of 2020 on them and those they serve.
Partners In Care
Marlene Carlson, Director of Development & Communications
Partners In Care is an independent, local healthcare organization best known for hospice care delivered in private homes, care facilities and at Hospice House. With nearly 200 staff and more than 150 specially trained volunteers, PIC also has a Home Health program, a non-medical Transitions program, palliative care and grief support services.
What is your impact and on what population?
People living within a 10,000 square mile region of Central Oregon—men, women, children, veterans, rich and poor, insured or not. Partners In Care is certified by Medicare and Medicaid and private insurance covers nearly all expenses.
What are people surprised to learn about Partners In Care?
We care for people well before there is a terminal diagnosis, as they recover from illness at home, and all the way through to the end of their lives, as well as provide grief support for a year or more following a death. Another surprising fact is that Hospice House is one of only three such hospice inpatient facilities in the state of Oregon, and the only one east of the Cascade mountains.
YouthLine
Melissa Butterfield, Assistant Director of YouthLine – Central Oregon Satellite
YouthLine is a free, confidential, teen-to-teen crisis, help and support line. Youth volunteers answer calls, texts, online chats and emails seven days a week—no crisis is too big or too small.
What would people be surprised to know about your organization?
 Teens are actually answering the contacts and supporting peers their own age. These amazing young people do a level of work that is often comparable to licensed clinicians. They are hard-working, caring, articulate, empathic and passionate about mental health and changing the narrative around suicide. 
Tell us about a recent accomplishment that you are proud of.
A viral TikTok was posted by a teen who suggested us as a resource. In under 24 hours our volume of contacts rose exponentially, bringing us to our new record of texts received and teens reached at once. Watching the positive impact of social media happen in real time and our teen volunteers rising to the challenge was amazing to see.
Deschutes River Conservancy
Ron Nelson, Executive Director
Founded in 1996 as a collaborative, multi-stakeholder organization, the Deschutes River Conservancy exists to restore streamflow and improve water quality in the Deschutes basin.
What is your organization's impact and on what population?
The DRC was founded twenty-five years ago with the sole purpose of achieving collaboration and consensus across social and economic lines within the entire basin. We're here to improve the water quality and link the river with the community, and our impact is on everyone who has an interest in the river, whether for beauty or recreation, farming or other economic benefit. 
What is the most significant impact COVID-19 has had on your organization?
The pandemic has kept us from getting together personally with our local partners and funders. We have good, strong relationships within our basin community, but we have not been able to find an adequate replacement for in-person collaboration.
Latino Community Association
Brad Porterfield, Executive Director
LCA exists to empower Latino and immigrant families to thrive, creating opportunities for advancement and building bridges that unite and strengthen us all. By advocating, interpreting and providing services, more than 10,000 Central Oregon Latinos benefited from a whole-family service model last year.
Tell us about a recent accomplishment that you are proud of.
We are very proud that we were able to adjust quickly to the safety requirements of COVID-19 and specifically to address the financial needs of immigrant workers and their families who were excluded from unemployment benefits and CARES Act stimulus payments. We have been able to help distribute nearly $1.5 million to our immigrant families in Central Oregon who would have otherwise been completely left out of relief efforts.
What are your key volunteer opportunities?
One of the best opportunities to volunteer with LCA is tutoring English. The main barrier to advancement for immigrants in the U.S. is language. Other ways to volunteer include translation and office help, especially if you're bilingual, and community outreach.
Humane Society of
Central Oregon
Sabrina Slusser, Executive Director
HSCO strengthens the human-animal bond by advocating and compassionately caring for animals, through a variety of programs and services including sheltering and providing medical care for vulnerable animals, spaying and neutering, and feeding pets.
What is your organization's impact and on what population?
I don't think there is a segment of the population we don't have an impact on unless it is someone who just isn't into animals. The joy and comfort of owning a pet, especially during COVID times, definitely has its benefits as research is showing.
What are your key volunteer opportunities?
We are really down volunteer hours at the Thrift Store. These volunteers tend to be older and a higher risk population. We are recruiting "family pods" to come in and work together helping sort, clean and test things from clothes to electronics and sporting goods.
The Tower Theatre
Ray Solley, Executive Director
The Tower Theatre is a historic building anchoring downtown that houses Central Oregon's leading performing arts organization, providing cultural and educational programs that make essential contributions to the region's lifestyle and strength of community.
What is the most significant impact COVID-19 has had on your organization?
For a group that is used to entertaining 60,000 people a year, to come to stop is a shock to the system. Our challenge has been to find creative ways to work within restrictions and requirements. If we are in the creative services business and can't find a way to work creatively, then maybe we weren't as creative as we thought we were.
Tell us about a recent accomplishment that you are proud of.
Being a small town and small theater allowed us to try new things, small things. After COVID closures, we first used our marquee to celebrate local graduating classes to provide a sense of community. Eventually we opened up for the weekend showcases, slowly and safely accommodating forty to eighty people to see a show and have an evening out.
What do you need most at this time?
People who share the belief that the performing arts can transform community and can bring issues and education to the forefront in ways that no other art form can. Performance is one of the easiest ways to share issues like diversity that strike deep in people's emotions. Theater turns this into an experience and a memory.
Deschutes Children's Foundation
Amy Ward, Executive Director
Deschutes Children's Foundation provides its partners—all nonprofits that serve children—with free facility management and drastically reduced-rate classroom and office space, relieving them of the burden of facility overhead and allowing them to focus on caring for more than 20,000 of our community's most vulnerable citizens
each year.
What would people be surprised to know about your organization?
We started in 1990 with the Rosie Bareis campus in Bend, but now we are county-wide with four different locations in Bend, Redmond and La Pine. We save $800,000 a year for our partners by allowing them to work from one of our locations.
Tell us about a recent accomplishment that you are proud of.
We created a totally new fundraiser to adapt to COVID-19, called Riddles: Creative Community Problem Solving. Donors received a meal delivered to their home by a volunteer. With the meal came one of six different puzzles created by a local artist, which revealed a clue. Participants shared the clues via social media to discover more clues, to solve a riddle together. The event supported local restaurants and nonprofits, while encouraging problem solving as a community.
Mosaic Medical
Elaine Knobbs-Seasholtz, Director – Strategy and Development
Mosaic Medical is a nonprofit community health center that serves Central Oregonians regardless of life circumstances. Integrated health services are offered and never influenced by how much money patients make, what language they speak or the status of their insurance coverage.
What would people be surprised to know about your organization?
Mosaic was founded in Prineville in 2002 by a group of concerned citizens who saw the need for a clinic that would serve anyone. We're a nonprofit and have been since day one, but we do bill insurance companies and receive federal monies. We have 375 staff members and serve 27,000 people a year.
What is your organization's biggest challenge?
Currently, our challenge is providing continued support for patients' ongoing health needs while there is still societal hesitancy to access medical visits. Foregoing immunizations for children, flu vaccines, diabetes check-ups, etc., will make individual and community health worse in the future, both for COVID risk and general health risk.
Saving Grace
Cassi MacQueen, Executive Director
Saving Grace offers safety, hope and healing to survivors of intimate partner violence and sexual assault and engages Central Oregon to build life free from violence.
What is the most significant impact COVID-19 has had on your organization?
Over the past five months we've really seen how the pandemic has intensified needs of those we serve. The impacts of isolating at home, school closures and financial pressures have led to a spike in domestic violence. Our emergency shelter has increased in volume and we've managed to stay open throughout the pandemic.
What would people be surprised to know about your organization?
We've been serving Central Oregon for 40 years. Saving Grace's shelter opened in 1990 and was one of the first six shelters in the U.S. for domestic violence and sexual assault. One in four women will experience intimate partner violence or sexual assault. But we serve a wide range of those affected by intimate partner violence—men, women, people of all ages. Domestic violence does not discriminate and neither do we.
The Shield
Dan Anderson, Co-Founder
The Shield protects the mental health of Central Oregon Veterans and First Responders by making specialized counseling services easily available to this unique population. We eliminate the five key barriers: awareness, availability, timeliness,
confidentiality, cost.
What is your organization's impact and on what population?
There are more than 20,000 veterans and first responders in Central Oregon, and research indicates that approximately 40 percent of these important members of our community are currently in need or will someday need mental health support.
What is the most significant impact COVID-19 has had on your organization?
Like everyone, our clients are affected by the financial impact of the pandemic to their families, concerns about family members becoming ill, and the isolation that comes with quarantine and social distancing measures. Unlike everyone else, our first responder clients are impacted by continuing to serve the public, which puts them at higher risk for infection, and by being exposed to the public when many individuals in our community are not at their best due to additional stressors from COVID-19. Consequently, the demand for our services has increased significantly.  
What is your organization's biggest challenge?
Mental health is a difficult topic for some people which can make increasing community awareness challenging. What many fail to recognize is that engaging in counseling services on a pro-active, preventative basis can keep individuals healthy and prevent serious problems down the road.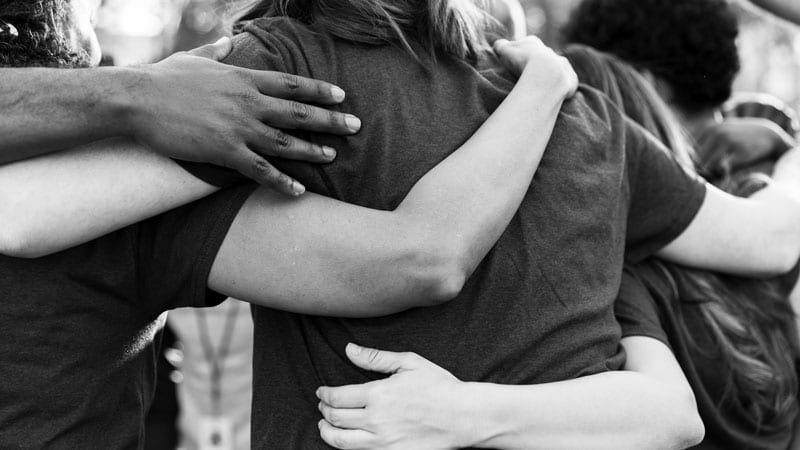 Look for the Happy, Healthy Helpers
The power of helping isn't just for those you help
"If I sit around, I cry, so I decided to get off my butt and go help today." So said Oregon resident Tim Thoren in the first days of the devastating fires that tore through Oregon this September. Thoren spent many days at the evacuee site in Springfield, helping those displaced by the Holiday Farm Fire along the McKenzie River.
His thoughts speak to his own personal motivation, but also get at the heart of a deeper truth that psychologists have long understood—helping others helps us, too. Giving time or money can invoke feelings of gratitude and happiness. Scientists believe that altruistic behavior releases endorphins in the brain, producing the positive feeling known as the "helper's high." The National Institutes of Health have found that when people give to charities, it activates regions of the brain associated with pleasure, social connection and trust, creating a "warm glow" effect.
Helping can even boost your health. One reason giving may improve physical health and longevity is that it helps decrease stress, which is associated with a variety of health problems. Last but not least, giving brings us together, promoting cooperation and social connection. When we step in and help, we remember that we are part of a larger community, and others are encouraged to do so as well. That was Thoren's experience at the evacuee center in September. "It was a heartwarming and heartbreaking day," he said. "I got to see the power of my community and lead other volunteers, which was amazing."
Five Ways to Help Today
Worried that making a difference will take more time, energy or resources than you have? Not true. Here are a handful of ways to make an impact before next weekend.
Get Informed
Sign up for a monthly newsletter from your favorite organization, follow their social media channels, or read up on their latest accomplishments.
Give Money
Find the "donate" link on an organization's website and use it. Know that unrestricted dollars help an organization more than project-based dollars. Sign up for small monthly donations, an annual membership or a multi-year pledge. All financial donations to certified nonprofit organizations are tax-deductible.
Spread the Word
Often, an organization's biggest hurdle is just letting people know they exist. Share a social media post, video or website link about a worthy cause, talk about its actions with friends, and think of ways to help link the organization with the people it serves. Simple communication can have impact.
Donate Goods
Many organizations have wish lists for specific donated items. A few nonprofits run their own thrift stores. Seek out needs and make a special shopping trip or gather gently used items of your own to pass along.
Volunteer
Take the first step to donate time to a local organization. Call or check the website for volunteer opportunities. Not up for a long-term commitment? Often organizations need volunteers for one-day events, like fundraisers, or one-time projects, like painting their building. Find something that works for you and your schedule.
Share Skills
Perhaps you are a skilled copywriter or web developer. Maybe you can share expertise with contracts or legal documents. Do you take amazing photographs? Love to create social media posts? Most nonprofits need all of these services from time to time. Sharing your talents as in-kind services saves them money.