While it's natural to think of heat and melting as a solution to icy, wintery conditions, when it comes to ice dams, warmth is the culprit.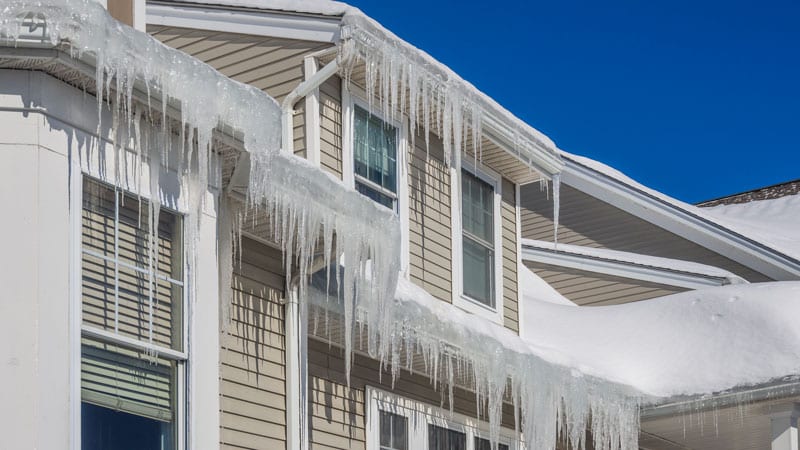 An ice dam is a chunk of ice that forms along the outer boundaries of your roof. As long as the entire roof stays frozen, the dam is no problem. But when the roof warms, higher points may melt away ice and snow, while the lower overhangs stay frozen. This can cause water to pool behind the dam, eventually soaking into your roof, ceilings and walls. That's when the real problems begin, including costly damage that is difficult to repair. Avoid disaster this winter by following these tips.
Keep It Cold
As thawing and refreezing is the cause of an ice dam, keeping a cold roof can prevent ice dams from forming in the first place.
Close up Attic Bypasses
Warm air leaks from our homes into the attic and to the roof a variety of ways. Be mindful of cracks around lighting fixtures and in drywall, uninsulated access hatches and undampened chimneys.
Insulate Your Attic
Make sure you have at least twelve inches of insulation in your attic. If you measure less than that, consider hiring a company to blow in more insulation. This will keep your home more energy efficient and help lower your heating bill, too!
Add or Maintain Roof and Soffit Vents
The vents you see under the eaves around your house are another piece of the puzzle in terms of keeping your attic and roof cold. These vents draw in cold outside air, keep circulation moving and maintain cool temps in the attic. Make sure your roof has vents for every other roof rafter, or one square foot of vent for every 300 square foot of attic floor area.
Addressing Problem Areas
You've done all you can to keep your roof cold and you still can't seem to prevent ice dams? That can happen, in long, extra stormy winters, and on particularly tricky roof sections, like roof valleys or segments that absorb a lot of warming sun during the winter. How do you prevent ice dams under these circumstances?

Rake the Snow off Your Roof
A snow rake is an aluminum scraper on a telescoping aluminum pole, available at most hardware stores. Use a snow rake to pull snow down from the roof, before it has the chance to melt and refreeze into an ice dam. You need to rake soon after snowfall, and this method only works with single story homes, but can be very effective.
Heat Cables
Sometimes, heat is the answer. Tough spots like roof valleys might call for the installation of heat cables, which warm consistently to melt snow and ice and prevent an ice dam before it even starts.
Ice Dam 911
You've done everything you can to prevent an ice dam and yet—here you are, with ice dams. If you note no leaks in your house, you may not need do anything. If you do see signs of water damage, and you can't safely remove the ice with a rake, you may have to call a roofing company for assistance. Climbing on your frozen roof to try to deal with the situation yourself is just plain not safe!
Editor's note: This story was originally published February 2020.