In some tennis circles, Lee Whitwell is a heretic.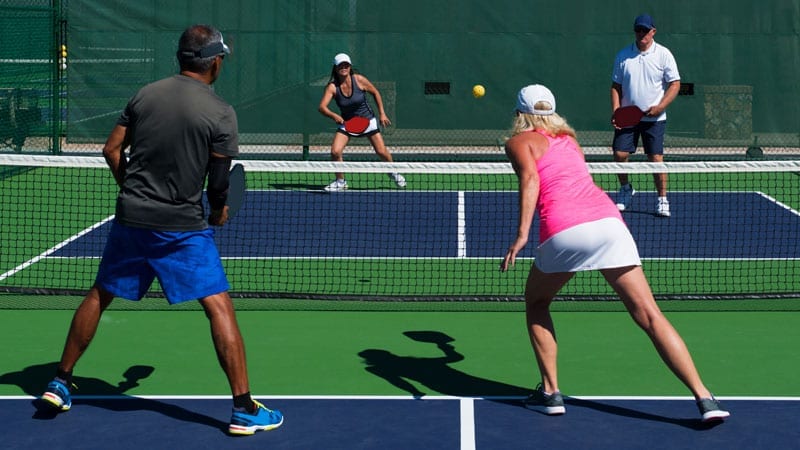 A former touring tennis pro, Whitwell has been teaching tennis for two decades and spends most of her workday organizing league play or teaching juniors at the Athletic Club of Bend, where she is the director of tennis operations at the seven-court facility. Tennis players like Whitwell's no-bullshit style. It's what she does in her spare time that has some of them wondering just where her allegiance lies.
When Whitwell isn't at the Athletic Club, she's down the street with a racquet in her hand. The problem, some would say, is that it's the wrong kind of racquet. That's because Whitwell is a not-so closeted pickleball player. Yes, pickleball that sport that looks like a combination of badminton and ping pong that was popularized by card-carrying members of the AARP at RV parks in Arizona and Florida.
Laugh if you like. But the pickleball revolution is here. Whitwell is one of a growing number of tennis players young and old who are picking up a pickleball racquet and finding that they are having trouble putting it down. 
"Tennis will always be my first love, but I see the benefit of both and how they can coexist," said Whitwell.
Whitwell juggles her time between her duties at the Athletic Club and a second job as the head pro at a new indoor pickleball facility at Widgi Creek, a semi-private golf club on Century Drive. Club owner Barry Helm recently built the ten-court facility after seeing the explosion of interest in pickleball locally and nationally. It's the second indoor pickleball-only facility to open in Bend in just the past two years.
The tension between tennis and pickleball is real. The fast-growing pickleball population is gobbling up court times and playing space in traditional tennis clubs. Pickleball players are pushing parks officials in places like Redmond to repurpose under-utilized tennis courts into pickleball venues. The demand is growing and widespread. Between 2016 and 2017, pickleball participation grew nationally by almost 13 percent. Today, there are now more than three million people in the U.S. who identify as regular or casual pickleball players, according to the Sports and Fitness Industry Association. By way of contrast, tennis participation in the United States remained flat for casual players last year and decreased for regular players, defined as those playing more than nine times per year.
Widgi's Helm understands the tension as well as anyone. A recreational tennis player, Helm initially proposed building three indoor tennis courts at Widgi. He changed his mind when others asked him about the possibility of pickleball. He quickly realizing that he could more than double the number of courts by pivoting to pickleball. A trip to the outdoor pickleball courts at the Bend Pine Nursery park, confirmed that player interest was high.
"I went out on a Friday and saw sixteen courts with lines of people waiting to play, and that was the "A-ha" moment," Helm said.
Developed in the 1960s, the game is somewhat of a latent sensation that has exploded in popularity as baby boomers reach retirement. These "active" young seniors are finding they have more time on their hands than they do cartilage in their knees. So, they're setting aside tennis racquets and basketballs for a sport they say is a perfect blend of socializing and competition.  No surprise, destination retirement places like Central Oregon are seeing an explosion in interest.
Lisa Palcic who teaches at the Bend Pickleball Zone, an eight-court indoor facility in northeast Bend, said it was common for her to see twenty-five new players per week when she was teaching pickleball through the Bend Parks Department just a few years ago. The Bend Pickleball Club that was formed to help organize construction of the sixteen courts at Bend Pine Nursery reported almost 800 dues-paying members as of June.
Nancy Brook is one of those who started playing as a substitute for another activity and got hooked. Brook typically got plenty of exercise by competing in dog agility events with her canine. But when her dog sustained an injury, she turned to pickleball as a diversion and a casual way to stay fit.
Brook wasn't a racquet sports novice. She and her husband had owned and operated a tennis pro shop at a club in California before moving to Bend. Brook hadn't played tennis in a decade but found that she was a quick study at pickleball.
"I'm sixty, but I was able to learn a lot of things pretty quickly. I was hooked from day one, but I took a lot of lessons and took advantage of the group lessons," she said.
The ability to pick up the game relatively fast is a big draw for pickleball. Unlike, the traditional country club sports of tennis and golf, it takes players only a few minutes to grasp the basic and a few hours to build their skills. It also offers a more level playing field, allowing players of different ages and abilities to compete and still have fun.
"I could never take a family of four coming to Bend on vacation and give them a tennis lesson and say, 'Now go play tennis, and have fun.' That would result in lost balls and arguments and tears. You name it," said Whitwell.