Forging old-world heirlooms for new generations.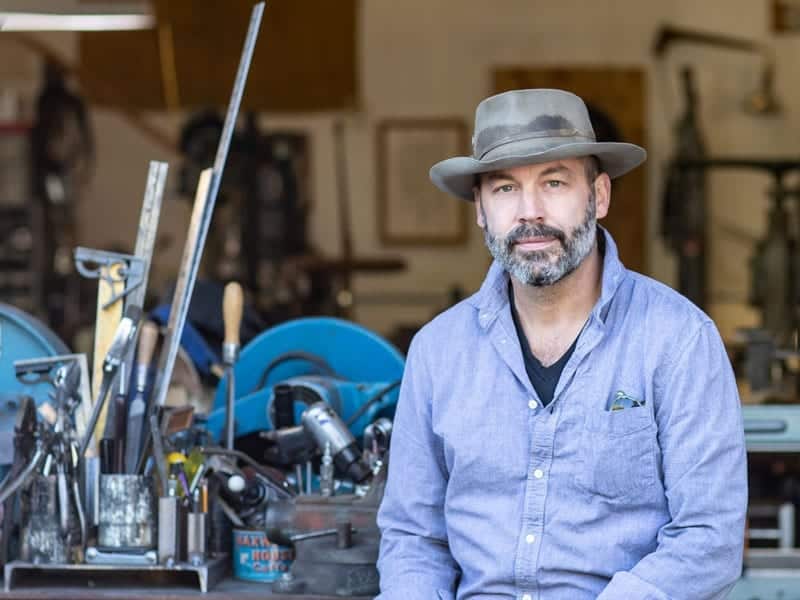 One of the first things you notice when entering John Paul's downtown store is the '60s-era Schwinn leaning against the wall. You might wonder, 'What's a bike doing in a jewelry store?' But spend a little time in John Paul's shop and you'll realize that the bike is emblematic of all the unexpected, handmade items showcased in the small space. From chunky metal wrist cuffs to forged sterling pendants on thick chains to rectangular copper earrings stamped with mountains and inset with diamond moons, everything here exudes vintage craftsmanship.
Sharing space in the jewelry cases are an original window sign from Magill Drugs and an apothecary bottle with extract of blue cohosh recovered from the drug store when it closed in 2004. The three display cases also came from Magill's and everything in the showroom was gathered locally and tells a story, according to employee, Bayly Winkler.
In short, visitors won't find a collection of shiny, new pieces displayed under special lighting and designed by CAD machines and mass-produced. That type of jewelry is made to hide the hand of the artist, Paul said. Instead, this is a place where vintage, repurposed items revel in imperfection.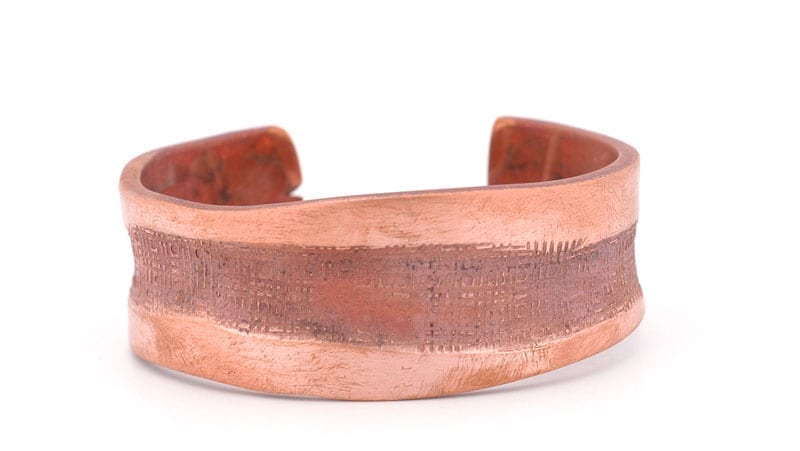 "I like to capture something imperfect and worn, something that might appear to be from the 17th century," Paul said. "The difference between my peers and me is they're using computers to design, mill and machine their wares, whereas I'm old school." He said he was once on the cusp of modernizing his technique but learned from his first encounter with a computer that it wasn't for him.
His upbringing in a Midwest auctioneer's family imprinted on him a love of antiques and the stories that come with them. He earned a bachelor's degree in metalsmithing from the University of Wisconsin and then apprenticed with master metalsmiths in Wisconsin and Colorado. He moved to Bend in 1997, where he says, "the universe opened up to me." He opened his storefront, John Paul Designs, on Bond Street in 1997. In 1998, he became a founding member of the Central Oregon Metal Arts Guild.  He has given back both his time and his artistry to the community, often contributing to favorite charities.
Paul's knack for combining blacksmithing and metalsmithing with traditional diamond and stone setting has drawn many clients to his door. Custom work, particularly during bridal season, is a large percentage of his business, but he attracts clients through social media and word of mouth. He often spends hours with them, refining ideas that transform the buying process from selecting a piece to creating a piece.
If Paul's work is old school, then his tools are almost Medieval.  Walk into the rear section of the downtown storefront, or in a much larger industrial building near Bend High School, and you'll find twenty years' worth of tools that transcend time. "I'm the guy who lines up at 6 a.m. at an estate sale before it opens," he said. With all the vintage equipment, he's able to forge his tools, ensuring that every piece is unique. His advertising touts how "every blow [reveals] textures that can only come from hand forging metals into perfect imperfection."
"My No. 1 rule is to only surround myself with things that bring me joy, from the vessel that holds Q-tips to what is beautiful and has good energy," he said. "I like to carry on all the stories and qualities from something old and worn."