Portraying the essential nature of treasured places.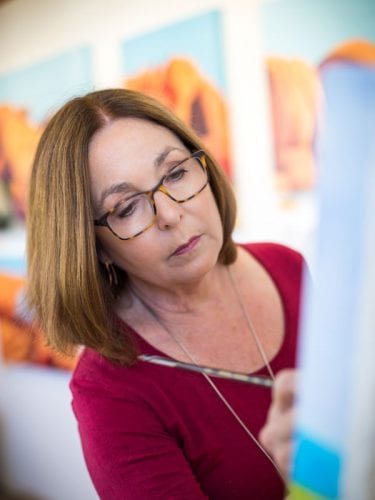 Julie Blackman's landscapes conjure scenes of familiar places visited—national parks or stretches of open highways glimpsed through a car window. A highway arcs into the sunset. The John Day Fossil Beds throw off glowing orange and blue hues. The large sensuous boulders of Joshua Tree National Park evocate female forms. Orderly rows of Willamette Valley vineyards crest a hill beneath biscuit-shaped clouds.
"I look at shape and form in organic ways, almost like human bodies," Blackman said of her abstracted landscapes. Blackman strips her subjects to their essential form, portraying them as living, breathing entities. Most of her paintings, done in either pastels or oil, have sharp horizontal contours, bright colors and clean, uncluttered views of the natural world.
"There's a peacefulness of landscapes that don't include houses, people and animals," she said. 
Landscapes are more than a muse. They were also a salve against severe depression that she experienced in her teens and early twenties. At the time, treatment for depression was in its infancy, but she recovered and says that, "observing the landscape still brings me an inner peace as it did then. My own sort of treatment."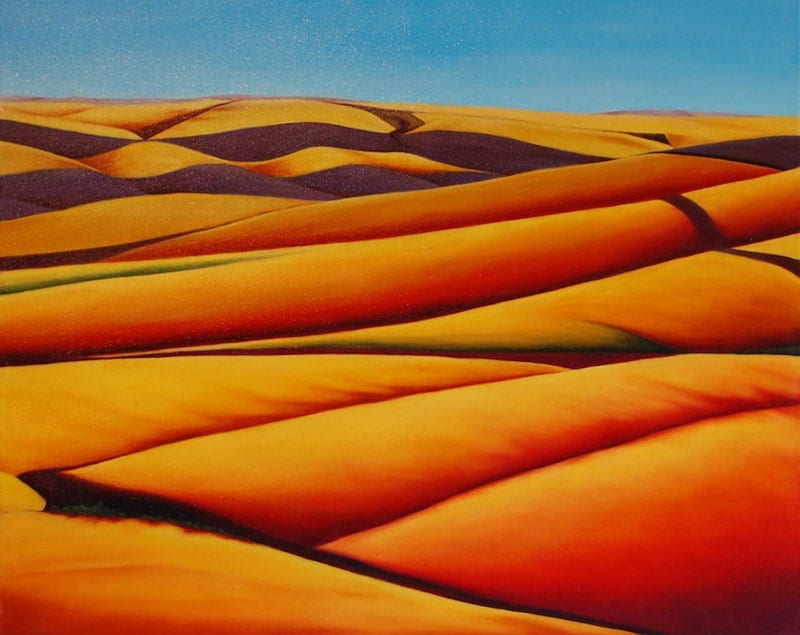 Blackman's process is slow and deliberate, producing most of her work in a studio, although she does some plein air painting.  Photos and sketches of places she's visited inspire the process that involves brushing many layers of thin glazes onto the canvas to build depth and luminosity.
Blackman grew up near St. Louis, Missouri and showed an early interest in the arts. When she was twelve, her grandfather, a musician and painter, gave her a set of oil paints. The aspiring artist went on to earn a bachelor's degree in painting from the University of Wisconsin-Milwaukee. Blackman eventually ended up in Portland where she exhibited her paintings in the late 1970s. She took a "long break" to raise a family and work in Portland Public Schools as a special education teacher, but never lost her interest in artistic expression.
She picked up the brush again in 2005, which overlapped with her teaching job until 2009 when she retired from the school district and started painting full time. From 2008 to 2012, she participated in Portland Open Studios, a program that provides the community with the opportunity to tour and interact with local artists in their studios.
It was during one of the open studios that Bend resident Keith Levesque met Blackman and was drawn to her paintings. "I like the composition, colors and how I feel when I look at Julie's work," Levesque said. He and his wife have three Blackman paintings, including two they commissioned for their home. "When I look at a painting in my living room ten times a day and it relaxes me, that's very valuable to me."
In 2013, Blackman moved to Bend where her daughter Whitney Keatman, co-owner of Sparrow Bakery, lived. The artist initially worked from home but found she wasn't as productive outside a studio.
"The first couple of years were kind of a struggle. I'm not as disciplined at home," she said.
Blackman found structure and a place to mingle with other artists at Bright Place Gallery in 2017, an east side artist collective. The gallery is tucked toward the back of the 9th Street Village in southeast Bend. Blackman's space is long and narrow with windows that let in natural light and an open aisle for gallery visitors to meander and see work in progress. Outside the gallery, you'll find her work at the occasional show. For example, this past summer she displayed her paintings at Art in the High Desert in the Old Mill District, a showcase of some of the best artists and crafts-workers in the nation.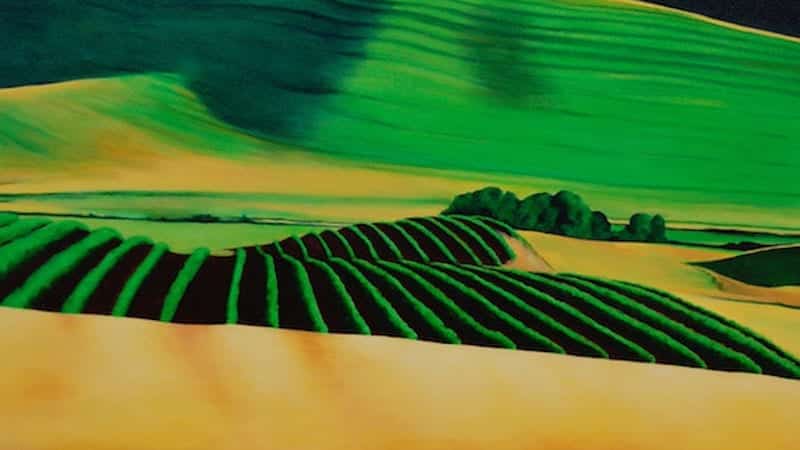 To see her work and meet the artist, visit the Bright Place Gallery, noon to 9 p.m. Fridays and Saturdays, or go to her website, julieblackmanart.com