Trail running is becoming more popular as runners avoid the hard pounding of the city pavement and opt, instead, for the dirt and gravel trails that provide a more intimate experience with nature while also bringing a bit of variety to the everyday run.
Knowing that fall in Central Oregon is the best time to get on the trails and go for a run, we stopped by FootZone in Bend to explore the trail running trend and take a look at what shoes are best suited for Central Oregon trails.
Thomas Morgan, the buyer and gear guru over at FootZone, was quick to point out that while the following list of shoes represents the latest trends in trail running sneakers, it ultimately comes down to fit. "One shoe may catch your eye while on the shelf, however, it may not be what feels best on your foot," explained Morgan. At the end of the day, let your feet—not your eyes—be your guide.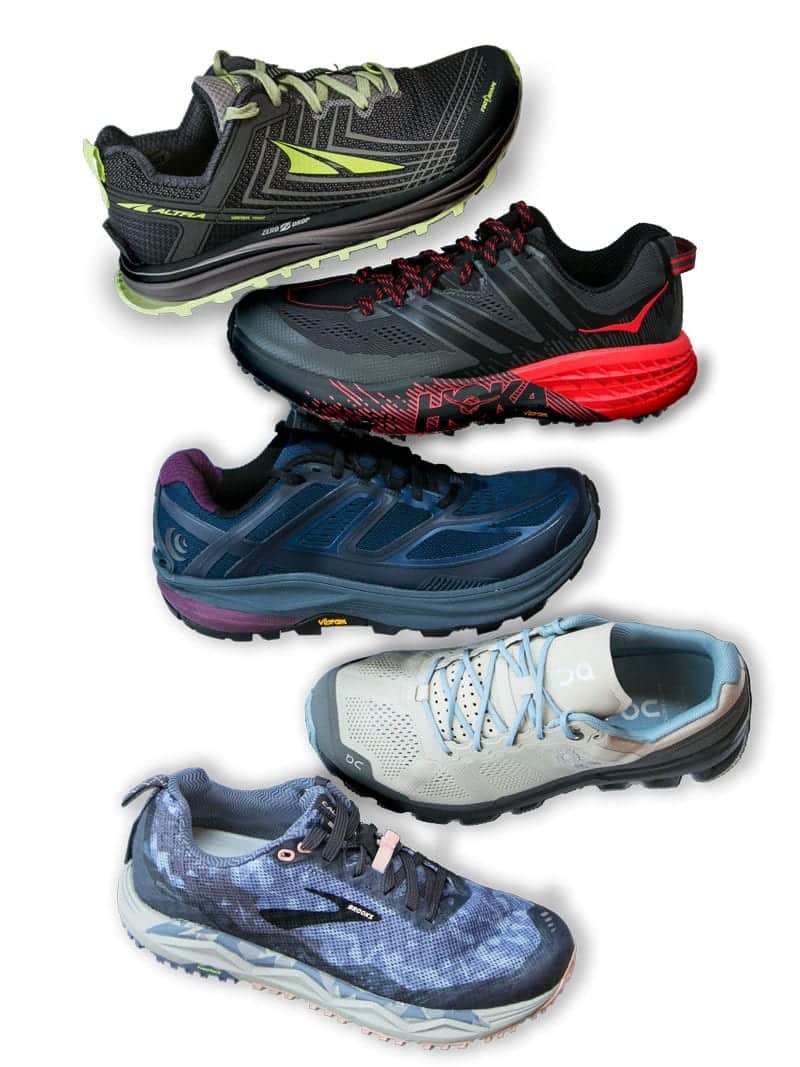 Altra Timp
This is the hot new shoe from Altra and the best high-cushion trail model right now. It offers a wide toe box, better fit, and a "zero-drop" design, meaning there is no elevated heel in the sole, something that some runners believe can lead to injuries.  High-cushion trail shoes also mean less impact on runners' joints, allowing us to run farther and recover more quickly. — $130
Hoka Speedgoat
The most popular Hoka model. It's a lower stack height, mid-cushion trail shoe. It's the shoe for people who don't want to go to the extreme end of high cushion, they just want to go part of the way. It has great tread, a very nice fit through the midsole, and it's very well cushioned, but it's not a tank. — $140
Topo

UltraVenture

 

3 

Like Altra, newcomer Topo offers a wide toe box in a traditionally shaped sole. A lot of reviews are pegging Topo's other shoe, the Terra Venture, as the hot item, but the Ultraventure could be the new go-to shoe because of its superior fit profile. It offers the latest trends and features without getting too extreme. — $130
On Cloudventure
This shoe is popular thanks in part to a unique look and a focus on the function. The shoes use Cloud Tech—hollowed outsoles that provide the cushioning. Besides being visually appealing, the shoe fits well, too. If look is as important as feel, then On's style-driven shoes might be for you. — $150
Brooks
Caldera 3 
Brooks has always been a favorite brand among hardcore runners. With the Caldera 3, they have integrated trends like extra cushioning and toe armoring for rock strikes. Given our local terrain, the Caldera 3 might be the perfect Bend shoe, and it's the most popular women's trail shoe at FootZone. It works well for runners who are transitioning from road to trail running because Brooks also makes the most popular road shoes. — $140